By Linda Cummins
[email protected]
Multimedia Staff
Every month the Health and Counseling Center of UNC Asheville sponsors therapy sessions, but they're not with your ordinary therapists.  The positive atmosphere and friendship dog therapy offers can reduce anxiety, reports the Alliance of Therapy Dogs.
  "'Oh, I need this. Oh, I'm in the middle of exams and I miss the dogs. Oh, give me a kiss,'" Noel Thurner said, repeating the comments she hears as owner and handler of therapy dogs Sapphire and Parker. "A lot of people come in feeling stressed and they need that distraction."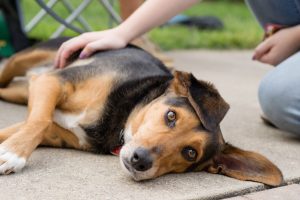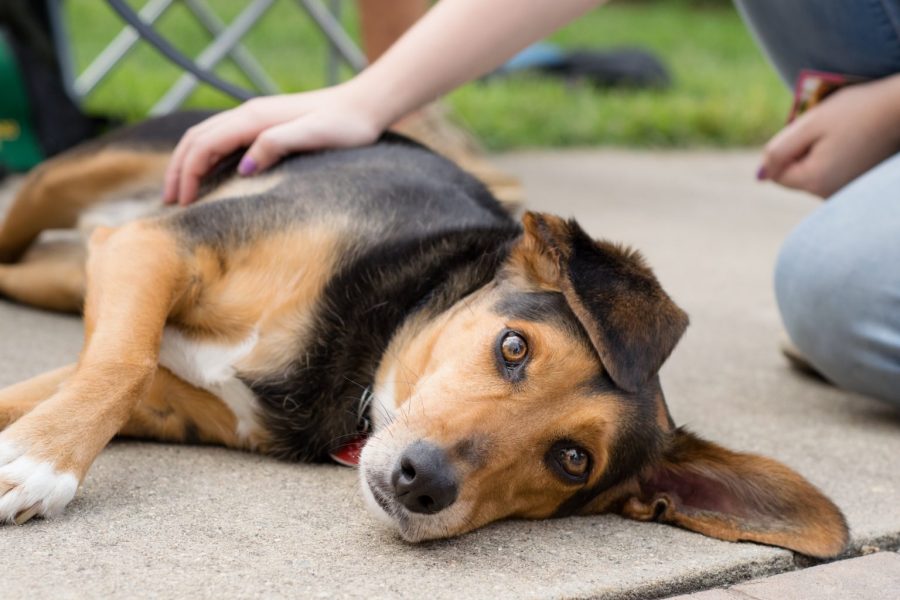 Sapphire, a three-year-old dog, has been doing pet therapy for two years and is completely at home in the library lobby. Bryanna White, a sophomore accounting student, reaches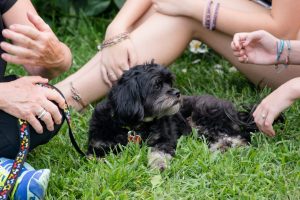 out to pet him.
"I come here every time. I used to have a dog at home. I love animals, especially dogs," White said. "They really just make me happy. I like being around them."
  Claire and Jim Waller, owners of Brodie, are stationed a few feet away to greet the constant ebb and flow of visitors seeking contact.
  "We hear them say things like, 'I just had a calculus exam. I need to pet something,'" Waller said.
  Brodie, a four-year-old beagle mix who was rescued from Brother Wolf at eight weeks old, sits calmly waiting for the next hand to reach out to him.
  "Within a year, we knew Brodie would make a good therapy dog," Claire Waller said. "He doesn't bark. He stays right with you."
  Therapy dogs need good manners around both people and other dogs, said Thurner.
"They can't be reactive with other dogs," Thurner said. "They have to be able to tolerate a lot of noises, distractions and have a real solid foundation and temperament."
   All therapy dogs must first pass obedience class and then take training with a certified organization, such as PAWS for People or the Alliance of Therapy Dogs.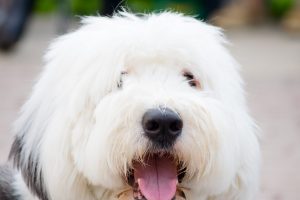 Since his graduation, Brodie went on to achieve a sort of superstar status in his job, visiting hospices about 16 times per month in addition to the child development center at Mission Hospital.
  "He has different empathy levels. With the children at the development center, he's really active. He can sense the kids aren't sick and can play,"  Claire Waller said.  "But at the hospice, he can sense when he is with someone close to death and he'll snuggle up real close."
   At under 50 pounds, Brodie is allowed up on hospital beds and shows an awareness of what a patient needs, Jim Waller said.
   Nurses reported that patients tested their blood pressure at home with results as high as 180, but after petting Brodie, it can come down to 140.
  "There really is a therapeutic element to it. We come through the door and everyone rushes to see Brodie. It's like a wheel chair derby," Claire Waller said.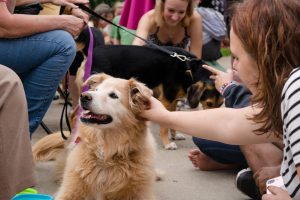 The Wallers said they also see children with autism really come alive with Brodie.
Brodie plays an instrumental role in encouraging certain individuals to come out of their shells, the Wallers said.
"Patients will start talking to Brodie. Later, the nurse will say to us, 'But they haven't talked in two weeks,'" Claire Waller said.
 As Brodie's handlers, the Wallers also underwent certification. They assist a patient care team that includes doctors, social workers and nurses. After each visit, they write up a report of how a patient reacted with Brodie.
   Of course, the library visits are more about fun. According to the PAWS for People organization, pet therapy also releases endorphins that produce a calming effect, improve cardiovascular health and even possibly reduce the amount of medication some people need.
   Usually, the lobby of the library wafts of croissants and tea, with people greeting each other in passing. But on dog therapy days, the crowd tends to stop, drawn in by the wagging tails.
 According to the PAWS for People website, pet therapy increases socialization and encourages communication.
  The Wallers said they enjoy meeting people during these therapy sessions.
  "Brodie does too. He wears a little therapy jacket. As soon as we put that on him, he can hardly wait to go," Claire Waller said. "When it's time to leave the child development center, he will lay down in the hallway and not want to go."
   The Wallers spend just as much time interacting with everyone they visit as Brodie does.
 "See. You're smiling now. It's gotta be okay, right?" Waller said.