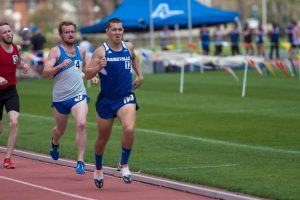 By Kathryn Gambill
Sports Contributor
[email protected]

Walking into Jeffrey Wilcox's office, the first things that catch the eye are several basketballs, UNC Asheville athletics posters plastering the walls and two small cheerleading uniforms his daughters once wore. At first glance, one could easily forget this office resides in the department of environmental studies.
While most students may recognize Wilcox as an environmental studies professor, he is involved with student athletics, serving as the university's faculty athletic representative. The FAR position is an NCAA requirement.
As FAR, Wilcox has the responsibility of giving an outside perspective of what is going on inside the athletics department. He also serves as the chair of the Intercollegiate Athletics Committee.
"I review the budget. I review students' grades. I review the eligibility sheets," Wilcox said. "If students ever have issues with professors or with classes, they usually get referred to me and I try to figure out a solution to the problem with faculty and students."
With 16 NCAA Division 1 teams, Wilcox says UNCA's student athletes are good people and good students. However, in order to be on a team and succeed, student athletes have to show up on time and be reliable.
"They're doing community service with their team," Wilcox said. "They're obviously practicing, but then they have practices, but then that's different from weight training or individual workouts with coaches."
Being a student athlete requires a lot of dedication, hard work and time management. Wilcox said. While student athletes have to balance all of their athletic commitments, they also have to handle being full-time college students.
Even with all of the obligations that come with being part of a team, student athletes still have to keep up their grades. Wilcox said UNCA's athletes have a higher collective GPA and graduation rate than the university as a whole, which he credits to athletes' time management abilities and the university's coaches.
Wilcox said when recruiting new student athletes, a coach's main concern is selecting athletes who will succeed.
In order to excel in both academics and athletics, the environmental professor said a student has to love their sport.
"I've certainly seen student athletes who have left their teams because I think they probably came to the realization, like, 'I don't love this enough to dedicate this amount of time to it' and that's OK,'" Wilcox said.
Wilcox enjoys seeing student athletes focus on both their academic success and their athletic performance. He said athletics participation has multiple benefits, including teaching student athletes about personal responsibility, being a good teammate and staying in good physical condition.
"I think the skills that are necessary to be successful in sports and the personal responsibility does prepare you for life," Wilcox said.
Adjunct Instructor of health and wellness promotion Stephanie Novak said being an athlete can cause a significant amount of stress in a student's life.
"Performance pressure, not only in classes, but they have the performance pressure in their sport. That directly affects their stress levels and trying to balance athletics and school, I think, is a real trick." Novak said. "Like time management skills, being able to have the organizational skills as well to keep their calendar straight and to figure out when they can actually work on an assignment that may not be due for another week."
Another factor student athletes have to balance is traveling for games, meets or matches.
Novak said when athletes travel for their sport, they need to have realistic expectations of how much schoolwork they can accomplish while on the road. Additionally, athletes may miss out on the opportunity of learning in a classroom setting.
"I think that is a tricky situation," Novak said, "because some are more reliant on being in class, hearing firsthand what the discussions are, the notes, the PowerPoints, as opposed to just getting a hard copy of the handout that they missed or even being sent the PowerPoint. That's kind of the skeleton of what they need to retain. There's more than that."
She said students learn from each other, and traveling for a sport often causes athletes to miss the experience of interacting with their peers in class. They are also responsible for providing professors with a schedule of games, meets and matches to show which classes they will miss.
"The protocol has been set really to emphasize self-responsibility. Over the years, it's gotten more like that. I think their coaches and their advisors are saying, 'You know, it's understandable that you have this extra commitment that's huge.' But they really have to advocate for themselves and talk to teachers and get caught up by talking to other students and really making sure that they know what they missed," Novak said.
Novak said practicing mindfulness and being present in class can help student athletes be productive and keep their grades up.
"I'm sure it's challenging because there's pressure and we talk about life pressures and an athlete has even more and they're trying to keep their grades up and they're trying to make their commitments and they have no control over the schedule," Novak said.
Former student athlete and senior engineering student Jacob Fink said because of the commitments of being on UNCA's track and field team, he decided to spend a fifth year completing his degree.
"It was hectic," Fink said. "I did things to make sure that I could do everything that I needed to do and keep my grades up. I figured out freshman year that I couldn't take more than 12 or 13 hours a semester. So that's why I had to go five years."
As an engineering student, Finks said his classes were set up to be completed on a four-year schedule. Because certain classes are only available during either the fall or spring semester and only one section of a class is offered, missing just one class can set a student back an entire year.
"I have a senior design class this year that's a year long. It's basically research, but for engineers. So I only have 12 hours of school left, but it's going to take me a whole year to finish it," Fink said.
In addition to taking an extra year, Fink also took summer courses to balance out his schedule. While he could have completed his degree in four years, Fink said his grades would have suffered and he would have been miserable and stressed.
Even though balancing academics and athletics was never really difficult for him, Fink still had to learn to plan and manage his time.
"Freshman year when I was taking too many hours, I was pretty stressed out with the work load and the practice schedule and all of that," Fink said. "But once I figured out that 12 or 13 hours was my sweet spot, where I needed to be, then I had time to not be stressed and not worry about grades but still do work that I needed to do."
Fink's coaches were understanding when working his practice schedule around his class schedule. Fink said the flexibility of his practice schedule made it easier to balance academics and athletics.
In the end, it all comes down to time management.
Wilcox said when a student athlete is successful in the classroom and on the field, court or pool, it speaks volumes for their ability to manage their time and be responsible.
While some students may use their time to watch TV or sleep, Wilcox said student athletes are just using their time in a more productive way.
"There's so many benefits of sports that I don't look at it as competing with school so much as it's how you choose to use your spare time," Wilcox said.