Taylor Swift to address her 'reputation'
Amber Moser
A&F Staff Writer
[email protected]

After three long years of waiting, Taylor Swift fans finally received the long-awaited news of an album to be released in November.
"I think it's great that Taylor Swift is finally releasing new music. It's been three years, but she's had time to reinvent herself and I think that's important for any artist," said Hannah Ferreira, a sophomore art student.
Swift has been at the forefront of the media lately, not for music, but for her role in a sexual assault trial that recently went to court. Swift accused former DJ David Mueller of inappropriately touching her during a 2013 backstage meet-and-greet event which led to Mueller losing his job and suing Swift for the damage. Mueller lost his $3 million lawsuit against Swift after a jury voted against his claim. Swift asked only for a symbolic $1 payment from Mueller, and has since been held as a symbol of strength among women who are victims of sexual assault,  according to the deposition first made public by TMZ.
"I think it's important that she pursued the trial, and didn't let [the harassment] be swept under the rug," said Ellen Smykowski, a freshman new media student. "I also like that she acknowledged that it was more so about the principle of the matter. She doesn't need money from the trial. It's more about validating that the man assaulted her, and acknowledging that as wrong."
Four days after the end of her court case, Swift caused chatter among her fans when her social media profiles suddenly went to black on Aug. 18. All of her accounts and website remained completely void until Monday when she posted a cryptic video of what many fans believed was a snake. A popular fan theory suggests this was a direct response to a recent scandal, in which Kanye West caught Swift in a lie and led to Swift being called a "snake" by many.
Swift did not leave fans hanging long, though. Early on Aug. 23, Swift announced through a photo on her Twitter she will be releasing a new album titled reputation on Nov. 10, and the first single "Look What You Made Me Do" was released on Thursday, Aug. 24. The single, while much different in sound than anything Swift previously released, echoes the same aggressive tone as Swift's previous single "Bad Blood." Swift also surprised fans with an unexpected single "… Ready For It?" during an ESPN football game on Saturday, Sep. 2. This single is lighter in tone and more similar to the sound Swift presented in her 2014 album, 1989.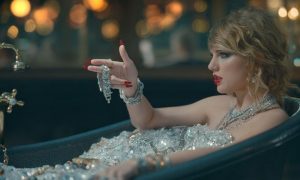 Although there is no video yet for "…Ready for It?" the "Look What You Made Me Do" music video was released days after the single and shattered records. According to YouTube, the video was played 43.2 million times in its first 24 hours alone, making it the largest video debut in YouTube history as well the largest one-day sum of views any video has received on the website.
"I'm looking forward to Swift's new album because it'll be interesting to see how she's turning her reputation around," said Madison Werle, a sophomore Spanish student. "I'm also interested to see the way Taylor Swift fans react, because I'm not a big fan but it's always interesting to see how the masses react."
Some seem a little more nervous about approaching Swift's new album. However nervous they are, though, they still seem to have faith in Swift.
"I don't particularly like how she is shading every single person she seems to have some bad blood with in her new video," Smykowski said. "However, I do like that she is empowering herself with her new image, whether I like the songs or not."