Jack Antonoff brings bizarre sad pop to The Orange Peel
By Karrigan Monk
Arts & Features Editor
[email protected]

His sister died shortly after the 9/11 terror attacks. She was 13. He was 18.
Sixteen years later, he jumps around the stage of The Orange Peel, playing to a crowd passionately singing his lyrics back to him.
Jack Antonoff's young adult years may have been riddled with pain and loss, but he only used these struggles as motivation to launch into his music career.
In order to deal with the loss he experienced in such a short period of time, Antonoff began to write music, something he acknowledged on Twitter.
"ASHEVILLE tomorrow at the orange peel. thank god. one of my favorite venues," Antonoff wrote on the 16th anniversary of the terror attacks. "today is bizarre. obviously i've been writing about 9/11 for a while now. still think about it everyday."
His first post-high school band, Steel Train, formed in 2002. Antonoff was the lead singer of this indie-rock band until 2008 when he disbanded Steel Train to join his friend Nate Ruess in creating fun., the band that would shoot Antonoff to stardom.
Though fun. only released two albums, their biggest hit, "We Are Young," earned them international fame and carried the group on until 2014 when Antonoff announced his side project, Bleachers.

Bleachers consists of a rotating group of members, but Antonoff remains the constant. On Sept. 12, Antonoff and company blasted into Asheville with a live version of "Dream of Mickey Mantle," the first song from Bleachers' second album Gone Now, released in June.
"We are Bleachers from New Jersey," Antonoff yelled at the crowd after the first song. "We are thrilled to be here. It's going to be good. We've been looking forward to this one."
Antonoff, dressed in simple jeans, a white T-shirt and a denim jacket, bounced around the stage throughout the entire show, often swinging a guitar with him. He was joined on stage by two drummers at separate kits, a bassist and a keyboardist. All four members of this ensemble sing backup for Antonoff, replicating the layered sounds of the album.
As a writer, Antonoff has co-written songs with Tegan and Sara, Lorde and Taylor Swift, including her most recent lead single, "Look What You Made Me Do."
Despite his star-studded and Grammy-winning friendship with Swift and his arena tours with fun., Antonoff seems comfortable on the small stage of The Orange Peel.
Rarely a moment approaches when Antonoff is not grinning during his set. His charm and happiness seeps into the crowd, where a mass of people dance and sing along.
There is an inherent juxtaposition within Bleachers and Antonoff acknowledges it during the show.
"I think a big part of what Bleachers is about is sad songs played with a shit ton of energy," Antonoff said between songs. "I'd be alone in headphones and I thought this sounded so sad but then I would close my eyes and hear the drums and imagine being on tour and imagine being at The Orange Peel and it wouldn't be so sad."
Bleachers first album, Strange Desire, as well as their latest effort, Gone Now, are manifestations of this thought. The lyrics to the songs are often heartbreaking, but the upbeat nature of the songs distracts just enough that listeners do not break down sobbing.
The contrast can be seen in Antonoff's face as he sings, "And you know what? I hate it," from his song "Hate That You Know Me," while keeping up his expression of pure joy of being able to do what he loves in front of people who appreciate it.
There is only one point in the show where there is a breakdown of the high energy.
At the midpoint of the set, the lights dimmed for a solo rendition of fun.'s "Carry On." For the first time, Antonoff stands still in the middle of the stage and does not smile.
He gets through the first verse and then stops.
"I fucked up," Antonoff said after singing the wrong words. "Fuck, I'm out of tune also. One sec nobody move. Sometimes shit just happens."
For a moment the crowd catches a glimpse of the Antonoff who writes these songs alone in his bedroom without the heavy bass and production. Someone from the crowd shouts, "I love you," and Antonoff looks up and smiles.
Finally, Antonoff is off again, finishing "Carry On," and moving seamlessly into the Bleachers song "Like a River Runs." These two songs make up the slowest and most emotionally vulnerable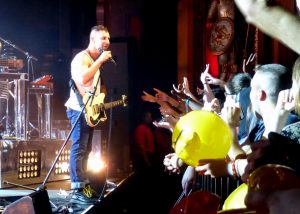 moment of the show.
"Are you guys still good?" Antonoff asked a cheering crowd after "Like a River Runs."
"Come on let's do it. Let's end good," Antonoff said. "Asheville you're the fucking best. The best, the best, the best."
The show ends with the lead singles from both albums: "I Wanna Get Better" from Strange Desire and "Don't Take the Money" from Gone Now.
In the space between the songs, Antonoff introduces the band, giving them each a chance to show off their talent in a solo display. The final member introduced, the keyboardist and saxophone player, initiates a duel between himself and Antonoff. The two stand on the amps on stage dueling, Antonoff's guitar to the player's saxophone.
The saxophone is an integral part of Bleachers. The instrument is present throughout both albums and early on in the show Antonoff harmonized with it. Closing the show with it seemed natural.
As the sweaty and smiling Antonoff waved and left the stage and the audience filed out of the venue, one thing became clear: Antonoff is a powerhouse rock star and the world is ready for more of his brand of devastatingly sad pop music.