Larisa Karr
Managing Editor
[email protected] 
Kevin Barnes lifts the ends of his scarlet chiffon caftan high above his head as giant grim reapers, girls with whips and cauliflower aliens with beady neon eyes swoop across the stage, twirling amongst each other in a deliberately uncoordinated dance.
Confetti fills the air out of the mouth of what appears to be a velvet dragon and rains upon the audience, enchanted with the visual and aural feast that pours forward from the Grey Eagle's intimate and dimly lit stage on the evening of Sept. 16.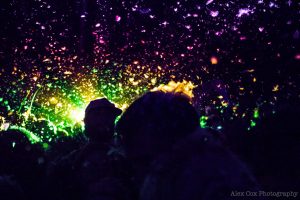 It was, in short, a typical of Montreal show.

The night started on a predictable but also unpredictable note, in the sense that there were bad opening acts preceding the dynamic headliners. An Australian comedian with a lethargic sense of humor and the rather unmelodic duo of Showtime Goma and Nancy Feast graced the stage with discordant harmonies beforehand.

After the crowd unleashed their disdain at the comedian and imbibed more alcohol, it was time to party.

"There's something artistic, aesthetically pleasing and theatrical about their performances," said Catherine Noel Thrasher, a 27-year-old musician from Greenville, South Carolina.

Barnes, the notoriously enigmatic lead singer, assumed a variety of personas throughout the band's set, including a middle-aged housewife in a nude-colored button-up blouse and periwinkle slacks and, bedecked in a cerulean silk robe, Marie Antoinette. He switched seamlessly from guitar to tambourine to simply being the ringleader of his own show.

"I think Kevin Barnes might be a one-man show but he definitely relies on the influence of others to change the chemistry that exists within the environment and still keep that addictive personality or quality type that appeals to his original audience," said Gilbert Bentley Jr., a 27-year-old barista from Toledo, Ohio.

Originally from Athens, Georgia, Barnes has fronted the band since 1996 and has overseen its creative evolution from a twee, jangle-pop outfit in the early 2000s to the bombastic, glam funk collective for which they are now known.

Their latest full-length album Innocence Reaches combines dark electro pop with psychedelic elements and features some of the band's most catchy anthems to date, including "let's relate" and "it's different for girls."

Both of these songs deal with the subject of gender, which is something that Barnes, who oftentimes performs as his transgender alter-ego Georgie Fruit, is passionate about. He said he "totally supports anybody that feels trapped in the wrong body, or feels like it's more complex than just being a man or woman."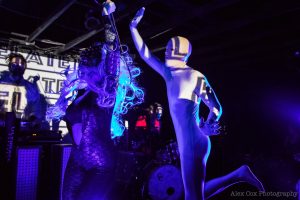 Written and recorded primarily in Paris, Barnes escaped to the City of Light to create, reflect and heal from a divorce.

Innocence Reaches deviates from the typical of Montreal sound mainly because Barnes, who has decried modern music in the past, wanted to make an album that stepped more into the present era.

The band has a diverse array of influences, including late '60s surf rock, David Bowie and literary figures like Sylvia Plath.

"I remember I met some of my favorite people at an of Montreal show, people who are into art, into culture, into literature," Thrasher said.

The audience demographics at this show were surprising.

At previous of Montreal concerts, the crowd has mainly consisted of 20-something hipsters decked out in outrageous costumes and mountains of glitter.

At this show, there was an individual swathed in mottled white fur with horns sticking out of his head, resembling an incarnation of a creature from The Chronicles of Narnia. A girl had costume jewelry woven into her fuchsia hair, creating a tone of regality matching that of the elusive lead singer.

These were the exceptions, however, as the majority of people came dressed in casual garb and ranged in age from their late teens to their late 50s.

Nonetheless, they were all there for the same reason: to let loose and get down.

"Seeing them live, it's literally always like a guaranteed party," said Talia Scarpelli, a 24-year-old arts center employee who has seen the band 11 times. "Everyone's generally really fun and really cool. I've met so many people at shows like these."

Performing crowd favorites like "Gronlandic Edit" and "Oslo in the Summertime," there was a lulling period in the middle of the set where Barnes played more obscure songs and the crowd seemed relatively lost in a daze.

Barnes said his favorite songs are the ones the audience is not as enthusiastic about, whereas the simple songs seem to connect more with people.

This was evident when the thumping electro chorus of "let's relate" blared over the loudspeakers and the audience began to bounce up and down like happy kangaroos, satiated at the familiarity.

By the time of Montreal ended their set, the applause was uproarious and they emerged back onto the stage for the encore, performing their anthem "Heimdalsgate Like A Promethean Curse" from what many consider to be their magnum opus, 2007's Hissing Fauna, Are You The Destroyer?

Afterwards, many concertgoers trickled to the back patio for cigarettes, to linger with their old — and new — friends and to discuss the show.

"I've seen them four times and every fucking time I've been drenched in sweat and happy as hell at the end of it," Bentley Jr. said.