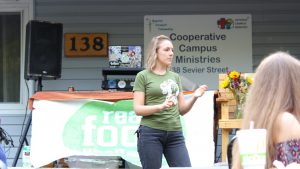 By Katie Devoe
News staff writer
[email protected]
Butternut squash lasagna, doughnuts, apples, tortilla chips, pita bread, hummus and salsa lined the table at the second annual Real Food Revolution Dinner.
Friends ran up to each other for hugs, hula-hooped, chatted and enjoyed the free meal during the event hosted by the UNC Asheville student organization Active Students for a Healthy Environment. Offering a sustainably sourced meal to the community gave attendees a chance to taste the ongoing effort of getting 20 percent of locally sourced foods on campus.
"ASHE has been working on the Real Food Challenge, which is pushing UNC Asheville to serve 20 percent ecologically sound, local and humane food on campus by 2020," said Danielle Holtz, sophomore women, gender and sexuality studies student.
The Real Food Challenge aims to increase the amount of locally produced food served on campus. Real food means food that is grown, fair, ecologically sound or humane within a 250 mile radius, according to The Real Food Challenge guidelines.
ASHE aims to have the challenge's resolution signed by Chancellor Grant before she resigns at the end of the semester according to Emma Hutchens, the North Carolina coordinator for the challenge. At the dinner, Hutchens spoke about how to succeed in officiating the Real Food Challenge at UNCA.
"I think that if you really push, and you're really persistent, and you're very present, and you say what you want, and you know it and you show up consistently you can have a policy in place for your campus to be consistently investing in the local food system for the long haul," Hutchens said.
Hutchens said it is an attainable goal for the university to connect with the local food system if students work toward it. Chartwells provides food to the UNCA and the university signed contract with Chartwells in 2014 for the next 10 years according to a UNCA press release.
"There are only really three companies that do this. They provide food to zoos, prisons, stadiums, airports, hospitals and K-12. But if you think about the people that are eating that food, students are the people that are in the position to actually speak up and say what you want," Hutchens said.
Students have the ability to voice their concerns about campus food, according to Hutchens. The community of Asheville had heavy involvement with the Real Food Revolution Dinner.
"UNC Asheville is doing a lot in terms of connecting with local distributors, businesses, farmers," Hutchens said.
Local companies and people helped to support sustainable and healthy food initiatives for the UNCA campus. Locals helped with the dinner by donating food for the meal, said ASHE co-president Jenna Ventrella, a sophomore health and wellness student.
"So we basically just reached out to Buchi Kombucha, Roots Hummus, No Evil Foods, Vortex Donuts and Mountain Foods. All of these awesome local companies and said we're putting on a dinner to support the Real Food Challenge," Ventrella said.
Neo Burrito and Gypsy Queen Cuisine also supplied food for the dinner. The local companies contacted responded positively to the request to donate food for a sustainable meal.
"I think not only does the campus community care about this issue, but the greater Asheville community does as well," Ventrella said.