By Catherine Pigg
Opinion Editor
[email protected]

Packing up, saying goodbye to loved ones and flying out to study in a foreign country; an experience two UNC Asheville students shared during the summer for a short-term program in China. While Margaret Benfield returned to UNCA for her senior year, Raechel Woodard went on to study abroad in South Korea for the fall semester.
"I think it is important to look outside your own worldview. There are a multitude of ways to be involved and be connected regarding global issues, but traveling to a new country is a way to really challenge yourself, to look at the world in a different way and immerse yourself in a language and culture that you otherwise would not be able to do in your own country," Benfield said.
Benfield said she has family members who studied abroad before her and encouraged her to do so as well. She said after figuring out the finances and academics, making the decision was an easy one.
Woodard, a senior international studies student, decided to take the opportunities to study in two of her favorite countries: China and South Korea.
"I have always had a passion for learning languages and traveling. I also wanted to experience living and learning in another country. I feel that you can learn a lot about yourself by living in a different country," Woodard said.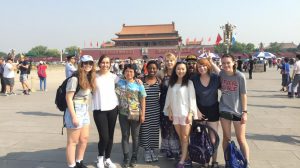 Benfield and Woodard spent the beginning of their summer trip in China traveling between Beijing, Jinan and Qufu. For the last three weeks, they lived on the campus of Qingdao University.
Benfield said she chose a summer program because she majors in literature and studies in the teacher licensure program on campus, making it difficult to study abroad and still graduate on time.
"The study abroad program I took part in had a teaching component as one of the classes. While it does not count as a credit for my education courses, it gave me the opportunity to work with English Language Learners, a skill that I will be using in my future career," Benfield said. "I was also able to learn about the Chinese education system, which really helped to inform my own ideas regarding education in America today."
Bonnie Parker, director for the Study Abroad Office, said the office tries to reach out to students their freshman year in LA 178 classes to inform them of study abroad options. When students come in for information through an advising appointment, the office helps students find resources and information about programs.
"And then help them through the process of applying and then help them with the process of getting ready to go abroad, any troubleshooting while they're abroad and helping them when they get back, kind of with readjusting and transferring their credits back here," Parker said.
Woodard said she recommends other students study abroad as well because it can be life-changing and offers opportunities for the future.
"I now have jobs ready for me in China and South Korea whenever I decide to return," Woodard said.
Benfield said she experienced a lot of growth despite only being abroad a month. She was even able to learn to communicate while abroad despite not knowing the language prior to leaving.
"Over the course of the program, almost without my realizing it, I began to learn Chinese. I listened to conversations on the street, and I struggled through words for basic necessities. By the fourth week, I was able to order food, take the bus and hold small conversations," Benfield said. "I was shocked that I had gone from literally not being able to speak Chinese whatsoever to being able to go out by myself and not be worried about being limited by my knowledge of language."
Benfield said she also gained a new perspective of social issues in both China and the U.S. and learned to talk about these issues with an open mind and greater understanding.
"I became more comfortable with discussing potentially uncomfortable or politically charged topics with my Chinese peers, which forced me to confront and re-evaluate my current worldview. Cultural exchange, both ways, is so very important," Benfield said.
Diane Royer, university program specialist for the Study Abroad Office, said she feels it would be beneficial for students to go abroad for a semester or year, especially those who hope to learn a language.
The Erasmus Impact Study reported more than 90 percent of participants stated studying abroad improved their ability to work and interact with people from different cultures as well as enhance foreign language proficiency and communication skills.
"I think a benefit to the longer term is definitely being immersed in the culture or exposure," Parker said.
Cara Gilpin, assistant director for study abroad, said students can pick different models of programs in order to find one which will be the most affordable for them. She also said students can access financial aid, scholarships and grants as well as find additional funding to study abroad.
"Just one example of a kind of program that we offer is exchange-based programs that go from a semester to a year. Those are programs that are designed to be comfortable in cost compared to UNCA. So students will pay their tuitions and fees here and depending on the program, either their room and board abroad or their room and board here so those costs remain relatively similar," Gilpin said.
Benfield stated the cost of traveling abroad was worth it to her. She said the program covered all of her expenses and she did not need to spend any of her own money outside of the program and flights.
"It might seem really expensive and like it's not worth it at first, but I promise it is. Traveling gives you a different perspective and helps you to learn about the world around you in a way that you would never be able to by staying in your home country," Woodard said.