John Green reflects on mental illness in new novel
By Karrigan Monk
Arts and Features editor
[email protected]
While most of UNC Asheville heads off campus to start the weekend, a line forms outside Lipinsky shortly before 5 p.m. on Friday.
Inside, an unassuming man in a baseball hat signs stacks of books ahead of the night's event. He is John Green, one of the most popular young adult fiction writers and one of the heads of an Internet empire, and tonight he will be presenting his book tour for his newest novel, Turtles All the Way Down.
In 2007, he and his brother Hank began uploading videos to YouTube as a series they called Brotherhood 2.0. The idea was to make a video every day of the year, each brother taking an alternate day.
By this point, Green already published two novels and a third was in the works. During the show, Green said everyone around them thought making the videos would be a bad idea as neither brother had enough time to do it.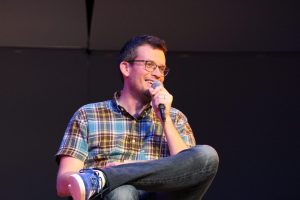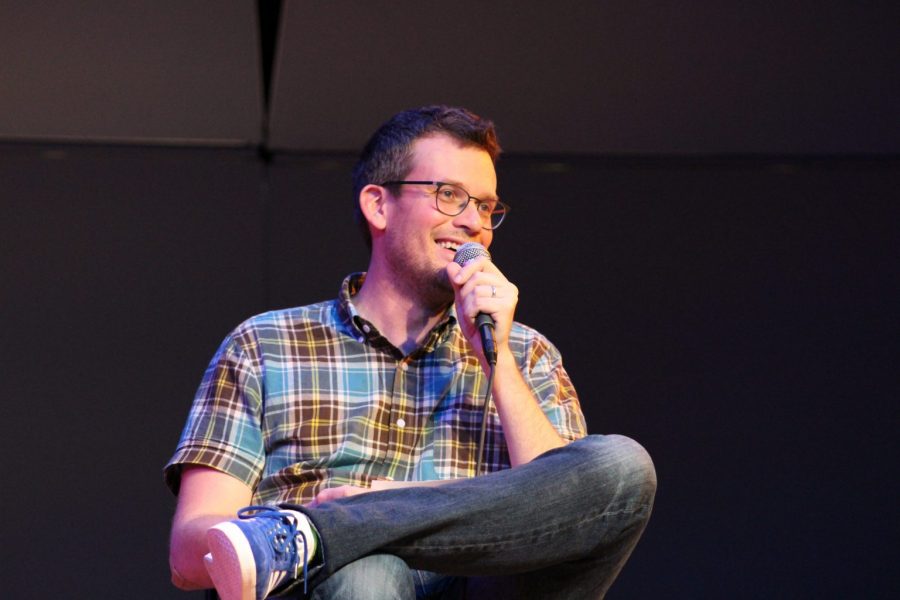 By the end of the year their YouTube channel, Vlogbrothers, amassed a wide audience known colloquially as nerdfighters. The two announced they would be continuing with their videos indefinitely. As of 2017, the videos are still uploaded multiple times a week.
"By then we were bought in. We were committed and never really thought about stopping after we started," Green said. "It was so fun. Really from the first week we were having a blast and 11 years later, I have to say, I like it as much now as I did then."
After their initial year of vlogging, the Green brothers went on to start several other projects, including Crash Course, SciShow, Project for Awesome, Dear Hank & John and VidCon.
All the while, Green continue to publish books, including The Fault in Our Stars, which became his most successful novel to date and was adapted into a film.
The story centers around two teenagers as they battle cancer. Green dedicated the novel to Esther Earl, a young fan he became very close with before she lost her battle to cancer in 2010.
Hailey Johnston, a junior political science student, said The Fault in Our Stars was particularly helpful to her and her recovery from cancer.
"After I recovered from my chemotherapy and radiation treatment, about half a year out, he was filming The Fault in Our Stars in Mooresville, North Carolina, and that was during a time when I was feeling really low and alone," Johnston said. "My friend loaned me her copy of The Fault in Our Stars and reading that gave me so much validation for all the stuff that I had gone through and it saved my life in high school."
After the immense critical success of The Fault in Our Stars, Green said he found it difficult to write again and became depressed. He said he eventually came to accept the idea he would never write another novel. It was after this acceptance he finally began to write his fifth novel, Turtles All the Way Down, released Oct. 10.
Green and his brother Hank are currently on tour in support of the novel, stopping in 19 cities across the country.
Friday evening's event began with each audience member having their ticket scanned and handed a signed copy of the new book, a tour tote bag with a poster and booklet and a New Zealand five cents piece.
As the audience made their way into the auditorium, Hank's brand of nerdy music floated through the air.
Alaina Smith said she was excited to see the show.
"I'm not a huge reader, but I've read almost all of John Green's books," Smith said. "I'm super pumped to come out and see him."
When the clock strikes 7 p.m., the lights dim and clips of Vlogbrothers YouTube videos begin to play.
Seconds before the screen fades to black, Green sheepishly walks on stage and waves.
"Hi. I'm John Green and this is my new book Turtles All the Way Down."
Green introduces the novel as the story of a young girl names Aza who struggles with OCD, something greatly affecting Green's life as well. He said he wanted to write a detective story where one's mental illness is unhelpful, in contrast to television shows such as Monk where the character's mental illness is seen as an asset to their personality or job.
"In Turtles All the Way Down, I wanted to give people a look into what it's like to be stuck with a mind that doesn't always feel like it's yours and maybe also to help people who struggle with that terror feel less alone in it. Of course reading and writing are not only about empathy, but I think ultimately that is why I both read and write. I'm reminding myself, convincing myself, that other people are real," Green said. "That I may not always control my thoughts but that I am nonetheless a real creature, a singular noun, capable of being loved and of loving. Not just capable of love, in fact, but also worthy of it."
Green said he began to notice his symptoms of OCD as a child when he began to fear being poisoned and as a result developed behaviors to cope with it, such as only eating certain foods at certain times.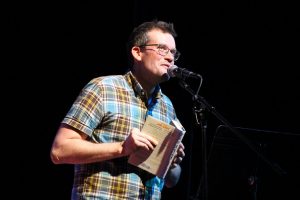 For Green, the experience was particularly frightening as he had no words to describe what he was feeling.
"It felt like all the time there was a real monster, an actual monster that lived inside of me," Green said. "It felt like I was stuck inside of a prison cell the exact size and shape of my body. It felt like I could say a lot of things that it felt like, but I struggle to say what it was and I struggle to say what it is and most of it made me feel like a passenger in my own consciousness."
After reading a short passage from the book, Green said he would usually introduce Hank at this point but because he was at a wedding, he had to find two very special guests, his parents, who live in the area.
Before he left the stage for his parents' segment, Green said he wanted to explain why everyone was handed a New Zealand nickel as they walked in the door.
He said he found them beautiful and bought a bag of them online for $22 and asked his New Zealand librarian friend if she had anymore lying around as they went out of circulation in 2003. The librarian placed an ad in the local newspaper, who picked it up as a story and put it on the front page. Soon, nickels were being sent to this librarian from all over the country, who in turn sent them to Green.
Green said the nickels were a wonderful gift to him and he wanted to share it with his fans.
With this, Green introduces his parents, Sydney and Mike Green, who come on stage to tell stories of a young John Green, and read his first "award-winning story" he wrote at age 8.
Green soon comes back on stage to answer a few audience questions and give shout outs for birthdays.
Questions from the audience ranged from how to be a good writer, were there any initial story lines dropped for the final draft and how to be a writer with a mental illness.
"I think we all know mental illness is stigmatized in our culture. People talk about mentally ill people in ways that are cruel and dehumanizing, but it's also romanticized a lot of times," Green said. "This idea is that you have to be crazy to write and not only do you have to be mentally ill, you have to be untreated. You have to sort of ride the line between wellness and absolute decompensation in order to write well. This is a very dangerous lie."
The final portion of the evening is a staging of the Green brothers' popular podcast Dear Hank & John. As Hank was not able to attend, Green invited his mother on stage to be part of it.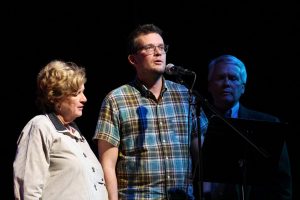 The duo answered questions ranging from the importance of librarians to favorite Disney movies to apocalyptic fears — Green has a list of his top five — to what to do after graduating college.
"I also found it became much worse after graduating college, not to discourage all the UNCA students. For me, that was the hardest part of my life, the first few years after college," Green said. "It slowly got better as things in my life became more stable and I began to understand how to do things and it wasn't so stressful every month to pay the water bill."
The final question was one of how to deal with a breakup, to which Sydney Green had a simple answer: "party on."
Green ends the night by telling a story of his friend who died earlier in the year, Amy Krouse Rosenthal, who was an author, filmmaker and radio host and someone Green said found positivity in every human moment.
Rosenthal, according to Green, gave him one of his first big breaks of his career by putting him on the radio. A few years later, she invited him to one of her readings but he did not want to go as he was in a particularly terrible period of depression. Still, he went because he felt obligated.
It was at this event Rosenthal told John that in World War I, many British soldiers did not understand why they were fighting and would often sing a lament of, "We're here because we're here because we're here" to the tune of "Auld Lang Syne."
"That night she made me understand that we were here, meaning that we were together. Even when we felt alone we weren't. Not really, because we were part of a vast and deeply interconnected us," Green said. "Amy made me feel in that moment what I believed ever since: that hope is not foolish or idealistic or misguided. Hope that life will get better and more important that life will go on is the correct response to the arc of history. Hope, as Emily Dickinson wrote, is the thing with feathers that perches in the soul and sings the tune without the words and never stops at all."
Green invited the audience to join him in singing, despite the fact he hates audience participation. Green begins to sing and his parents walk out, hand in hand, to stand on either side of him.
As the event comes to a close, the chorus of, "We're here because we're here because we're here because we're here" floats out into the night, giving UNC Asheville hope for the future.