By Maggie Haddock
News Editor
[email protected]

The Ingles Mountain View Room in the Sherrill Center stands well-lit and full of curious attendees, taking their seats and waiting for the panel to begin. The three panelists settle at the table in the front of the room, each equipped with a microphone, ready to respond thoughtfully to the hostess's questions. As the discussion  unfolds, the perceived dynamic of mere panelists addressing an audience transforms into women discussing their power and impact with the female leaders of the next generation.
The panel, hosted by the Buncombe County Young Democrats, specially picked three women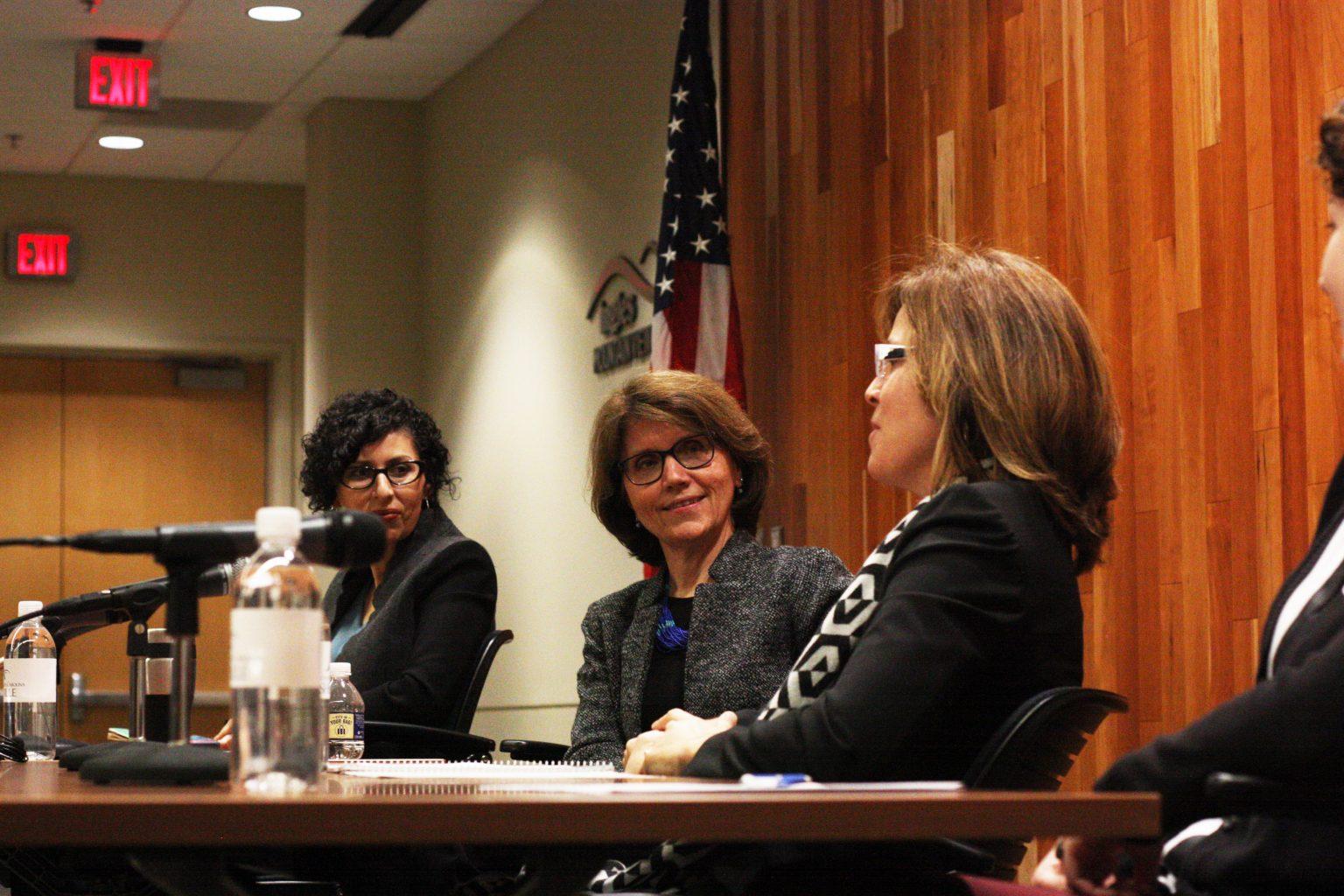 leaders in the Asheville community to speak: city of Asheville Mayor Esther Manheimer, UNC Asheville Chancellor Mary K. Grant and OurVOICE Executive Director Angelica Wind.
"We chose speakers from diverse fields to show that leadership skills can be applied to every center in our society," said Lindsey Prather, hostess of the panel. "I'm deeply grateful that I live in a city with so many strong and capable women to look up to and that these panelists were willing to give up their time to be with us tonight."
The three women were asked a series of questions, some prepared specifically for the event, others prompted by the audience at the end of the panel. These questions primarily revolved around leadership, balance and mentorship to the next generation of leaders. The common thread of this event could easily be identified as strategy and how it led these women to success.
"One of the skills I had in addition to my brand spanking new college degree was I knew how to type," Grant said in reference to her first job after college. "I knew what I needed to do was just get my foot in the door. I figured if I was there, I could then move to something else and that happened."
Wind recalled how she started as a paralegal and later changed her career path, but still utilized the skills she learned earlier in life. These skills from the past later aided Wind in her professional career, a career which she said continues to change and grow.
"Every opportunity is a learning opportunity, even if they're mistakes. Even if it is working at jobs that normally would not be ideal professional goals, they do feed in, it is just a matter of being able to look and clean those skills and being able to apply them in a different field," Wind said. "So, my field was law and it continues to be law, because I feel as human beings we are evolving and for me I've always been really cautious to think that I've arrived."
The panel did not follow the formal, hierarchical guise of the orthodox panel discussion. The mood was light-hearted, with genuine laughter and the audible signals of agreement and engagement dispersed throughout the evening. But the atmosphere did not lack seriousness at times — the struggle of being a woman in a leadership position, as the panelists discussed, remains a shared experience.
"What is a struggle for me is how to have a fulfilling professional career so that you personally feel like you are always doing something meaningful for you, because that's what we expect in this day and time — that we will do something meaningful, hopefully," Manheimer said. "You hope to be able to do it. Not everyone can do it, obviously, but you strive for it because then what's life worth living then balancing that with this crazy world we live in? To me, that's difficult."
Manheimer noted, aside from her position as mayor, she also serves as a partner in a law firm, in addition to wearing the titles of wife and mother.
"The 'doing it all' part — it goes without saying  — is probably the biggest challenge about keeping it relevant and fulfilling," Manheimer said.
All three panelists agreed the role of mentors, both the mentors in their own lives and the mentors they strive to be, serve as an integral part of anyone's success as a leader.
"If you haven't found out already, most people are pretty generous with their time and their experience and what you have to do is ask and say, 'Can I talk to you some more?'" Grant said. "Mentors have been really important and have come from some surprising places, too. I think it's about being open to that."
Grant also tackled the hesitation mentees may face regarding suggestions made by their mentors which puts them out of their comfort zone.
"When you have mentors and people that you trust, people who know you, and they tap on your shoulder and say, 'You should think about this' and, 'You should consider this,' listen to them," Grant said. "Good mentors are not going to let you down. They are not going to steer you down a path that is not a good thing."
Wind, a first generation Mexican-American, provided a different perspective on mentors from the other two panelists.
"There's this notion in the United States, that if you work hard enough and if you pull yourself up by the bootstraps, anything is accomplishable and that's not actually true," Wind said. "Speaking as a woman of color, I know for me, the doors were a little bit harder to open. So, what I feel was key to get me where I'm at is the fact that I had mentors that were here to guide me, mentors that were able to help introduce me to folks that would help me open up these doors."
Manheimer, who noted her career is in a male-dominated field, said mentorship can come just from observing those within one's path.
"I'm in a fairly male-dominated field and not just in law, but in civil litigation within law is male-dominated. So, within law, my mentors have been men more often than not. Law has kind of a tradition of mentorship and so it's already sort of built in," Manheimer said. "For me, you may inadvertently be my mentor at any given time. I think it's very important to watch and observe how other people do what they do."
The evening ended after a multitude of questions from the audience, which ranged from young children to college students, all with the same level of engagement and curiosity for the panelists and their advice to potential future leaders.
"My responsibility to the organization, to the community, is to bring up the next generation," Wind said.