UNCA community hopes to improve reputation of sexual misconduct discussions
By Emily Henderson
Managing Editor
[email protected]

In the five years since Jill Moffitt accepted the position as Title IX administrator at UNC Asheville, sexual misconduct reports skyrocketed from four in 2012 to 55 last year.
"I don't think people are being more sexually inappropriate. I think people are feeling more comfortable to come forward and report it," Moffitt said.
Moffitt, the associate vice chancellor for student affairs and Title IX administrator, said more incidences occur unreported.
According to the U.S. Department of Justice's Rape and Sexual Assault Victimization on College-age Females report, only 20 percent of sexual assault victims report their cases.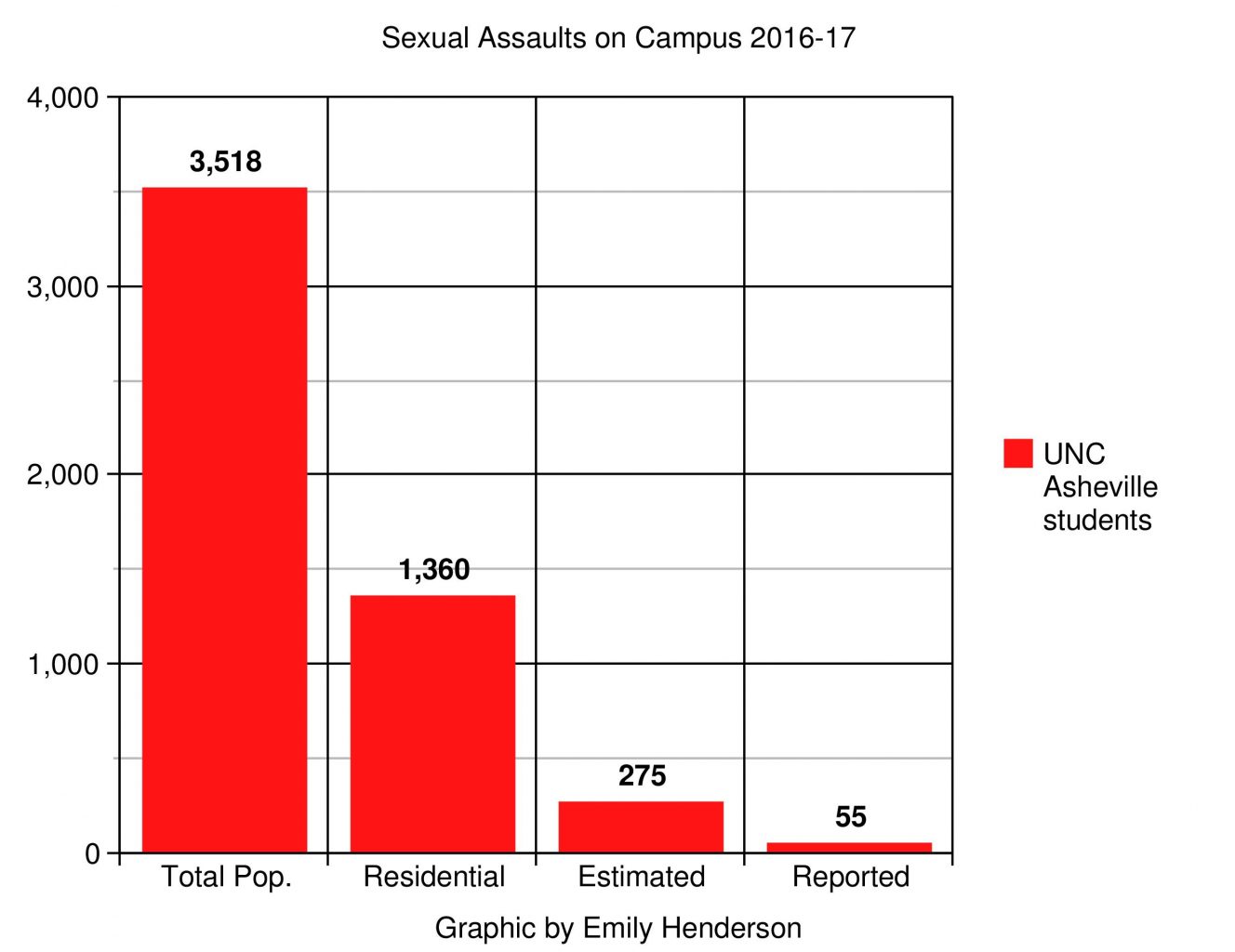 Taking the 55 reports of sexual misconduct into account with this statistic, approximately 275 students would have been sexually assaulted in the last academic year.
The university website encourages students to seek help through UNCA's Health and Counseling Center, OurVoice's rape crisis hotline and in the case of reporting, contacting the Title IX Office or UNCA Police.
"When the victim says they were assaulted, they're assaulted. What they want to do is their business. What we want to do is empower them," Moffitt said.
Moffitt said the Title IX Office tries to determine the campus sexual misconduct climate through statistical impact statements and by working with students impacted by sexual violence.
"The biggest thing we're seeing currently, that we need to work collaboratively with our students and with our faculty and staff to address, is the way that people engage in intimate relationships in general," Moffitt said.
Moffitt said when students find themselves in these situations, even if they could tell you what consent was three days ago, if they are at a party drinking, the definition of consent can become blurry.
Assistant Title IX Coordinator Keishea Boyd works with the Association of Title IX Administrators to compile a monthly quiz-based training app specific to UNCA policies.
This initiative, U of Nine, aims to educate the community about sexual violence, sexual harassment, intimate partner violence, alcohol abuse, stalking and more.
"It's coming from the Title IX Office. It's educational in nature. It has quick information. You can pull it up on your phone each month. I don't give any more than five questions," Boyd said. "I'm excited about U of Nine and I hope it continues to gain popularity."
One of the goals of U of Nine monthly surveys is to constantly serve as reminders to students.
"You should always be thinking about the way that you engage in healthy relationships or intimate relationships or dating," Moffitt said. "We want them to keep thinking about it."
October's U of Nine survey informs students of the Title IX Office's ability to investigate instances of stalking. After answering the question, a fact box informs students stalking can increase in risk and severity and emphasizes the importance of early intervention.
"We hope if last year's results are any indication, we think we can get to about 12 to 15 percent," Moffitt said, of returning students participating in the October U of Nine survey.
Five days before the close of October's survey, participation fell below 10 percent, resulting in less than 300 students receiving information in the October U of Nine survey.
Campus prevention and safety awareness programs are in place such as Rape Aggression Defense Training through UNCA Police, Peers Educating Peers and Advancing Health for students dealing with emotional crises and Safety Escorts available to students walking alone at night, according to the 2017 Security and Fire Safety Report.
SGA Vice President Lauren Bulla works closely with student-run organizations such as PEPAH, to lead a focus group for sexual violence awareness and prevention efforts.
"We are constantly working to create safe spaces where students can speak on their experiences and learn about the variety of tools they have access to regarding these issues," Bulla said.
Bulla said she hears often of survivors who are able to report, but seldom receive justice or any real tangible help through university provided outlets.
"Though there are structures in place that are theoretically meant to promote safety and prevent violence, this doesn't mean that they adequately stop it or serve the needs of students who've experienced some form of violence on campus or off," Bulla said.
Bulla said alongside administrative efforts, student-led outreach such as Hyannis House work to educate the community on sexual misconduct prevention as well as to remedy the effects of sexual assault in students' lives.
"The students allow spaces for survivors to speak on their experiences and be heard," said the junior political science and women, gender and sexuality studies student. "They also provide a plethora of resources and opportunities for students to reach out for help if they so choose."
UNCA funded Hyannis House to house organizations including UNCA Out and Trans Student Union, creating a safe space for women, the LGBTQ+ community and those affected by sexual violence.
Students can utilize Hyannis House if they experience gender discrimination or instances of sexual misconduct. Students staffing the house have campus safety and Title IX training in order to provide appropriate accommodations, according to university data.
"Hyannis House is very, very intricate in programs, prevention, education. In addition to our office, they do a lot of programs and it's student-led, completely student-support. It's for those that are marginalized and want to get involved with assisting survivors," Title IX Coordinator Boyd said.
Lee Doyle, prevention education outreach coordinator for OurVoice, having been one of the students who advocated for Hyannis House, said just providing a space for students with peer educators and support on campus can be a huge relief for a lot of students.  
"Violence happens a lot with people that you're close to, whether it's friends or family members, which adds an additional layer of betrayal for survivors," Doyle said.
According to the CDC's National Intimate Partner and Sexual Violence Survey, the chances of sexual violence for lesbians rises nine percent from heterosexual females and three percent to  heterosexual males from  homosexual males.
"For a lot of queer folks, having any representation of any LGBTQ+ relationships is a huge thing and often when they are represented, it's often unhealthy, too," Doyle said.
Alumnus Doyle continues developing a relationship with Hyannis House on UNCA's campus to talk about healthy relationships in queer communities and strike a change within students' behavior toward signs of rape culture.
"Oftentimes, people who are perpetrating are also testing the waters to see if this is a place where they can get away with something," the 2010 graduate said. "You're gonna witness probably these things happening more than you're gonna witness rape and murder."
Doyle said sexist jokes and name-calling perpetuate rape culture and often serve as the foundation for verbal and physical abuse.
"If someone says, 'We don't do that kind of shit here,' people get the idea, 'Oh I'm not gonna get away with it, so I'm not gonna do that here,'" Doyle said, emphasizing the importance of bystander intervention.