UNC Asheville: A little Harvard on the hill
By Emily Henderson
Managing Editor
[email protected]

A female student gracefully glides up all 20 steps to Ramsey Library, turning away from the monumental doors to gaze out to the next four years of her life.
"The view from the top of those steps out to Mount Pisgah was exactly the same view," said Deborah James, alumna and literature professor of the library 48 years later.
According to UNCA's historical timeline, Lipinsky, built in 1964, served as the campus' first student union, cafeteria and theater.
The majority of classes were held in Carmichael Hall, the Humanities Lecture Hall and Rhoades Hall, later renovated and renamed Rhoades-Robinson Hall.
Karpen, the building in which James teaches, opened in 1991.
"Classes were small," James said. "Probably the largest class I was in were 15 or 20, but even that could be unusual."
UNCA continues to cater to small class sizes. According to UNCA's facts and figures, the average lecture or seminar class holds 20 students, whereas labs and studios cater to around 18 students.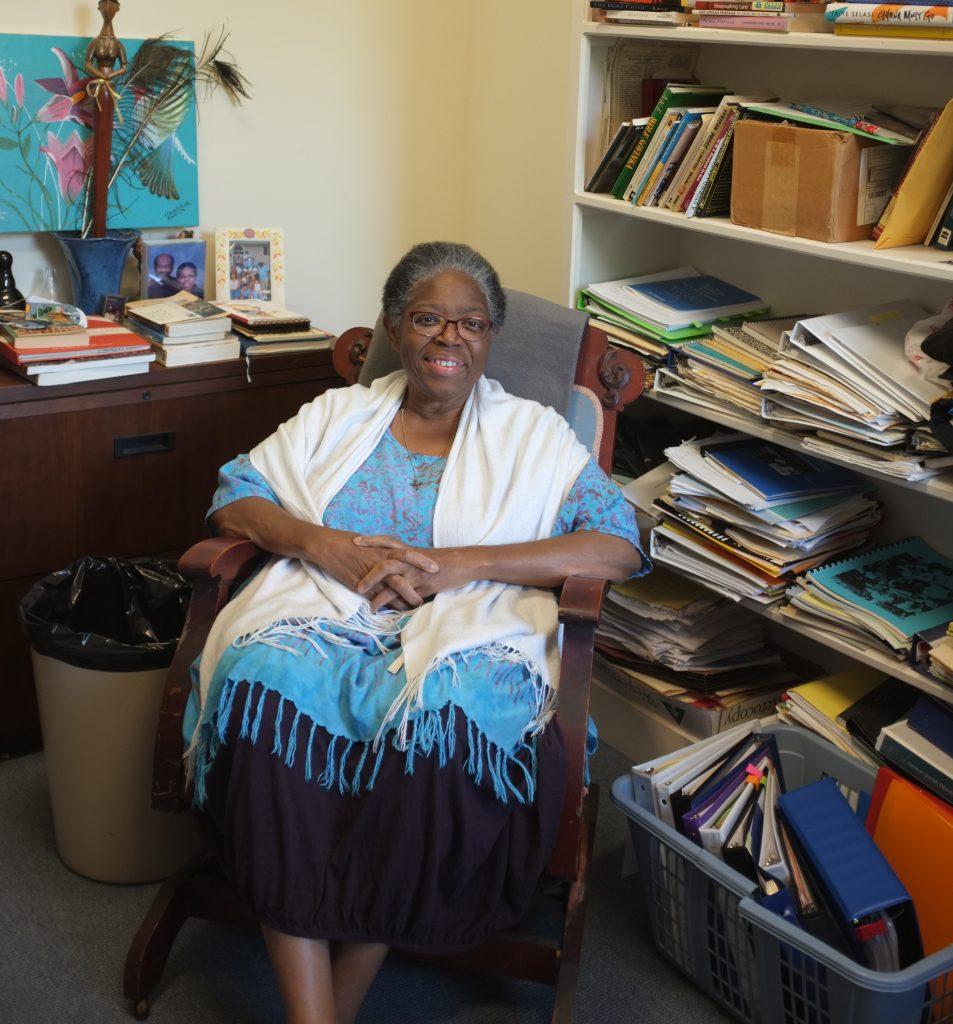 James, referred to affectionately by friends and colleagues as "Dee," sets the scene of being a female student in a different era.
"It was a very different atmosphere in some ways. In some ways though, it's a lot the same. Several of my best friends, who are still best friends of mine, I met as a freshman," James said. "We lived in the dorms."
The residential life consisted of about 200 students living in Governor's Village. James said she lived in Gardner Hall for three of her four years on campus.
"The men's dorms had already been integrated. The campus had already been integrated," James said.
However, the women's dorms had not, until James and her peer Mary Greenlee were recruited in 1969.
According to William Highsmith in his book UNC Asheville: The first 60 years, the black students on campus developed a group recognized by the Student Government Association as the Black Student Association.
"When I was a junior, the Black Student Association began," James said. "It was started by two guys who were Vietnam vets who had come back, were from Asheville and the GI Bill was paying for them to go to school."
Similar to today the university hosted theater programs, student-run projects such as the radio station, newspaper and SGA.
"The student organizations were upstairs in Lipinsky. They were on the second floor. The main floor was pretty much as it is, though the office space wasn't there," James said.
The student-run radio station located in Lipinsky broadcasted downstairs to the cafeteria and Governor's Village.
In comparison, today's station The Blue Echo broadcasts worldwide and can be easily found online.
"At UNCA, if there's an idea you have as a student of something you want to do, somebody will help you do it," James said.
Ray Gasperson, SGA president in 1973, said his time at UNCA helped cater to his future career as a Polk County commissioner.
"The campus was really small in terms of student population, maybe about 12, 13 hundred students at the time," Gasperson said.
James said she wrote for the student newspaper The Ridgerunner during her student career at UNCA.
"We did a lot of making our own entertainment because we were up on the hill," James said.
Just as university newspapers and student government quarrel about student politics today, so did The Ridgerunner and SGA under Gasperson's presidency.
According to Highsmith, The Ridgerunner frequently criticized the SGA, which led the SGA to threaten to withhold fees from the newspaper.
Outside the university grounds, the thriving city of Asheville we know today was boarded up through the '70s.
Professor of history Dan Pierce recalls his hometown during that era.
"You know, it was here," Pierce said, referring to the campus. "But you didn't hear a whole lot about what was going on at UNCA."
He reminisces on early downtown Asheville, and while still viable in the '60s, stores began to be boarded up as demand decreased in the '70s. He said the main reason for going downtown was for Tops for Shoes and Finkelstein's Pawn Shop, historic Asheville businesses.
"You wouldn't walk around downtown after dark, generally it was not considered safe. There's certain neighborhoods — this was generally considered a safe part of town," Pierce said, referring to the university grounds.
James said the atmosphere on campus was that of community and home.
"The campus felt safe to me. The town didn't feel safe. The campus felt safe. So I felt like we were in this little bubble, and we lived here," James said. "We lived in this little bubble."
James said with a lack of transportation and unorganized bus systems, the residential students felt isolated from the city, and the city felt cut off from the school because of social status.
"UNC Asheville used to be referred to as a little Harvard on the hill," James said. "There was a sense that it might be fostering elitism."
Students spent most weekends on campus, creating their own entertainment.
"I walked all over campus, all over the outline and people would say, 'Oh, are you scared?' and I just thought what a ridiculous thing," said James, a native of Charlotte.
Pierce said while on college campuses women were still a minority, the women's movement was making a big impact at that point.
"In my senior year, we had a young woman that was killed," James said.
In April of 1973, the school suffered the tragic loss of Virginia Marie Olson, who was murdered and raped in the botanical gardens.
The previously safe and quiet campus was infiltrated by the Asheville Police Department in search of the killer.
"The guy who was leading the investigation," James said, "suggested to all of us that it was probably somebody that we knew. It was probably somebody we lived with."
James said the female students were in hysterics, looking around with suspicion at the 200 fellow residents.
"That was a horrible time because I was the dorm mother," the UNCA alumna said. "So not only my shock and grief, but the women who lived with me, that shock and grief and terror."
James said she was confused about why rape happened in the early '70s. Society believed rape to be about sexual interest, rather than forcing a status of power unwillingly on someone.
"There's an increasing awareness at that point about this type of thing," Pierce said.
"It's not the level of consciousness that it is today, but you're beginning to hear discussions on campus."
Gasperson thinks back to the tragedy.
"It was pretty stunning when it happened," Gasperson said a year ago. "I just recall it was a shocking event."
For James, it was more than a shocking event. The weeks following were filled with unanswered questions, fear for one's safety, the pressure of finishing the semester and the overall sadness of losing one of your peers.
"She was very quiet, generally. Pretty, sweet — and that's part of what is a shock of her death. It was pretty awful," James said. "It was pretty awful, the most shocking thing and unbelievable. It's still unbelievable to me that it could happen and that we still don't know who killed her."