Kye Johnson
A&F Staff Writer
[email protected] 
Asheville's sixth annual Restaurant Week organized by the Asheville Chamber of Commerce kicked off showcasing 25 different restaurants with options perfect for a date night or a quick tasty lunch. The week provided special menus and pricing, bringing new things to the table.   
Leeanne Briggs, director of events and sponsorships and staff person responsible for Asheville Restaurant Week, explained the concept behind the event as an opportunity to experience new and favorite restaurants.
Asheville Restaurant Week commenced at New Belgium Brewery, an event that Briggs would like to continue and expand upon in the coming years.
"Asheville Restaurant Week fits within our mission of building community through business and with one of our overarching goals of helping Asheville businesses prosper," Briggs said.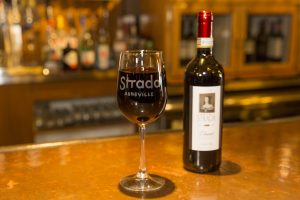 Menus created for the week highlighted the restaurants' unique specialized cuisines.
Participating restaurants had offerings from modern American fair at Ambrozia Bar and Bistro to rich truffles from Asheville's French Broad Chocolate Lounge.
The limited menus also came with special prices, some offering lunch selections from $15 and dinner from $30.
Lunch menus gave patrons the choice of an appetizer and entrée, or an entrée and dessert, plus a non-alcoholic beverage. Dinner menus included three course meals with varying options and some restaurants offered deals for two with varying combinations of entrées, desserts and appetizers.
Menu prices never exceeded $35, a discount compared to the average prices for a dinner at participating restaurants.
"Asheville Restaurant Week provides a boost to the local economy – to the participating restaurants and their local suppliers – while also giving locals a great excuse to dine at some of our wonderful restaurants," Briggs said.
"It offers the restaurants a promotion to offer patrons during an often slower-season time frame, post holiday," Briggs said.
Strada Italiano, located at 27 Broadway St., participated in Restaurant Week. Strada Italiano offers dishes that represent all regions of Italy, based on chef and owner Anthony Cerrato's traditional family recipes.
"Asheville Restaurant Week is not new and it has been done in outside markets," Cerrato said.
The success of this model seen in other foodie cities like Chicago, in its eleventh year of Restaurant Week is what drew Cerrato to add his restaurant to the list. Also, other cities in North Carolina like Charlotte host restaurant weeks in January.
"Regulars come in and do this, but every year we create new regulars," Cerrato said.
The creation of regulars is an outcome both the Chamber and participating restaurants hope for.
Julibeth Moss, a 23-year-old nursing assistant from Asheville's neighboring town Canton, was drawn to attend Asheville Restaurant Week after seeing it on a Facebook ad.
"Asheville Restaurant Week drew me in because I love supporting local restaurants that serve local food," Moss said.
Moss felt the prices were fair and said her main complaint was she would like to see more menu options, stating the menus were often very short.
When asked about future Asheville Restaurant Week participation Moss said she hoped for more breweries with a unique bar food selection.
Asheville Restaurant Week involves not only the locals and tourists that attend, but the unique and beneficial cooperation of the Asheville Chamber of Commerce and the restaurants.
"This year, participating restaurants have individually tailored their menus and prices for Asheville Restaurant Week to best fit their unique offerings and offer patrons a great Asheville Restaurant Week experience" Briggs said.
By working together, the Chamber and the restaurants have yet again succeeded in another year of supplying an experience to the people of Asheville through Asheville Restaurant Week.
Hopes for future Asheville Restaurant Weeks, Briggs said she would like even more restaurant participation so there are more dining choices, an aspiration that participants of Asheville Restaurant week can really bite into.