Samuel Robinson
Sports Staff Writer
[email protected]
Baseball is a game of numbers. It yields a certain statistical fascination that is quite unlike any other sport.
This game, where being successful three out of every 10 times can get you into the Hall of Fame, has become a breeding ground of habit and superstition.
"I prefer not to step on the line," said Jordan Carr, a junior pitcher at UNC Asheville. "It's what I've grown up to know: skip over the line."
Perhaps the most abided by, unwritten rule of baseball superstition for players taking the field is to avoid stepping on the foul line when they enter the field of play. There are players, however, who prefer to downplay superstition in order to focus solely on the game.
"I step on the line sometimes. Whatever stride I'm on. I really don't care. I'm not very superstitious at all," said Nick Boyles, a senior pitcher. "If I see it, I'm not going to step on it. It looks good, I don't want to mess it up. But I'm not thinking, 'Oh, don't step on the line.'"
Pitchers are often less superstitious than field players, according to Boyles and Carr. Hitters may eat the same meal before every game, draw into the dirt of the batter's before each at-bat or even wear unwashed garments from previous games.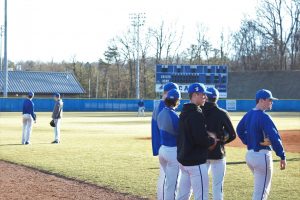 "Some hitters adjust their batting gloves after every pitch. It's almost more of a habit or routine than superstition," Boyles said. "Wear the same sliding shorts, won't wash the jersey, some people don't wash their pants. It's kind of nasty."
Over the past few seasons, MLB has made attempts to shorten the length of games to better suit the spectator and has gone as far as to address and consider forbidding certain superstitious tics of players, such as the adjusting of one's batting gloves after every pitch.
It is easy for spectators to simply regard habits such as the adjusting of gloves following every pitch as superstition. But, baseball is a game of strategy as well as numbers.
In essence, baseball is a one-on-one sport. Every pitch is a duel between the hitter and the pitcher. By stepping out of the batter's box and adjusting his gloves, a hitter could well be giving himself an opportunity to predict the pitcher's next pitch.
Each MLB team plays 162 regular season games per year. As more and more games are played, data regarding the sequential tendencies of pitchers and hitters alike accumulates. The sport's best hitters are able to compile this accumulated data with what they have learned about the pitcher in previous duels to best predict the opposition's next move.
MLB commissioner Rob Manfred has received criticism from players and spectators for his latest attempt to eliminate player tactics and superstitious tics. Imposing restrictions on procedures that have been used for decades is an injustice to the game according to the MLB players' union.
Part of baseball's allure may be the fine line separating superstition and strategy. The players' union argue forbidding players from practicing their particular routines in order to shorten the length of games will negatively impact player production and diminish part of the sport's charm.
"I'm not really superstitious. I think most athletes get in a regimen of doing things based on routine," said Cameron Maybin, an outfielder for the 2017 World Series Champion Houston Astros and spectator at Wednesday practice. "Especially while something is going right for me, why wouldn't I stick to what's working?"
Maybin has spent the last 10 years playing in the MLB. Sustained success of that type does not come coincidentally, nor through proper repetition of superstitious acts.
"I don't know it's being superstitious or just being smart. I'm not a guy that's wearing the same underwear, but I am into my routine. I wear tights every game. I always wear sliders over my tights," Maybin said.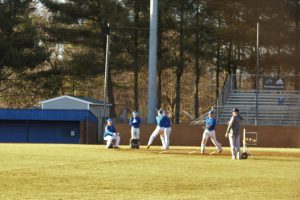 Superstition seems to come with a stigma some would prefer to avoid or not think about.
"I can't remember the last time I played without tights. But in my mind, I don't define it as superstition. I'm the guy that will get three hits in a game, then switch my bat. I don't believe it was the bat, I like to test the waters just to see," Maybin said.
It is almost ironic to imagine those athletes who are able to reach the pinnacle of their sport through hard work and perseverance remaining devout to unfounded beliefs and minor superstitions. Ironic as it may be, it is not at all a rarity; especially in professional baseball.  
"I played with a guy, Michael Ryan, who had to have everything in threes. Batting gloves stacked in threes, socks in threes, shoes in threes, bats in threes. And if you moved his stuff around, he would lose it," Maybin said.
Knowing there are professionals with such particular superstitious regimens demonstrates superstition is not confined to any particular level of baseball, nor does it have limits. Carr has been avoiding the foul line for luck since he was four years old, while Boyles will only avoid stepping on the line to uphold the aesthetic appeal of the baseball diamond.
The season begins in a few weeks, but superstition is already abound in anticipation of baseball season. Be sure to come out and witness the assemblage of superstition, habit and strategy when UNCA hosts Boston College in what will be the Bulldogs' first home game, March 6.