Rachel Boyle
Sports Staff Writer
[email protected]
Since last spring, UNC Asheville has planned to complete renovations to Highsmith Student Union this August. The renovations are adding a lot of amenities to the union for students to enjoy.  
Information about the renovations can be found posted in Highsmith, at different promotional events and located around the blocked-off areas where the construction is taking place. One  sophomore student said she is pleased with the upcoming changes and believe it will draw them to use the union more than before.   
"I used to live in Founders and even then I would just use Highsmith Union as a place to grab a snack and a way to just simply get to my room," said Meghan Bewick, a health and wellness student. "Now I think I am going to be spending a lot more time there other than just eating at the Grotto. I mean, they are opening a coffee shop and two fireplaces to hang out around. I want to use all the new changes as much as possible before I graduate."
The Highsmith Student Union acts as a safe community space for students to use. Many student organizations host student-led events at the Grotto, which includes a stage for performances called the Grotto. The building also hosts an art gallery, the Game Room where students go to play pool and ping pong with friends and the free store located outside where students can give away and take items for free.
"I really enjoy spending my leisure time in the Grotto. There is always something unexpected happening here from concerts to drag shows, while I am eating my lunch or dinner.  I grab dinner with my roommates all the time at Highsmith and sometimes we go when they are hosting a movie like Finding Dory, " Bewick said.
Highsmith is expecting to have a new design come August, but it will still maintain many of the featured spots students have come to love. Costs for renovating the Union aim to be around $12.5 million.  
Alex Bortey, a junior management student, works in the mail room of Highsmith and has heard much about the upcoming changes.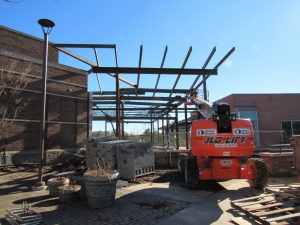 "Highsmith's growth is expected to be about 6,513 square feet designed for student use. They said there will still be a lot of the same facilities like the food court and student gallery along with others, but new spaces will be added on like a new coffee lounge and gender neutral bathrooms," Bortey said. "After all, Highsmith's purpose is to serve as 'Something more than just a building' and provide a learning and safe environment for all of the community."
Some students said they are concerned the new renovations will cause more traffic in Highsmith.  Bewick said the renovations might slow down the service speed in places like the food court and mailroom.  
"I am excited for the new renovations of Highsmith but I am a little worried about how much traffic this is going to draw in," said Bewick. "Sometimes I have a short amount of time between my classes and currently for me to grab lunch at Highsmith it is typically not very long. I feel like more students will be going to Highsmith after the renovations and I will not be able to grab a quick bite between my classes like I do now."
Recently, a beam from the old Highsmith was displayed in front of one of the main entrances for students to sign with a UNCA blue marker. The beam will be incorporated into the "new" building.  
"I signed the beam because I am a senior this year. I have only been here at UNCA with what new students will be calling the old Highsmith," said Mel Gomez, senior Spanish student.  "I am kind of sad that I am going to be missing the finished renovations because it is all things I would have loved to have. I think I would have used Highsmith a lot more if I was going to be around here after all of the renovations."  
Students can see the plans of the renovations on the lower level of Highsmith as well as the work going on inside and out of the building.