UpCountry Brewing Co. host fundraiser to support Habitat
Kye Johnson
A&F Staff Writer
[email protected]
UpCountry Brewing Co. will be partnering with Asheville's Habitat for Humanity, hosting a benefit on Feb. 24 to support The House That Beer Built, a brewery-sponsored home being constructed for Karen Chrisman and her son, hand-picked through Asheville area Habitat's selection board, building their lives in Buncombe County.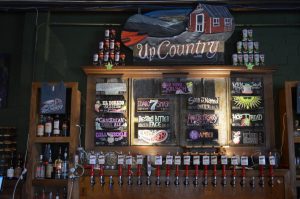 "The people and local businesses that make Asheville great — the creatives, artists, brewers, servers, chefs, entrepreneurs — deserve to live in a house they can afford," said Ariane Kjellquist, communications director for Asheville area Habitat for Humanity.
Chrisman will be the owner of a two-bedroom one-bath home located in the Arden area by this May. Fifteen local breweries in the area have come together to sponsor The House That Beer Built since May including Hi-Wire Brewing, New Belgium Brewing and Habitat Brewing Co.
"One of the biggest myths about Habitat is that we give houses away. Not true. Applicants qualify based on residency status, need, ability to pay and willingness to partner," Kjellquist said.
The House That Beer Built is only one of Habitat's building projects. The Asheville Area Habitat celebrated its 30 year anniversary in 2013. The organization completed their 300th house in 2017.
"The applicant purchases the home from Habitat and begins repaying a 30 year interest-free mortgage. Depending on the size of the home, the average monthly mortgage payment is about $600 per month," Kjellquist said.
Kjellquist said the mortgage the applicant pays and the proceeds from their ReStore sales are two sustainable funding sources which help pay for the construction of other Habitat homes. Faith communities also sponsor homes, as well as large businesses, coalitions of small businesses, like The House That Beer Built project and individual families in Buncombe County.
"The House That Beer Built is an opportunity for the breweries that add so much to Asheville culture to have a direct way to help ease our region's affordable housing crisis," Kjellquist said.
UpCountry Brewing Co., founded in 2016 by John Cochran, collaborated with Asheville Habitat for Humanity before, donating some of their one-year anniversary celebration proceeds to the project.
"They're getting a lot of donations from breweries in the area but we just wanted to, on top of a donation, have a fundraiser. And the anniversary event just went so well that I wanted to get them back in here again while they're still funding The House That Beer Built," said Lauren Davenport, marketing director at UpCountry Brewing Co.
Davenport said UpCountry originally got involved with The House That Beer Built after talking to Scott Stetson, a member of Cat and Crow, a band with residency at UpCountry every Thursday. Stetson works for Habitat and helped coordinate the benefit.
"When I took over music and booking I started to meet with him, just asking advice since I had never done it before and he's a well-known musician in Asheville. I found out that he worked for Habitat for Humanity and as soon as I heard that I just wanted to get them in here," Davenport said.
The musical lineup for the event will include Scott Bianchi and Crosby Coford, a short set by Kilo Fresh, Moonlight Street Folk and The Dirty Badgers. All the bands and musicians playing are Habitat employees contributing their time to the cause.
"Stetson's ties to Habitat included a lot of musicians, so he's getting a lot of bands out here and they're going to play and 10 percent of all beer sales, so not just one beer, but all beer sales will be going towards The House That Beer Built," Davenport said.
Davenport said she hopes patrons of the event would gain awareness, not only for Habitat's mission but also to learn about the many other nonprofits and charities that provide ways to give back in Asheville.
 Natascha Leitner, a mother and journalist, said she had not heard about the fundraiser taking place at UpCountry, but she was familiar with the organization they would be benefitting.
"I love how, especially in Asheville, people are connected and taking care of each other. It makes me feel like I live in the right place," Leitner said."I do a lot of work for local nonprofits myself, so I'm actually surprised I've not heard about this one yet."
Kjellquist said the homes projected completion date is May, when Chrisman and her son will be able to move in.
"From pint nights or a special Habitat brew to volunteering to help build the house, there are a variety of ways local breweries are joining in and we also invite local beer lovers to get involved by attending events and making donations," Kjellquist said.
The benefit starts when UpCountry opens at 2 p.m. The event will be family friendly with face painting for kids from 5:30 to 7:30 p.m., all donations going to Habitat. UpCountry also has a full food menu and a large outdoor area.
"Asheville is a very giving city, I think, and it's just one more way for people to contribute, and to learn about The House That Beer Built, maybe they will make a donation, maybe not, it's just awareness and people helping people is the main thing," Davenport said.