Ramsey Library displays Cherokee language exhibit
Linda Cummins
A&F Staff Writer
[email protected]
The Cherokee language has been battling for survival for centuries. By 2012, there were fewer than 300 fluent Cherokee language speakers, according to an exhibit in Ramsey Library on display until Feb. 27.
A presentation and reception for the exhibit in Ramsey Library will take place tonight at 6:30 p.m., featuring a performance by Aniyvwiyahi Analsgisgi, a traditional Cherokee children's dance group.
"The dancers are sure to liven up the library," said Deborah Miles, the director of the center for diversity education.
Bringing this exhibit and the young dancers to campus is part of how UNC Asheville puts the goal of community engagement into action, Miles said.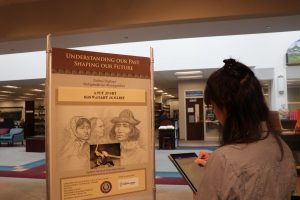 The exhibit features several recordings translated from original Cherokee which viewers may personally access via QR codes.
"It is a serious thing in our lives that we are losing our language," states one of the recordings.
Members of a Cherokee speakers group met weekly at language immersion school Kituwah Academy, located in Cherokee, to comment on historical photographs. These conversations were transcribed, translated and included on the exhibit's panels.
Former Principal Chief of the Cherokee Nation Chad "Corntassel" Smith said his father, aunts and uncles remember what they endured under federally mandated English-only policies.
"The Cherokee Nation will be a nation in name only if it loses its language," Smith said. "The nation will lose its identity, uniqueness and the values that have allowed it to face adversity."
The display tells numerous personal accounts of Cherokee children forced to leave their families at young ages to attend English-only boarding schools.
The Cherokee Phoenix, the only newspaper to publish in both English and Cherokee languages, covers current efforts to preserve the language.
Recent programs include funding by the Cherokee Nation Businesses organization for a master-apprentice language program to create a pipeline of fluent Cherokee speakers out of today's middle and high schoolers. The program is designed to promote continued Cherokee language fluency in Cherokee Nation immersion school graduates.
In a January opinion piece, Mark Dreadfulwater, Phoenix multimedia editor, wrote that his New Year's resolution to relearn the language he first heard from his paternal grandmother.
"I wrote in my editorial that our language embodies our identity and soul of our tradition, history and the Cherokee way of life," Dreadfulwater said. "I truly believe that."
Dreadfulwater said in the 1980s and early 1990s there was not much of a push to learn the language.
"I have learned more about my culture and heritage in the 12 years I have been with The Cherokee Phoenix, than I did in the 18 plus years I lived at home," Dreadfulwater said. "As I am older and know more, I realize and regret not learning the language so I can pass it on to future generations."
The Cherokee language in its written form is only 200 years old. The Cherokee Syllabary, created by Sequoyah, was adopted by the Cherokee Nation in 1825. Instead of individual letters, sounds are represented by syllables. Dreadfulwater said he regrets not paying enough attention to the language as a child but maintains that it is never too late to learn Cherokee.
With the newfound preservation of the language, exhibits such as those in Ramsey keep the language alive.