Sarah Shadburne 
Arts & Features Editor
[email protected]
Kiara "Honey" Edison Durham began constructing her world after a year of homelessness and reconnecting with her biological mother.
After seeing the squalid conditions in which her mother lived, 23-year-old Honey began thinking about what she could offer the world and how she could monetize her passion.
"This world is really easy to seem like it's something that it's not," Honey said. "Seeing my mom in that place and me being in the place that I was, I wanted better for myself and I wanted better for her, and that's what this whole journey has been."
Honey started her clothing website and brand Different Wrld two years ago as an imagining of what a different world might look like for her. She seeks to lead by example of what she did not see in fashion, or even everyday life growing up, from a lack of diversity to a lack of consciousness surrounding recycling clothing.

Her new collection Rogue, releasing on Feb. 24, will be the culmination of a rebrand she has worked on for several months, which aims to emphasize awareness of the planet and ourselves in relation to one another.
"As an activist and as a human being I've always felt like I was going off the grid with everything I do," Honey said. "I try to keep people on their toes."
Inspired by her experiences as a child growing up with little money and a desire to share something unique of herself with the world, Honey takes clothes she finds from Goodwill and reworks them, making one-of-a-kind, affordable pieces for Rogue. She wants her collection to feel like a uniform for oddballs and people who feel they do not belong.
"I came up with the name because I was watching Star Wars: Rogue One," Honey smiled. "And Rogue is definitely a good definition of where I'm trying to go — after all this rebranding — it's a good place to come back to and just be like, 'Hey this is who we are and we're not going to be your usual brand.'"
In her brand and personal style, Honey said she tends to be drawn to clothes men and women can wear, with mainly oversized or dark colored pieces. She focuses on the quality of the materials, making sure to only pick well-sewn, durable items.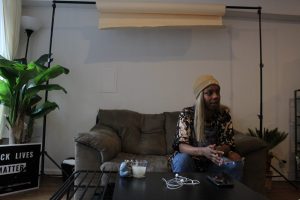 "I've always wanted people to look at my brand and be like, 'I can see myself wearing that,'" Honey said. "It doesn't matter your body shape, your sex, whatever it is, I don't think that's something that I've ever really been concerned about."
Honey said she pushes for real diversity and enlisted her friends to model for her upcoming collection. She cites her friends as being big inspirations for the work she does, so using them as models seemed like a natural fit.
One such model, junior UNC Asheville political science student Ajani Purnell, said he got involved with Rogue as a sort of happy coincidence, just by being friends with Honey.
"She kind of knew she wanted me to model for Different Wrld," Purnell said. "I've been really thankful for it, it's definitely something that's made me consider modeling more seriously as a career path."
Purnell said he participated in casual photo shoots with friends before his experience with Rogue, but feels excited his photos in the collection are more publicized on the Different Wrld Instagram account to more than 9,000 followers.
Purnell said he sees much of Honey's personal style reflected in the clothes of Rogue and the way she coordinates her aesthetic in the collection is unlike anything he has seen before.
"I would describe the style of the clothes as almost Yeezy-adjacent," Purnell said. "I definitely see a lot of Ki's personal style reflected in it."  
In addition to having them model, Honey's friends also work in managerial positions to help her organize production.
Kat Tillman, 19, serves as Honey's personal assistant of sorts, filling in the little holes of work needing to be accomplished, be that event planning, working with the clothing or recruiting models.
"I would not be beside her if I didn't believe in her 100 percent," Tillman said. "I wouldn't be more proud of myself if I were her."
Tillman aspires to go into fashion herself and sees Rogue as an opportunity to acquaint herself with the demands of the industry. Tillman said she has already gained valuable experience and connections being involved.
"It's definitely different clothing," Tillman said. "I hope to see people get outside the box a little bit and not be afraid to rock a crazy puffy coat with rips in it or something."
Tillman said most importantly she hopes the company inspires others to pursue their fashion dreams, too.
"Life is not worth living unless you're serving others," Honey said. "To me, this is my service to the world."