Rachel Boyle
Sports Staff Writer
[email protected]
The UNC Asheville men's basketball team played an intense game against the men's team from Radford College. The  season is coming to an end with this being the third to last game. The Bulldogs won the game 66-64.
Katie Nissley, a senior health and wellness student, cheered in the stands with other UNCA fans as their players used their skills to win.  
"I like how intense the basketball games can get. You never know who is going to win," Nissley said. "The scoring can happen really fast and the team that is behind can catch up in a blink of an eye."
Other students in the stands not only enjoy the basketball games but also other sports UNCA has to offer.  
"I enjoy basketball so I do enjoy coming to the games here. I sometimes go to baseball games and volleyball games but basketball is pro
bably my favorite because it is easy to follow," said Meredith McLain, a senior political science student
For some of the p
layers, this game was one of their last. While senior health and wellness student Ahmad Thomas's college basketball days are coming to an end, the number 14 jersey will always belong to him.  
"I love playing basketball in Asheville. With it being my senior year and playing all four years here at UNCA, it has been great and I am definitely going to miss it," Thomas said. "I am going to miss all of my teammates. I hope to play basketball when I graduate. I hope a team is going to sign me one day."
During the game, both of the teams were closely battling and shared the lead position.  After the first half, UNCA had 42 points to Radford's 36.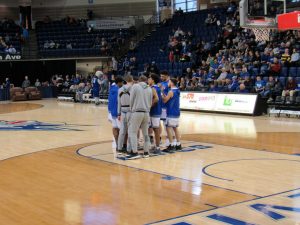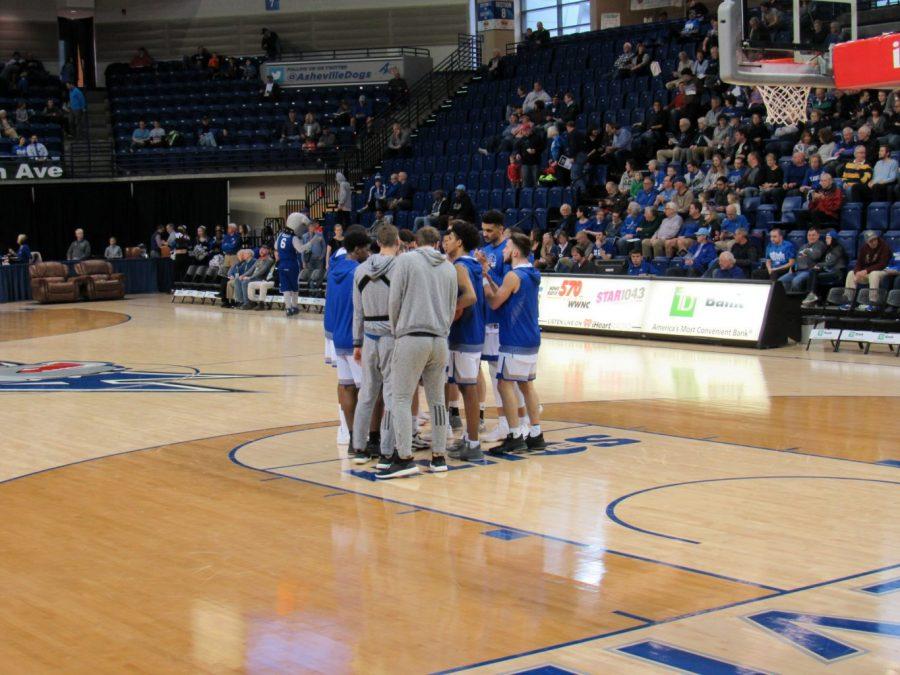 "I have been watching basketball for as long as I can remember. I used to go to basketball games with my family since I was a little kid. So, being able to go to games as a student at UNCA and cheer on my own team makes it pretty great," Nissley said.  
Minutes before halftime, the teams scores were neck-and-neck. Radford was only six points behind when senior Kevin Vannatta made a basket right as the buzzer sounded, assisted by sophomore MaCio Teague. Unfortunately to the fans who jumped to their feet, the referees called Vannatta's shot insufficient.
"When Kevin made that shot at the buzzer I got extremely excited. It is moments like those that make me enjoy going to basketball games. My friends and I were really bummed when the refs said the basket did not count," Nissley said.
The scores remained close as time dwindled down. Radford got ahead with 64 points to UNCA's 57 with two and a half minutes left in the game. Teague brought UNCA the win with only seconds to spare.  
"The last shot of the game that MaCio made was nothing new to me. He's done shots like that before so I knew when he had the ball I just needed to get ready to rebound or to just go home like we just did. He always brings us home," Thomas said.
Players and students said they are looking forward to the rivalry game on Feb. 22 against Winthrop University. The game is not only against the Bulldog's rival, but will also be broadcast by ESPN.
"It is going to be a great night, ESPN, senior night, they are going to beat us down there so it is going to be interesting, it is going to be a good game. There is going to be quite a bit of heat even though we won last year," Thomas said.  
Last year the game against Winthrop was an edge-of-your-seat kind of game said Nissley. The teams were close in points throughout the game, resulting in it going into overtime twice. In the end, UNCA won 104-101.
"Last year I went to the Winthrop game and it was crazy intense. Both of the overtimes were the longest 10 minutes of my life. I ended up losing my voice because I was cheering so loud. It was incredible. I am definitely going to be there this year," Nissley said.