Karrigan Monk
Editor-in-Chief
[email protected]
Students holding a rainbow flag in front of Ramsey Library draw attention to the area, but the people behind the flag draws a crowd around them.
Behind the sea of rainbow are four people holding up signs condemning sinners. They are Edgar Orea, his wife Dianna Orea, their daughter and another woman named Melissa Thomas. Though they are hesitant to say where they are from, they proclaim themselves as being members of a group called Bible Believers.
In town for the Mardi Gras parade, this subset of Bible Believers made their way to UNC Asheville's campus the morning after the celebration.

"We decided to hit a campus today because there's a lot of souls on this campus. The Lord led us," Dianna  said. "We were like, 'We gotta get to Asheville.' There's a burning in our spirit for Asheville so we'll be back. I don't know when he'll allow us to be back. You know, that day we might have a different approach. I don't know. The Lord leads."
Though Dianna anticipated using a different approach in the future, her group's approach for their visit to UNCA was fairly simple: They arrived on campus, made their way to the library, set up their signs and started their self-described preaching.
The signs the group held proclaimed, "Jesus said go and sin no more," and that students should "prepare to meet thy God." The largest sign boasted a list of sinners — including fornicators, homosexuals, drunks and con artists — the group believes will burn in hell.
Their preaching focused mostly on sin and salvation while students yelled back their own protests.
"Sins lead to destruction, Christ leads to life," Dianna shouted to passerbys. "That's what we're trying to tell you. This might be a hard hitting message at first and it draws a lot of people, but it's the truth and it's straight from the Bible. It's not us condemning you to hell. Obviously that's not what we want. I want you all to be my brothers and sisters because Christ is special and I want you to partake in that and the benefit that you get eternal life."
Though initially Dianna seemed to be taking the lead, Edgar soon found his voice when he began to ring his cowbell.
"Recess is over. Let's continue with the class," Edgar shouted. "Let's continue preaching the gospel of the Lord Jesus Christ."
Xenia Zantello, a junior computer science student, stood in front of the demonstrators with a rainbow painted face as well as a rainbow flag as a cape.
"I feel like with a lot of these people you're never going to get anywhere arguing with them," Zantello said. "It's good to make them look really ridiculous and so I think it's hard for their message to be taken seriously if there's someone painted all rainbow with a giant flag next to them."
While some students such as Zantello opted to protest the presence of the demonstrators with loud music from the likes of Lady Gaga, Kesha and Tegan and Sara, other students engaged in conversation with the demonstrators.
"You're not providing the context people are talking about," said junior French student Sam Packard to Dianna. "You have to demonstrate the good virtues to bring up the bad. There has to be the opposite and when you're just out here preaching the bad virtues, people are going to resist that because they don't see what the good virtues are."
With a well-worn Bible with the word 'repent' marked in black Sharpie on its pages tucked into a holster on his side, Edgar became more aggressive with students as the demonstration continued.
"There's no food in hell. There's no water in hell. Enjoy all your beer, all your whiskey, all your long island iced teas, your Absolut cranberry because when you get to hell you're not going to enjoy a drop of water," Edgar said. "You will be praying out to the Lord Jesus Christ. In hell everyone believes in Christ but it's too late."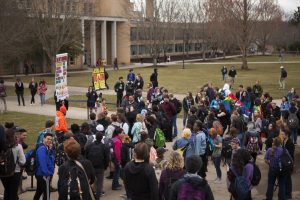 Many students, some calmly while others resorted to yelling, took issue with these statements.
"It is upsetting," said Kaitlin Porter, a senior English student. "Just considering how many religious displays aren't allowed to be shown on campus, it's upsetting that this is the one that gets to be on the quad."
Many students shared Porter's dismay at the group being allowed on campus. While campus police were present throughout the entire demonstration, their role was simply to observe, as the demonstrators had every right to be on campus in that particular spot.
According to University Policy Code 5205, there are two outdoor spaces where people can come onto campus without prior approval. These locations, known as free speech zones, are Reed Plaza outside Brown Hall and the lawn areas in front of the steps of the library, where the Bible Believers set up.
The code states non-university groups are able to use spaces outside of these designated two if they are sponsored by an existing university group. However, if no group will sponsor an outside organization, the free speech zones are available.
Though these are free speech zones, they do not cover threats, as displayed by Assistant Vice Chancellor for Public Safety Eric Boyce stepping in when Edgar began calling the females of the university whores, claiming it is his right to do so as it is in the Bible. When asked where it said so in the Bible, he read a passage and threw his book on the ground, to shouts of blasphemy from those gathered around.
Though he and his family travel to preach on the streets often, Edgar said he is financially stable.
"God pays my salary. I also have another job. I have a secondary job, but I do this for a living. I call this my primary job," Edgar said. "Nobody pays me to do this. I pay out of my own salary for my gospel to be here. We don't have an organization or a church that pays me to do this. I get no financial assistance to do this. I get no economical assistance to do this. I do it out of love."
Though Edgar said no church pays him for his street preaching, he does have a religious organization of his own. Based in Bluefield, West Virginia, the Orea family founded Kingdom First Missions in 2011.
According to the organization's website, the Oreas left any material wealth and success they had in order to obey God and go on missions around the world. The website asks for donations to fund these missions, but notes that Edgar works to provide for the family itself.
However, according to West Virginia public records, Kingdom First Mission is not a registered business, neither for or nonprofit. The business is run out of a small house in a county in which the family does not own property, including the office.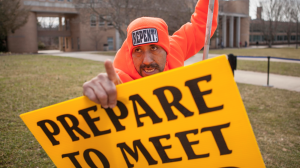 The website is managed by Global Mission Telecom, a company specializing in televangelism. Because the business is not registered, donations made on the website do not require taxes be paid on them, something Edgar spoke about during his time at UNCA.
"We don't believe in 501(c)(3)'s. We pay taxes," Edgar said. "All these churches in America that are not paying taxes are doing the wrong thing. You need to pay taxes. Jesus Christ paid taxes. All these churches, they need to pay taxes."
Kingdom First Missions' mission statement claims the Orea family has been called by God "to take the Gospel to the Nations under the Authority of Christ in Obedience to Word of God never overlooking the least of these, providing relief for the widows, orphans and the needy."
While this campus may not seem the typical place to find these people, the family arrived on campus not on a mission, but as part of another organization Edgar claims to be a part of: Bible Believers Street Preachers of America.
According to biblebelievers.com, street preaching dates back to the Old Testament and Jesus himself advocated for it.
Edgar said while he was a sinner earlier in his life, he was saved by a street preacher and now he lives a life free of sin. This freedom from sin is a status he said his whole family boasts.
Different populations have different levels of sins, and Dianna said college campuses are full of sinners.
"His commandment, to me, is to go and preach the gospel to every living creature," Dianna said. "I'll do that any way, any how and this is one of the ways, on college campuses where there is a huge influx in fornication, drunkenness, lying, things like that. I'm not going to preach like this at a nursing home."
Edgar took this to the extreme, using the opportunity to shout the evils of sin to students gathered around the demonstration.
While the majority of students voiced their adamant disagreement with the demonstrators, one student, Jake Madole, let the demonstrators know he agreed with what they were saying.
"Sir, thank you for coming. I appreciate it," Madole said, while shaking Edgar's hand. "We need more people like you."
As the demonstration went into its second hour, a group of students began singing in unison, "My God doesn't judge, my God teaches love." While others soon dropped off from their tune, freshman health and wellness student Kate Pollard continued to sing the song to herself, offering a calm undertone in juxtaposition to the screaming from both sides.
Throughout the demonstration, students took to making their own signs to counteract those brought by the Bible Believers. One sign, made by sophomore English student Erin Bumbery, read "I'm Catholic and I'm OK with it," with a drawing of a rainbow.

"I was told to love, not to hate," Bumbery said. "A lot of my friends are gay, bisexual, transgender, so it didn't feel right to have somebody yelling at them that they hate them when in reality God loves them."
Though campus police escorted the group to their car when they decided to leave, several students stayed in front of the library, talking about those who had just left.
"There might be a better way to do it," Packard said. "I understand what he's yelling about, but it's just not the way to win people over. I don't see the presence of God here."