Linda Cummins 
A&F Staff Writer
[email protected] 
UNC Asheville's newest theater production follows former U.S. Marine Jenny Sutter heads to the most unmilitary post left on Earth to do the one thing no one else can — heal herself.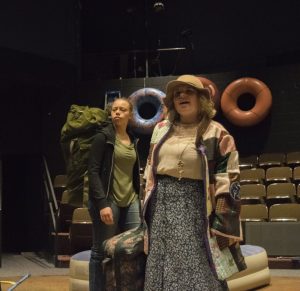 Slab City, a decommissioned military outpost consisting of sand, slab foundations and an assortment of society's outcasts provides the healing ground for Sutter in a new theatrical production at Belk Theater.
In order to bring military authenticity to the production, the drama team worked with former Marine Caitlin Kelleher, who is now a junior health and wellness promotion student at UNCA.
"I did some stage combat stuff with them," Kelleher said. "There is a scene in the play where the main character has a post traumatic stress disorder reaction and she dives onto another actor to cover them, they go down hard, they land on the wooden stage floor."
Sutter's PTSD becomes ignited by an IED explosion that blew up her leg while serving in Iraq. The cast had many questions about the ways PTSD manifests physically, and is something the director Lise Kloeppel, intends upon being authentic about, Kelleher said.
As the veteran liaison and advisor, Kelleher led a bootcamp workout with the cast.
"They were really great sports. I did some of the yelling at them like a drill instructor. Taught them how to stand at the position of attention, how to hold their bodies at attention," Kelleher said. "When they were calling me ma'am it was really hard not to laugh. It was funny."
Kloeppel said that having a student veteran serve as an adviser on the production was incredibly valuable to the process.
"Even though the play is fictional, the character's experiences are very real," Kloeppel said, "We aspire to honor this truth."
Kelleher advised the cast on everything military, uniforms, marching, even haircuts.
"There's a scene when two Marines walk out onto stage in step so we practiced how to do that and the difference is noticeable. One of the guys in the play has to actually get a high and tight haircut for the play," Kelleher said.
Venea King, a junior psychology student, plays Sutter and is relatively new to the drama scene. This is her first lead role, with two other productions under her belt.
"I really enjoy the character Jenny," King said. "I did a little research before, much more after I got the part."
Part of King's research dealt with the acting process.
"I looked up the play to see what other people have done. I found a really good character analysis where each actor in the play was talking about their character and what it was like to play them," King said.
The other part of King's research dealt with the healing process Sutter endured.
"I've done research on amputees, how they think day to day, what it feels like to have a prosthetic limb and their body movements," King said.
The costume department cast her leg to create a faux prosthetic. King said she has to think of not feeling her foot hit the ground in order to simulate the correct body movement.
"Watching the student designers and actors challenge themselves artistically and support each other through the process is very rewarding," Kloeppel said.
As a psychology major, King already had background knowledge of what patients go through with PTSD.
"Jenny was very interesting to me, due to her trauma and all she has to deal with in her healing process," King said.
One technique King used to get into the skin of Sutter is the Alba Method. Developed in the early 1970s, Alba acting uses the body to access emotions.
"You focus on the outer body, the physicality of it before you think of the inner. Lise the director taught me that since I (Jenny) have nightmares, I should use shocked breathing. So it's through the chest," King said, drawing a sharp breath in, "Then out, slow, through the mouth. And then the emotions come out of nowhere. It's really crazy how it happens."
Following the Alba Method actually brought her to tears for a crying scene, King said.
"I like acting so much because you have to find the inner monologue, what that person is thinking," King said.
Maxwell Roberts, stage manager and junior drama student, serves as the powerhouse of communication between all the show departments. Roberts takes care of actor welfare and endless other details necessary to staging this production.
"This production comes from the perspective of a female veteran of color, which is often a perspective you don't really hear," Roberts said. "I also think it's super relevant because the veteran community in Asheville is so large."
Kelleher arranged for local veterans organizations to speak with the audience after each performance and table information both before and after each show.
"I didn't want to see this just be a play about veterans without giving veterans a voice," Kelleher said. "I will try and involve the audience by facilitating a discussion."
A UNCA Student Veteran Alliance representative will speak after the first performance Thursday. Also scheduled are Kevin Rumley of the Buncombe County Veteran Treatment Court, Jake Larue of Horse Sense and Alyce Knaflish of Aura Home.
"It's been really neat to engage with the veteran community here, so not leaving the culture totally behind," Kelleher said. "It's been really helpful transitioning."
Reintegration into everyday life is a concern for all veterans, but especially for women as the resources can be scarce, Kelleher said. Homeless female veterans are one of the fastest growing populations in the U.S., with an estimated 4,000 to 8,000 living in Buncombe County, as reported by Aura Home for Women Veterans.
"We have more female veterans coming home, but they're coming home to less than there should be," Kelleher said.
Kloeppel has never served in the military, but has family members who have served and said she has witnessed their experiences of isolation and process of recovery after the military.
"I believe there is more we could be doing collectively to help these individuals feel more supported and heard as they work towards reintegration into civilian life," Kloeppel said.
The UNC Asheville Drama Department will bring Welcome Home, Jenny Sutter to life Thursday, Friday and Saturday March 1, 2 and 3 at 7:30 p.m., with a matinee on Sunday March 4 at 2 p.m.