Taylor Sexton 
A&F Assistant Editor
[email protected] 
The Orange Peel's typical stage now stands as a catwalk, a dancer sparkles underneath the vibrant violet and blue lights as guests filter in dressed in clothes inspired by their favorite decade, their excited chatter only muted by the heavy bass of Madonna's "Vogue."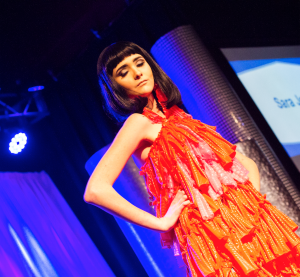 The anticipation builds for the main event, all eyes anxiously looking toward the main stage, waiting for what they came to see, the sixth annual Asheville Condom Couture.
Right at 8 p.m. the room drowns in darkness before the stage comes alive with lights and music, dancers burst through silky white curtains, their outfits glimmering beneath the spotlights. The co-hosts, Barbie Angell and Blake Butler, join in the organized chaos, wearing their own outfits made from the star of the night: condoms.
"I don't know about you guys, but when I was in college, I was really embarrassed to go to the health center and get condoms," said Angell to the crowd, who laughed and yelled in agreement.
Planned Parenthood began Condom Couture to start a conversation educating the public about safe sex, specifically with the use of condoms and how they are a vital component to safe sex.
Asheville's Planned Parenthood relies on private donations from both individuals and foundations in order to provide discounted health services. All money raised by the Condom Couture goes toward Planned Parenthood.
This year, Condom Couture raised $68,000, a $26,000 increase from the amount raised last year.
Designer Jon Pierce, creator of Jon Pierce Fashions, participated in this year's event, creating a piece for the 1990s category.
"My ultimate goal as a designer is to make whoever wears my designs feel elegant and feel beautiful," Pierce said. "I like creating stuff for people who might not necessarily have the runway fashion body. I'm going to make them feel good and feel beautiful."
Pierce admitted the process of creating an outfit out of condoms was incredibly difficult but said he always gravitates toward and enjoys challenges. The designers had to use at least 500 condoms to figure out a way to manipulate them into a garment.
"My design in particular, I don't really necessarily want it to look like condoms. I went into it from the perspective of, 'Oh, that's a beautiful, elegant design, that's wonderful fabric. Wait, that's condoms, I don't believe it. How did they do that?' So that's how I approached it," Pierce said.
The show featured decades beginning with the 1910s all the way to the 2000s. In between each change of decade, The Twilight Zone theme music whooshed through the air before melding into the music of the next decade.
Pierce's model strutted out from behind the billowy white curtains, adorning a two-piece, all black with red trim outfit. Her black boot stilettos clicks were lost on the runway due to cheers from the crowd and music flooding the venue.
She made her way defiantly to the end of the catwalk, striking a pose and allowing the crowd to take in her layered black condom skirt and black, cropped halter top. Her outfit represented the grunge style of the '90s and the material looked more like leather than latex.
"Anything that pushes my creativity to a new level always excites me. I would definitely say that it was the challenge overall that really inspired me to get behind this. Also, from a personal stance I think that practicing safe sex is important and preventing disease is something that I stand behind," Pierce said.
Pierce's model strikes one more pose and exits the stage, disappearing behind the same curtains from which she strutted.
The planning for Condom Couture began six months ago according to past participant, committee member and judge for this year's event, Charles Josef. Josef, an Asheville-based independent designer, specializes in luxury evening and bridal attire.
This year's Condom Couture differed from previous events because this was the first time the show had a theme.  
Josef explained this year's theme was borrowed from Charlotte's Condom Couture last year. This way, they already had all the music and structure, which helped them cut a few steps.

Josef said he believes they will continue from now on with a theme each year because of the positive feedback they received.
This year's Condom Couture also differed from previous years because it was not an open call to designers, instead designers were invited by the committee.
"We really wanted to elevate the event, we wanted to give people something to see, not just haphazard costuming. We wanted people that were delivering a good caliber of work, so we looked at designers from past years and also looked for designers in the region and community that were doing good work," Josef said.
Josef went on to describe how inspiring it is to see all the creative talent that goes into the making of the show, especially when it comes to the designers.
"The designers have devoted themselves to creating the project and have given their time and energy free of charge. I think that's the most important thing as far as I'm concerned. Not only that it's a great cause, but that great talented people have stepped up to help," Josef said.
As the last model exited the stage, the Orange Peel filled with a deafening applause. The music continued to pound however and the white, silk curtains opened again. This time, a model exited holding a sign that said, "Birth Control For All."
One by one, models exited from behind the curtain, all holding signs. One read "Girls Just Wanna Have Fundamental Rights," while another said, "We Support Planned Parenthood."
The crowd stood from their seats, clapping along to a remix of "Heads Will Roll" by the Yeah Yeah Yeahs and voicing their agreement for each sign that made its way across the stage. Excitement and power were the only two feelings that could describe the room in that moment.
At the end, only winner could be chosen, and Birgeta Mannikan's 1950s-styled outfit took the crown. Her piece featured a hot pink and black dress, with a full knee-length skirt. The model wore a large hot pink and black hat and carried a plastic flamingo as she sashayed her way down the runway.
Nikki Harris, director of philanthropy at Planned Parenthood explained the purpose and the importance of Planned Parenthood in our community.
"The health of women and teens should not be determined by their zip code or working income, but often times it is. Planned Parenthood is here to offer affordable healthcare and a compassionate environment that's free of judgment and stigma. Planned Parenthood believes that sexual and reproductive health rights are our basic human rights," Harris said.