Blue Horizons Project helps keep WNC families warm
Annabel Gibson
News Staff Writer
[email protected]
On a day overcast with snow, the Blue Horizons Project held a news conference at a local home in Buncombe County to present its Energy Upgrade Program.
"It's mornings like this that the Blue Horizons project was really created," said Sophie Mullinax, project coordinator of the Blue Horizons Project.
The Energy Upgrade Program aims to provide for community members of Buncombe County who have the most need but the least access to energy efficiency.
"To reduce our peak energy demand during cold mornings, there already exists a variety of services, resources and information in Buncombe County," Mullinax said. "The Blue Horizons Project's goal is to be a hub for the community and the public for those resources."
The Blue Horizons Project is the result of a two-year collaboration between local government, business, nonprofit and environmental leaders working together to create various energy efficiency programs and promote Western North Carolina's clean energy future while helping community members save money.
"We hope to provide these services to at least 200 homes in Buncombe County," Mullinax said. "This will help reduce energy use while saving money for these households that are most impacted by environmental impacts with energy use and can least afford it."
The Blue Horizons Project targets low-income families to receive support and each family will be primarily identified through referrals by local nonprofits and area churches. According to the Project, priority will be given to families who currently receive subsidies from the Low Income Home Energy Assistance Program for home-heating assistance.
"Some of the specific things that we're going to do in this campaign is to help people weatherize their homes so that people can be more comfortable in their homes and also to reduce their powers bills," said Brownie Newman, chair of the Buncombe County Commission.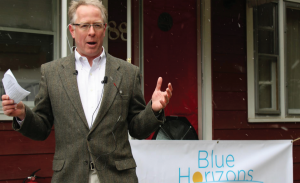 The Blue Horizons Project ensures affected homes will benefit from basic energy efficiency upgrades such as air sealing, duct repair, insulation, LED bulbs and door and window weatherization.
"There's a great community coalition that's coming together to support this project  and we appreciate everyone being a part of it," Newman said. "Part of the message that we want to send out today is that this is going to be an active community campaign, it's going to take individuals and families and businesses joining in to help make this a success and we're happy to be part of it today."
Among the volunteers helping with this project are a group of UNC Asheville students organized by Renee Mazurek, an adjunct lecturer of environmental studies.
"This was an opportunity that I heard through one of my geology course labs and I just got really excited about it," said Sydney Johnson, a freshman psychology student.
The student volunteers will be working for two hour shifts, said Mazurek.
"The mission that we are focused on is promoting a cleaner energy economy here in Asheville as well as avoiding the need to build a new gas peaking plant in Buncombe County, which would cost all us as rate-payers over a hundred million dollars," Newman said.
Alternatively, Newman said investment should be made in energy efficiency and renewable energy alongside a smart grid.
"One of the things that I love about this community is that it's predisposed to action," said Robert Sipes, vice president of Duke Energy's Western Carolinas Modernization Project. "The people here want to do things to solve the challenges that we face, not just talk about them."
Duke Energy intends to build a cleaner, smarter, and affordable energy future for this community through their involvement with the project, Sipes said. Knowing how residents use electricity enables Duke Energy to make actions to achieve this goal.
According to the Blue Horizons Project, with a growing population and increasingly technology-dependent culture, the energy needs of Buncombe County have grown significantly larger. Energy demand is soon expected to strain the communities' ability to meet it. If demand continues to increase at its current rate, in five years the area will not have the capacity to do so.
"The greatest opportunity for increasing a home's durability, comfort and health is to seal it tight and ventilate it right," Mullinax said. "Once air sealing and insulation are improved, further energy savings come from home occupants changing their energy use habits, such as doing things like keeping their thermostat at appropriate levels for the season, washing clothes in cold water, not using their dryer, hanging clothes out to dry and using the energy saver settings in their appliances when they're available."
The program also aims to work with more than 100 local businesses to take actions to help their businesses reduce power bills.
"Cleaner energy through energy efficiency and renewable energy means cleaner air and cleaner water and that means healthier families and a healthier place for all of us to live," Newman said.