Rachel Boyle
Sports Staff Writer
[email protected]
The UNC Asheville men's tennis team took home a victory March 28 at their home match against Presbyterian College, 4-3.
Junior computer science student and player on the team, Andrew Sinai, participated in Wednesday's victory.
"It's awesome when we win. It's that one moment where everything comes together and it makes it feel like all the hours you've put into getting better are worthwhile," Sinai said. "When there's a team relying on you to do so for the overall outcome of the match, it's even better."
Sinai said he started playing tennis as a kid and has played ever since. For Sinai, tennis is more than just a sport, he said it is a way to express himself.
"When you're playing out there on the court, it's an extension of your personality and your creativity. When playing well, you can do whatever you'd want to with the ball," Sinai said.
The stands filled with students and parents supporting the men's tennis team. Freshman player Reese Daly said he enjoys having fans come to the games to cheer them on.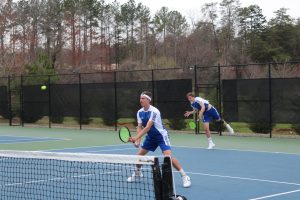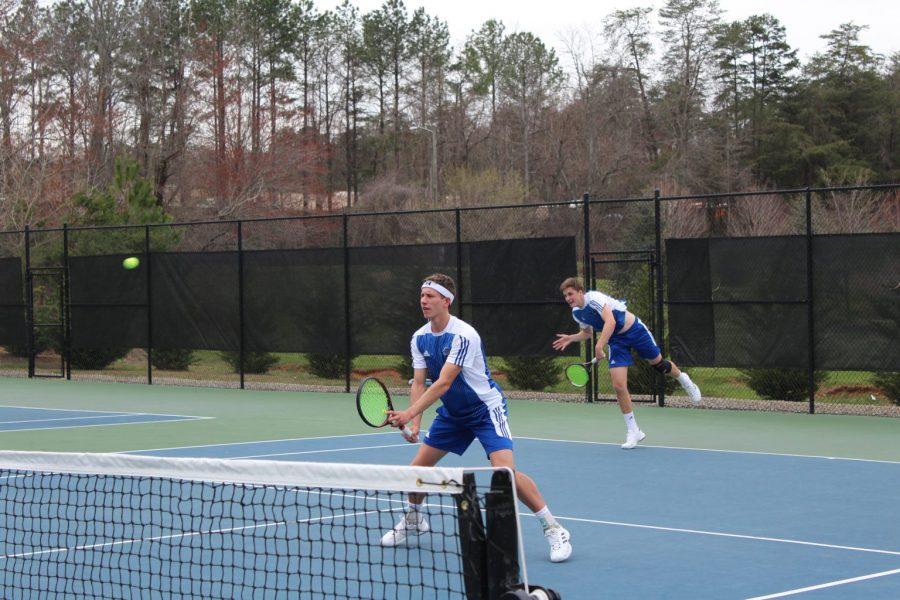 "It is nice to have the feeling of people watching you and supporting you. Throughout my entire tennis career it has only been my mom and my dad and now I have seven other guys cheering me on so it is a new experience that I really like," Daly said.
Sophomore health and wellness student Meghan Bewick attends many of the tennis matches as more than just a fan.
"My boyfriend James Massie plays on the team so I try to come to a lot of the games. Every chance I get I come to their matches. If there are close away games I go to them and I go to every home game that they have," Bewick said.
Bewick plays soccer for UNCA and comes to support her fellow athletes do what they do best.
"As an athlete at UNCA, it makes me want to go to the games more because I feel more connected to the athletes. I think we all have an understanding of the grind that all college athletes have to go through, like practicing every day for a couple of hours and going through games," Bewick said.
Throughout the game the men's tennis team had many close calls such as fouls during the matches against Presbyterian. The team played doubles and singles throughout the game that brought them to another victory.
"I like how tennis is really fast-paced. The scoring for tennis is really difficult so I think that keeps the game really interesting as well. I like how it is an individual and a team sport at the same time," Bewick said.
Daly said there are a lot of different thoughts going through his head when he is on the court.
"When I am on the court it is really an emotional roller coaster. One minute you could be winning and feel like you are on top of the world and the next it could switch. Honestly though, it is just about how you handle it, like keeping calm during the match and and trying not to get too happy or sad. But no matter what it is fun," Daly said.
Even though both Daly and Sinai enjoy playing tennis as student athletes, they both said they make sacrifices to do something they love.
"I end up having to make a fair amount of sacrifices to live the life of a student athlete. I don't have as much time to focus on my own projects like videos, photography and programming in order to keep up with the daily grind of athletics. Being there with teammates that care about you and end up becoming lifelong friends makes it worth it," Sinai said.
Daly said he agrees with Sinai about how it feels to be a student athlete.
"I really like being a student athlete—it feels pretty normal. I know it can be a lot tougher being a student athlete but when you are doing something you love and doing school at the same time it is not going to be too much more difficult than anything else," Dailey said.