Sarah Shadburne
Arts & Features Editor
[email protected] 
The Renaissance tale of the beautiful but cursed Melusine takes on a new, modern life in its latest imagining by UNC Asheville drama student Justin Day.
Day wrote and directed HOWL: Melusine in Portrait, produced by the theater honor society on campus, Alpha Psi Omega.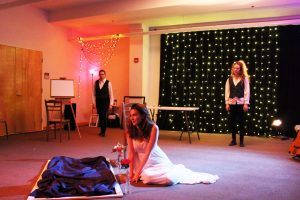 "I didn't want this portrayal of Melusine to be all about the magic, I didn't want it to be like, 'Is she a mermaid?' or, 'Is she a dragon? Who knows!'" Day said. "I wanted this to be more about the woman she is and how history has painted and portrayed her. It's about how we paint women."
Because of the age of the story, Day said many conflicting viewpoints of Melusine emerged throughout history, making her a character with a thousand facets but no real voice, as every role she plays—queen, banshee, dragon, mermaid, wife, mother—all exist within the arena of her relationships to men and nowhere else.
Day said writing the play became very personal for them, as the process began as a way to give voice to the reality of Melusine's character without the heavy influence of the male gaze. Day said they began to identify with Melusine and grew to love her.
"Last October I lost my best friend who I was semi-in-love with and there was a bit of betrayal and mourning to that," Day said. "A lot of why I was writing was that I was feeling mixed feelings because there was a whole bunch of betrayal and I found out he wasn't who he said he was and stuff like that, however, at the time he was what I needed as a friend."
Day resets the show in an art gala with a live string quartet, allowing for the first 20 or so minutes of the production to act as a real, interactive art gallery for patrons to appreciate and bid on student made artworks relating to the story of Melusine, while also being able to interact with the cast in character.
"It's not exactly about how men paint women, but how we as a culture paint women," Day said. "Although men are the issue, it comes from the patriarchy. It's relearning how to tell those stories and give voice."
Day explores this painting of characters and varying perceptions of Melusine through the use of multiple empty picture frames which reinforce the art gala motif, while symbolically standing for the lens through which viewers see Melusine. Ironically, in this setting, her husband Ray is a famous painter and opening the gala together was their dream.
"Within the show, Ray kind of represents that male gaze a lot of times, he's constantly painting her during the show," Day said. "When one person is making a painting, they only give one perspective. So what we do in the show, there's a painting and everyone gets their hands on it with different colors so eventually you get a portrait of Mel that encompasses more than just one color."
Day explains Melusine's character as a mash-up of dualities, the first being that her name derives from the Greek for "black and white." Day references a French queen of Middle Eastern descent from the time period, who scholars say the original Melusine story might have been modeled after, addressing historical racial implications in the way European Renaissance and medieval lore often likened monsters and mythical creatures to people of other cultures.
Day describes Melusine as a liminal character in that she possesses seemingly contradictory qualities. She is both animal and human, human and monster and man and woman at the same time.
"The big thing that ruins the relationship between her and her husband is that he catches her bathing and finds her 'snake-like from the waist down,'" Day said. "But then he outs her. So I see a lot of trans parallels there."
Day said they wrote the script with deliberate symbolic choices, but also left some of those choices up for interpretation and collaboration between the actors. Day said though the script was only 19 pages, the play itself runs at about an hour and 40 minutes, due to leaving certain parts of the script open for the actors to write based on how they think their character will progress.
Victoria Isenhour, stage manager of the show and sophomore drama and psychology student, described HOWL as immersive due to involvement of students in Alpha Psi Omega and their various collaborations with art, music and dance students.
The production includes original songs written by senior music student Gary Freedman, choreography by senior drama student Morgan Fuller, a string quartet and original artworks in the gala available for auction made by various art students.
"About a week into the show, we sat down with the two main people, Raina Trent, who plays Melusine and Nicholas Thorne who plays Raymond and we did about an hour of in-character interviews with them to try to decide where their characters were going and we allowed them to have a little bit of free range with that," Isenhour said.
After establishing where the characters were going, the actors were able to solidify their ideas and effectively write their pieces, Isenhour said.
"It absolutely will change every time a different company does the performance. Justin does not want the actor-written pieces to go along with the show, they want it to travel without the actor-written pieces so the next company that performs can bring their own selves into the show," Isenhour said.
Grace Siplon, president of Alpha Psi Omega, said the honor society functions largely as its own theater company and elected to perform HOWL as part of a typical end of semester vote to establish what they will produce next.
"We had all read it and it was just so unique. One of the things that's really cool about it is that a lot of these scenes were written by the actors and everyone was really excited to maybe audition for a piece that would give them that opportunity," Siplon said.
Siplon said her enchantment with the play was common among other members of Alpha Psi Omega because of its uniqueness, describing it as truly original.
"It was a piece that requires a lot of coordination with other arts groups on campus, like the string quartet and the student artists, and we took on a lot of really cool ambitious opportunities with this with choreography and original music in the show."
Day described themself as a facilitator rather than a puppet master when it came to directing the show. Even directorial choices such as set design and lighting were up for open discussion so members of the team could be fully involved.
"Theater is very much a collaboration. Theater is only possible by having a group of people. No matter what you do, theater is a collaborative art and that's what makes it special," Day said.