Dwight Mullen reflects on his career at UNCA
Taylor Sexton 
A&F Assistant Editor
[email protected]
Sitting in his office, surrounded by shelves filled to the brim with books and knick knacks, Professor of political science Dwight Mullen wears a bow tie and smiles as he remembers his 37-year teaching career. All but three of these years were spent at UNC Asheville.  
"He just has a really big heart for his students and the projects he works on and his community, he just cares a whole lot about everybody in his life," said Hailey Johnston, a senior political science student who has been in Mullen's classes since her freshman year of college.
Mullen watched the university change through the years from a tuition-free institution, where no grades were given and from a segregated to desegregated staff — a process in which he took part  — to UNCA as it exists today.
Mullen first found his way to UNCA in 1984 after spending the first three years of his teaching career in Nigeria.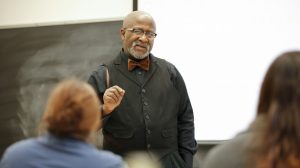 "I was recruited straight out of graduate school to go and I was teaching in the northern part of Nigeria," Mullen said. "The military had just returned the government, so this is the second Republic of Nigeria and they had re-written the constitution and I was called in to help with the section of the constitution that dealt with local government."
Mullen went on to explain how he trained local government officials in public policy and public administration. He would then go into counties and cities to supervise their work during the summer. Mullen did this for three years before the military took back the government.
"A couple of students were in the military and they had taken a leave of absence to work on their master's. I had been the chair of their committee and we became friends and they just told me, 'We're taking back the government, so you should go home and be safe and we'll tell you when to come back because we want you back,' and they held the government for 15 years," Mullen said.  
Mullen said the differences between America and Nigeria were incredibly noticeable when he came back.
In Nigeria, there would be 437 people to a class and only 10 textbooks, so the students would be passing them around to share. Because of the lack of textbooks, they also relied heavily on Mullen's lectures, taking word-for-word notes and memorizing them. Very few made A's, Mullen said.
Back in America, books were plentiful, lights were on in the buildings all the time, media began making its way into classrooms and Mullen had a computer with everything he could want to teach laid right at his fingertips.
"The students (in America) were more into self-development than they were in Nigeria, who were much more into the rigor of the curriculum. It was a real different shift," Mullen said.
Once Mullen got back in America, he began to apply for jobs at different universities, UNCA being one of them.
Mullen had no idea that, at the time, UNCA planned to desegregate their staff and he was part of the plan.
"When I was hired, I had no idea that's what was going on. The chair of the department called me at least one time, once a week once I submitted my application," Mullen said. "He really was encouraging and you know, I said, 'This is really nice, he really wanted me to come.'"
Mullen said he knew nothing about Asheville and although he had interviewed at many other places, he chose Asheville because he found the scenery beautiful, the people kind and he had a family to feed. He saw this job as an opportunity to get his feet wet in the American school system.
"When I got here, that's when I figured out that I was one of the faculty and staff," Mullen said.
The Department of Justice, U.S. Department of Labor and the Department of Health, Education and Welfare were all overseeing the desegregation of UNCA, among other state-wide campuses, because they had not met expectations for diversity and were being threatened and closely monitored.
Before Mullen and other African-American staff members were recruited that year, only one African-American was on staff.
"The Department of Justice and the Department of Labor interviewed me every year for three years to see if everything was going OK and, you know, I just didn't get it, that we were the first black faculty, you know?" Mullen said.
Mullen explained how it finally sank in once word got out into the community that UNCA was being desegregated.
"I started getting tapped for community events, speaking at different places and that's when I realized how hostile the environment was," Mullen said. "It wasn't a violent hostility, it was passive aggressiveness."
Mullen described getting hate mail, threatening phone calls at his home and his children being followed by people in cars.
These actions did not take place just that summer, but continued for a number of years afterwards.
When Mullen  arrived at UNCA, the school's African-American student population was 12 percent, then two years later it dropped to eight percent and stagnated.
In recent years, the population has dropped to as low as 1.4 percent. The current population of African-American students rests at 4 percent.
Mullen said he believes the drop in the African-American student population is related to changes in the admissions process. When he first arrived at UNCA, it was open admission, in that if someone were to submit an application, they would be accepted. But then came questions about student's performance levels and if they would return after their first year.
"There were a lot of people coming and going and to change that high turnover rate, they made it selective admissions and this set up admissions criteria. Well, the criteria was not aimed at the continued diversity of the student body, because it dropped," Mullen said. "They weren't looking specifically for the characteristics of the student body and assumed that these characteristics suited everybody and they were wrong."
Mullen and several other members of the African-American faculty came together and created the university's first-year experience program, which was aimed at first-year African-American students in order to improve their retention.
"We ran that for 13 years and the black students who participated became student leaders, they were at the top of their academic performances in their departments, they graduated, an extraordinary percent went to law school and graduate school. And even now as alumni, they're involved with the alumni association," Mullen said.
In recent years, Mullen participated in a project called The State of Black Asheville, which started in 2007.
"It's the study of the racial and gender disparities in the outcomes of public policies and  students do undergraduate research in education and healthcare and housing on various aspects of criminal justice in various aspects of economic development and over the last 10 years have documented the differences between what white people were experiencing and what black folks were experiencing in this local area and presented at conferences or at the undergraduate research symposium," Mullen said.
Kalob Payne, a senior political science and international studies student, has known Mullen for two years and the pair are currently working together on Payne's senior thesis.
"I specifically chose to graduate this semester so that I could take his State of Black Asheville class," Payne said. "The State of Black Asheville has been a class for 10 years and the unfortunate part is that, again, if there's no push on the administration when Mullen leaves, this might be the last State of Black Asheville class and this class has been providing data to the community and to different community outreach programs."
Not only is Mullen retiring this year, but four other African-American faculty and staff members will be retiring as well.
Although Mullen will be leaving the campus, he has left a great impact on the community and his students.
"He's really given me a direction with what I want to do with my career. I have had just a couple of crises, as any senior does, running into his office I was like 'I don't know what I'm going to do with my life' and he's really helped me figure out what I want to do with my life," Johnston said. "He's just wonderful."
Mullen had a few words of wisdom for all students, both incoming and future.
"You need to get in for the long haul because real change takes a long time to uproot what is able to replace it with what is good, it takes a long time to do that, people are very difficult to change," Mullen said. "I think that if I was to give one piece of advice to folk, is that they should have five-to-10-year plans and to be clear about your goals."