Rachel Boyle
Sports Staff Writer
[email protected]
The UNC Asheville women's tennis team played against Presbyterian College at home on Wednesday, but lost the match 3-4.
Kylee Shipley, a junior management student, said she loves playing on the court.
"It feels great getting on the court and it makes all the time spent practicing well worth it. Most importantly though, I know I've contributed to the overall team score and that's an amazing feeling. When I'm on court and competing, I love the adrenaline and the pressure. There's really no feeling like it," Shipley said.
A number of fans come to every match to see the team play. Fans in the stands include parents of players as well as students from UNCA supporting their athletes. Sophomore chemistry student Alex Futia was in the stands last Wednesday cheering on the Bulldogs.
"I come to the tennis matches because I want to support my Bulldogs. I do not feel like enough people come to support our players and I think it is such an amazing sport to come and watch," Futia said.
Sophomore management student and athlete James Massie came out to support not only the team, but his family as well.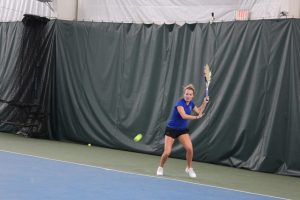 "Today I am here to support my sister Kylee Shipley and the Bulldogs. I try to come to as many matches as I can for the women's tennis team to show my support. I am on the men's tennis team myself and I know having the support for the women's team motivates me to play better," Massie said.
Throughout the match, the women's tennis team played different rounds of singles and doubles against Presbyterian. Madeline Finley was at the match supporting her teammates playing on the court throughout the game.
"It is a good feeling when I am playing well on the court, especially when we are doing well. I am able to focus on doing my best when my teammates are cheering me on so that is why I do it for them. It is a good supportive feeling," Finley, a junior new media student, said.
Many of the women's tennis players on the team have been playing tennis for almost their entire lives, including Shipley.
"I was about three or four when I first starting playing. I began competing in tournaments around 11 or 12," Shipley said.
Massie said the men's and women's tennis teams are close.
"We all get along very well especially because we share the same love of sport. We are like a big family because we have a lot of bonding through tennis," Massie said. "I love tennis because I love being part of the team. I like it because we are so close on and off the court. We hang out every day during practice on the weekdays and every day on the weekends when we do not have practice. We are a very close team."
Some of the players on the team had options to play other places but many of them chose to play at UNCA not only for the school but for the team.
"Obviously Asheville is beautiful but my main reason for choosing to come here was because of our coach, Lise Gregory. She was so genuine. I've never met a more caring or respectable person. I feel extremely blessed to have her as a coach and mentor," Shipley said.
Throughout the game, the women's team played their best. Even though they did not bring home a win, it was a game to remember for the players and the fans.
"I really like improving my game and self-improvement. My teammates are really awesome and my coach is too. We all have a really great bond between all of us that keeps us motivated to keep trying our best," Finley said.