Kye Johnson
A&F Staff Writer
[email protected]
Everything was in order for Hailey Johnston, a then 16-year-old high school student to take part in the American ritual of attending homecoming.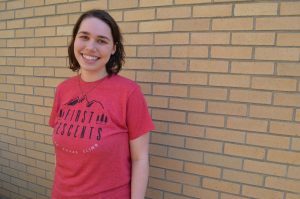 But an ice storm hit and the dance was rescheduled, and by then she was too sick to attend. It was not an illness she could fight through one night and rest the next day. It was cancer.
"It was really shitty because like all of my friends and so many people in my grade bought tickets to go to homecoming because I was going to be there," Hailey said. "I wasn't in school during this time so everyone was really excited and then once it got moved my phone got so many calls and text messages that it literally shut down."
Hailey, now 21, is a senior political science and psychology student at UNC Asheville. She uses her personal experience with cancer to bring a new face and light to all types of the disease, highlighting the importance of caregivers and hoping to wash away the stigma with her young adult community called Escape.
She came up with the idea for Escape during her treatments in 2012.  
Hailey said when someone has cancer it changes the way they are treated. For Hailey this meant people in school who once bullied her wanted to offer their friendship, dynamics with extended family changed and people started to view her as a strong, inspiring person.
"If you're diagnosed with cancer it's not really much of a strengthening as much as it's like a thing you have to do with chemo and radiation, you've just got to do it to live, it's not really much of a choice," Hailey said with a giggle, showing her positive spirit even when remembering a difficult period of her life. "It's not some type of weird battle or anything, you're just laying in the bed getting chemo."
Diagnosed with Hodgkin Lymphoma on Dec. 3, 2012, her father's birthday, Hailey would go through eight rounds of chemotherapy and three weeks of radiation in pediatric oncology at Levine Children's Hospital, but she was never alone. Her mother,Shiela Johnston, was diagnosed with the same disease only six weeks earlier.
"My mom didn't have me to take care of her and I didn't have my mom to take care of me really because we were both sick, so I think it came with an extra layer of challenges than if just one of us had been going through it," Hailey said.
Hailey received treatment in the children's hospital and her mother was in the adult treatment center. Unlike the children in the pediatric ward and the older cancer patients, Hailey was somewhere in the middle with very few people her own age. Hailey spent her days in the hospital trying to craft her own age-appropriate sanctuary.
"Typically they had nothing for my somebody my age," Hailey said. "In their teenage game room the only young adult novels they had were the Twilight series and The Fault in Our Stars I had already read all of Twilight when I was 12 and I was like, 'I'm not going to read a book about cancer.'"
Child life specialists visited Hailey daily, making sure she had everything she needed and giving her expert care, but when she was jokingly offered a toy train as a source of entertainment, Hailey felt driven to be the person to remedy her age group's boredom.
"I want young patients to not feel like they're alone, I want them to feel like they can have that community and that it's okay to have community and it's not going to put some type of stigma on them," Hailey said.
She created her own community using her outgoing personality to have fun with her doctors and nurses, chatting about pop culture and shows like The Bachelor, but she still did not have friends her age going through the same things she was experiencing. The word "cancer" incites fear in people thanks to society's portrayal and representation and that fear translates to death in people's minds, Hailey said.  
"Some of my friends were a lot more scared and worried than I was," Hailey said. "I got calls from friends who were sobbing saying, like, 'I don't want you to die.'"  
Shiela went through the same experience as Hailey without all the games or entertainment.
"As an adult, you don't worry so much about being entertained, it's a question of maturity there," Shiela said. "For me, I didn't need entertainment. I needed to be warm, I needed to be comfortable."
Friends and local church communities provided meals and help was abundant upon initial diagnosis during the months of December through February, coming to a screeching halt shortly after. Hailey's father worked an hour away, with six children, making sure everything stayed afloat became even more challenging when the help stopped, Shiela said.
"I think people need to know that if you are going to offer a cancer patient help that you make a commitment for one to two years of being available on a regular basis, even if it's just once every six weeks, that commitment needs to be serious," Shiela said. "A person doesn't stop having cancer four or five weeks after diagnosis. They are going to need help for a long time."  
Hailey took AP courses in high school and had big aspirations, looking at colleges like The University of Pennsylvania, Stanford and Duke before her diagnosis. But her cancer left her body too weak to keep up. After she went into remission on April 25, 2013 and returned back to school in her junior year, the side effects of treatment were apparent.
"I thought I was going to be fine and then my body was like, 'Haha, you thought,' so I had to un-enroll again and ended up homeschooling the rest of my high school career, taking online community college courses," Hailey said.
Braces helped bring Hailey and her project Escape to UNCA. Before Hodgkin Lymphoma, she planned to get braces. After getting sick, they were put on hold. Hailey was later awarded braces through a scholarship for children with medical conditions, forcing her to stay close to their orthodontist's offices located in Mooresville.  
"I was planning to go to the University of Kentucky originally, I had actually put in my housing deposit and everything and then I was accepted into UNC Asheville. I visited. I honestly did not like it and then I came up again and again and then I fell in love with the city," Hailey said.
Hailey became a student ambassador for admissions, allowing herself to find the same love she had for the city of Asheville at UNCA. Her once perceived misfortune brought cancer advocacy to students on campus and to the greater Asheville community with Escape.
Escape is for anyone who has been affected by cancer: the caregivers, the survivors, the children of parents with cancer, friends of people with cancer or people that have lost someone to cancer, Hailey said.
"Our general meetings are for anyone and everyone in the UNC Asheville community to be a part of advocacy and help propel this and make a noticeable change on campus and Asheville," Hailey said.  
Leah Griffin, a senior creative writing student, was a friend to Hailey when she was going through treatment. But it was after coming to UNCA when their friendship took off and Griffin took up being her caregiver post-treatment.
"Caregiving after treatment is really, really important as well. After treatment ends, a person may not have cancer anymore, however, they've gone through an experience that impacted them mentally and physically," Griffin said.
The majority of caregiving after treatment is emotional support, being there for someone who experienced this as a friend and a support system is critical to continue the healing process, Griffin said.
"She still deals with chronic fatigue among other things and it's important to have someone in her immediate life that knows and understands this and can help out on some days that are worse than others," Griffin said.
Escape aims to not only provide a voice for the young adults' cancer community but also to use their platform to educate people on how to check themselves for cancer and provide educational forums and workshops for the UNCA community, along with creating support groups for caregivers, survivors and patients, Hailey said.
"A lot of people think once you finish treatment and stuff, that's it, you are back to normal, you had cancer, you're done, it's over with and typically there are side effects," Hailey said. "There is a lot of relearning how to live, it's like you have a new body and you have to figure out how it works all over again."
The next Escape meeting will be held May 1, contact Hailey Johnston at [email protected]  for more information.