Martin Phillips 
Contributor
[email protected] 
In the corner of local video game shop GameXCape, a crowd of people sit around six outdated TVs.
The sounds of controllers clicking and laughter can be heard from the entrance. This is SmAsheville, a local Super Smash Bros. Melee tournament many people like Stuart "Pelipper" Pelletier make their home.
"I love SmAsheville, it was a great place to go to my first tournaments and start competing," Pelletier said. "It's a great environment and I really like it here."
Pelletier, currently ranked number three in Asheville, has been playing Melee for two years and already found much success in the game.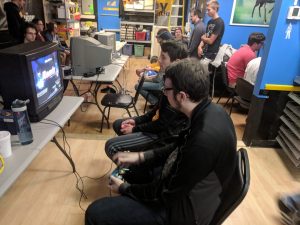 Super Smash Bros. Melee came out in 2001, one of the first games introduced for the Nintendo Gamecube. Melee went on to become the Gamecube's best-selling game with over seven million sales, according to Nintendo.
"I used to play this game all the time as a kid," said Trey "Deku" Biddix, another competitive Melee player, currently ranked number seven in Asheville.
Deku and Pelipper are examples of  gamer tags, names each person that participates in the Super Smash Bros. tournaments chooses for themselves.
"I chose Pelipper because in high school in 2009, this girl I was friends with at the time couldn't pronounce my last name and just started calling me Pelipper," Pelletier said. "It just stuck."
Along with choosing a tag, a player must pick a character that works best for them. There are 26 total characters in Melee so picking one can be a hard decision. However, for Pelletier, this was not the case.
"I chose Peach because I thought it would be funny to throw turnips at my friends," Pelletier said.
Every player has a different thought process while choosing a character. Christian "Debby" Massaro, a frequent competitor at SmAsheville, plays Fox.
"I like how fast I can move with him," Massaro said. "I feel like I can express myself the best with Fox."
Playing Melee at a competitive level takes a lot of time since there are many technical aspects of the game, from wave-dashing to l-canceling. Players must learn what other characters are capable of and how to counter them. There are many layers a Melee player must learn to achieve success.
Pelletier finds the time to learn and practice Melee while studying both math and computer science.
"My roommate Neil just brought in the Gamecube the first day," Pelletier said. "He was like 'Do you guys play Smash?' and, yeah, we had played just for fun in the dorm. We didn't know a competitive scene existed."
Playing Melee competitively can be a wildly different experience than playing for fun, according to Biddix.
"It's really execution-based but also really mental," he said.
Melee finds its way into people's lives in strange ways. Massaro said he first started playing when his parents grounded him from his PlayStation 3.
"I was bored and I was just looking around in my house for stuff to do and I found a Gamecube with Melee," Massaro said, who has achieved rank 10 in the latest Asheville Power Rankings. "Once I saw that there was competitive melee from that point on I was just hooked."
Pelletier, who at his peak was ranked number one in Asheville, looks at Melee in a unique way. To him, each game against a new opponent is a problem he must solve.
"I like to take the challenge of playing someone new, figuring out what they like to do and figuring out something to beat it," Pelletier said. "It's a continuous process where you learn more and more you solve more and more problems and it's a lot of fun."
Pelletier found success in more places than just Asheville. Like many aspiring Melee players he travels as much as he can, playing at as many tournaments as possible.
"Outside of Asheville I've won some Greensboro tournaments, I've made top eight at the locals I've gone to," he said. "At ETSU-Con 2018, which is the biggest tournament I think I did well at, was this Tennessee tournament. I got 13th out of like 200 people."
SmAsheville is a local tournament that typically brings in people from the surrounding area, according to Colin "Absolome" Taylor. An average of 20 people attend each each event.
"I actually have a spreadsheet for that that I made," he said.
Taylor, like many others in the SmAsheville community along with the competitive Melee community as a whole, take the game very seriously.
EVO 2016, the largest Melee tournament, hosted 2,372 entrants. The biggest tournament Pelletier attended was Super Famicom 2017 which hosted 272 entrants. At this event he placed 33rd.
While 33rd out of 272 may be impressive, Pelletier does not want to stop there. He aims to enter the top 10 in the state and currently stands somewhere between 15 to 20 in North Carolina.
"I think he could definitely make it on the NC PR," said Biddix. "I think Stuart gets into his own head a lot which can hold him back."
Melee requires focus and level-headedness along with the technical ability according to the players at SmAsheville. While Pelletier shows signs of greatness, he also shows weakness in his mentality, according to Taylor.
"He needs to fix some mentality issues," Taylor said. "But he could easily get ranked in North Carolina."
While still having things to learn, Pelletier still enjoys a successful career to this point. All those tournament wins and top eight places add up.
"Hold on let me take out my phone calculator," Pelletier said when asked about his Melee winnings.
The final calculation was close to $1,000.