Artists of all genres thread the community of UNC Asheville. From musicians to painters to poets, art is made across campus.
Taylor Sexton 
Assistant A&F Editor
[email protected]
The smell of coffee and baked goods wafts throughout Argo, the whirring of the coffee machine screeches over the low chatter of students as bright sunlight filters through the windows, catching the coffee cup clutched in Eli Helms' hands.
Helms, a sophomore new media student at UNC Asheville, was homeschooled until 10th grade, but his mother made sure he was always surrounded by art.
"I come from an artistic family," Helms said. "I've always been creatively inclined, so this is definitely my thing."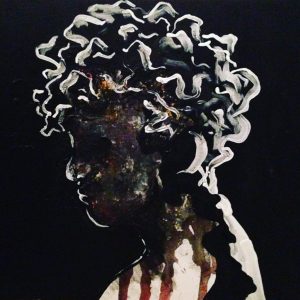 Helms said he started off with watercolors as his main medium, his subject matter focusing on nature studies. It was not until he began high school art classes that he branched out in mediums, style and subject matter.
He now uses acrylic and watercolor on canvas and, since attending UNCA, ventured into digital art, something that Helms said is not nearly as hard as it looks.
"In high school I started getting into art classes and that pushed me to move onto more abstract landscapes and weird shit. And then, coming here, I started getting into digital design," Helms said.
His art is heavily inspired by his emotions, often using art as a way to communicate and cope with his feelings.
"Most of the time it's like all of my art is produced from the emotions I'm feeling, most of the time they're dark emotions, that's normally when I can create the best. I'd say it helps me cope with things," Helms said.
He also said he feels as if his personality requires him to create art, that it is an unconscious decision.
Amahdi Stewart, freshman art student, has known Helms for three months and agrees his work comes across as being influenced by his emotions.
"I think his art is amazing and the concepts are really cool things you'd never think of. I think he's extremely creative, I'd like to think his pieces directly relate to how he's feeling or how his mindset at the time is, because it certainly seems that way," Stewart said.
Helms describes his style as abstract expressionism, yet also modern and sleek or anything else that comes to mind when you think of modern art, he said.
"His art is very abstractly beautiful. All of his pieces are very surrealistic and he has a really good eye for color, which I think draws the viewer in," Stewart said.
Helms said he wants his art to make an impact on the viewer, though he understands it does sometimes take being in a certain mindset to fully understand his pieces. He wishes to make his viewers think.
"I just want it to make people think and question, because a lot of the times people will not understand what my art is and what it's depicting. I think that's kind of a good thing, it makes people think and wonder what my intentions are and what the meaning is," Helms said.
Helms currently displays one of his pieces in the 51st Annual UNCA Juried Student Exhibition. He also features a lot of his art on his Instagram, manic.designz.
Not only is Helms a visual artist, but he is also a musician, playing bass guitar for two local alternative rock bands, Skipper the Lion and The Walbournes.
"I consider music to be another form of my art, although I tend to focus on visual art," Helms said.
Skipper the Lion, an alternative rock band, is Helms' main project and was formed back in 2014 with some of his fellow classmates. The band is comprised of Helms on bass and keyboard, Trey Spears on guitar, Austin Goodman on drums and Johnny Oliver as the frontman.
"We're fairly well known in Charlotte and commonly play venues such as Snug Harbor and The Fillmore Underground. The song we are about to release is called "Five Leaf Clover," it's really heavy, bluesy, grungy and loud," Helms said.
Spears has known Helms since their sophomore year of high school, when the two were in jazz band together. Spears said he has watched Helms grow as both a visual artist and musician.
"When I first joined Skipper, Eli was in a couple of different art classes and started to make these huge paintings and the whole time I couldn't think of using any other art for our music releases than his. He had this hand painting with a pointing finger, it was beautiful. For at least a year, that hand was kind of like our logo, his art has blown us all away since we first discovered his abilities," Spears said.
Spears expressed his excitement for the release of the band's upcoming single. They will also release a documentary about the making of that single.
Spears also said Helms contributed greatly to the songwriting process of both bands.
"Eli is hands down one of the best songwriters I've had the pleasure of working with through the past few years. He brings a calmness that is needed in every band and just knows exactly how to make a great song for both bands," Spears said.
The Walbournes started as a side project for Helms and Spears about two years ago, with Helms on bass, Spears on guitar and vocals and Nick Papazekos on drums.
"We're still trying to build a presence right now and haven't played any shows yet, but we have a little demo up on YouTube and are about to release a single called "Losing Signal," which lives in the realm of Queens of the Stone Age, Highly Suspect, Nirvana, that kind of sound," Helms said.
Spears said The Walbournes is a simple three piece band with catchy guitar riffs and high energy.
"I had a handful of songs that I had written, some with Eli and I wanted to keep them separate from Skipper and branch out into something else," Spears said.
Both said they hope to see success come from the two bands, though really they just love making music and are excited for the release of their upcoming singles.
"I've considered Eli to be one of my best friends in the entire world. He gets on my nerves a lot, but that's super easy to do anyways. Eli is more of a brother to me. It's a different kind of process between Eli and I and I think that's what makes each song we write a little bit better than the last each time," Spears said.
Helms summed up himself, his art and his music in one phrase that he found very fitting.
"Just keep it weird," Helms said.