Samuel Robinson
Sports Staff Writer
[email protected]
UNC Asheville officially introduced Mike Morrell as the new head coach for men's basketball at a standing-room only press conference.
Athletic Director Janet Cone introduced Coach Morrell, who appeared confident and excited for his first head coaching opportunity.
"We are going to compete for Big South Championships. We are going to win those. That's a strong statement. It takes a lot of work. I've been on those type of teams and I've seen what it takes," Morrell said. "That's what we're going to do here, but we're going to do it with great integrity, and we're going to do it the right way."
The introduction took place Tuesday afternoon in the Ingles Mountain View Room at the Sherrill Center, overlooking the court Morrell will lead the Bulldogs onto for the first time as head coach in November.
Morrell joins UNCA from the University of Texas where he worked under Shaka Smart.
"I worked for a person that challenged me every day to think like a head coach," Morrell said. "The foundation of everything that Shaka Smart taught me was that relationships are the most important thing. Until you get that right they won't put it on the line for you."
Morrell worked with Smart for eight years beginning when they both worked as assistants under Oliver Purnell at Clemson University. Smart then hired Morrell as an assistant for two years at Virginia Commonwealth University and then three years at Texas.
"We're going to press and we're going to get after people. I really believe that's how you play," Morrell said.
Morrell replaces Nick McDevitt, a UNCA graduate and fan favorite, as head coach. McDevitt helped the Bulldogs win  81 games over the past four seasons, the best win total in program history.
"I understand that the people that came before me are a reason why this job was so desirable for me," Morrell said. "I've been here for about 96 hours, give or take, and you understand very quickly what a great job has been done here in the past and I'd be remiss if I didn't bring that up."
McDevitt helped turn the Kimmel Arena into a fortress. The Bulldogs won 26 of their last 28 regular season games at Kimmel Arena, a feat Morrell will look to build on.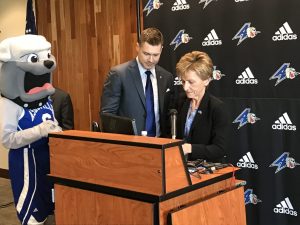 "I want basketball here to not only be a game, but when you come here I want you to feel like it's an experience," Morrell said. "I want people to come here and feel like, 'That was two hours of absolute bliss and I can't wait until whatever the next game is.'"
Morrell hails from Elizabethton, Tennessee, and played basketball at Milligan College, a liberal arts school near his hometown. He said he first fell in love with basketball when he was eight or nine years old when he and his stepdad traveled from Tennessee to Asheville, where Morrell attended one of his first college basketball games.
"I couldn't be any more excited to be here," Morrell said. "One of the experiences that I had to fall in love with basketball came in the Asheville Civic Center in the early '90s. So for me to get my first opportunity at UNC Asheville really comes full-circle."
Athletic Director Janet Cone headed the national search that yielded Coach Morrell. Cone solicited the advice of current players, a gesture the student athletes greatly appreciated.
"Ms. Cone and her staff really took the time to listen to us as players and take into account our input in the selection process," said Grant Townsend, a sophomore forward and engineering student. "It shows this program is not only dedicated to developing us as basketball players, but also dedicated to developing us as individuals, morally and intellectually."
Cone said she was drawn to Morrell's positive attitude, charisma and desire to build meaningful relationships with those he encounters.
"I can't tell you how excited I am to introduce our new head coach and welcome him to the Bulldog family," Cone said. "You all think I'm a Bulldog on steroids, wait until you get around this guy."
Interim Chancellor Joe Urgo said he is pleased the Bulldogs are adding such an experienced and dedicated educator to the basketball program.
"When I think about the kind of athletic program that we have here, and the strong emphasis on scholar athletes, we're looking for someone who's an educator in addition to being a coach, or someone who is able to blend the two categories together," Urgo said.
Morrell describes himself as a player-first coach. He said he cannot properly coach a player without first having a good relationship with them.
"I'm here to help them become the best version of themselves," Morrell said. "The best version of themselves might not be until they're 26 or 27, but we've got to expedite that process while they're here. That's a great challenge, but that's why I coach."
Because of the timing, Coach Morrell finds himself in limbo in terms of recruiting. Since it is so late in the year, Morrell and his staff may struggle to recruit and may find it difficult to replace graduating players such as Ahmad Thomas, Kevin Vannatta and Raekwon Miller. Morrell said he hopes to keep the McDevitt's last recruiting class in tact, but understands players may change their minds.
"I made a decision that was best for me leaving Texas to come here," Morrell said. "The person that you've got to be okay with when you make a decision like that is the person that's looking back at you in the mirror."
Eyebrows were raised last week when standout sophomore guard MaCio Teague got his release to transfer. Losing Teague would make sophomore center Jonathan Baehre the only returning starter for the Bulldogs next year.
"I know that he's a phenomenal kid and that's where it starts and ends. He's got to do what's best for him," Morrell said. "He's always going to be supported here, that's the main thing."
Despite the potential personnel changes, Coach Morrell is looking forward to getting started with the Bulldogs and assessing the talent on the team.
"I want to play meaningful games in March. In order to do that, it starts now," Morrell said.