Sarah Shadburne
Editor-in-chief
[email protected] 
For the second time under Coach Scott Friedholm, the UNC Asheville Baseball team calls the 2018 Big South Conference Sportsmanship Award theirs.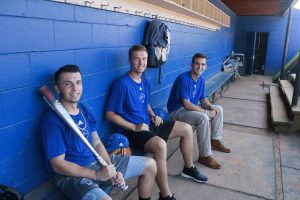 "It means that we do everything with class and dignity," Friedholm said. "Whether we win or lose, we're going to represent our university, our program and our families last names with class."
The baseball team last won the award for the 2014-15 season, recognized alongside the men's soccer team. Though they won't be playing any games until the spring, seniors Carmine Pagano, Austin Fahr and Jordan Carr say they practice good sportsmanship on and off the field.
"I think we've done a great job playing the game the right way, no matter how low or how high we are in the moment and always respecting the other team, umpires, fans—you know how college baseball can be sometimes," Carr said.  
Fahr said the team does a good job of controlling their emotions on the field as well and not letting the occasional hiccup escalate, which helps the team maintain a positive image on the field.
"I feel for the most part, when other teams play us they're not like 'oh, we have to play Asheville, they're a bunch of jerks,'" Fahr said.
Carr, a left-handed pitcher from Pasadena, Maryland, said a lot of his teammates really focus on playing the game rather than on the actions of their opponents. By being into the game and working as a team rather than trying to beat the other school, Carr said that's when they have the most success.  
Carr said he and his teammates practice good sportsmanship in the way they carry themselves and set their intentions for the day every morning.
"Right now we're lifting early in the mornings and we want to give 100 percent in the weight room and then we have to go to class from eight to whenever," Fahr said. "We don't take class as a break, we're still giving everything we have. Then we have practice. It's a long day."
Fahr, also a left-handed pitcher, said over the summer he kept up with Friedholm, affectionately referred to as 'Friedz,' and sent him a gym selfie.
"I was working out and said I was grinding or something like that and he said 'it's not a grind when you love what you do,' so I liked that," Fahr said. "We're not grinding but at the same time we are, but we all love what we do—the school aspect and the baseball aspect at the same time."    
Carr points out that they represent things other than themselves as athletes. By being good people in the classroom and doing things that positively represent themselves play a really important role to the team overall, Carr said.
"As athletes, you have to respect everybody that's working here," Pagano said. "You come to a campus and everyone knows about their athletic teams. You have to respect everybody that goes here because they're not getting the same benefits you are, so you have to take that into account when you're talking to people."
Friedholm said receiving the Sportsmanship Award for the second time reflects the culture the athletic staff seeks to instill in their players, in the sense that they want their athletes to be great representatives of the program and the university as a whole.
From having to get up at five in the morning to lift, attending four to five hours of class a day, going to practice and then maybe even to study hall if their grades aren't where they need to be for the program, Friedholm said it's definitely not easy to do the things they do.
"Obviously we want to win and compete and do all those things, but we want to do it with class," Friedholm said. "I give our 30 guys in here the most credit in the world for the amount of work it takes to be a Division I athlete and a baseball player at the level we want them to be and then on top of it, be the type of people they are as well."
Through all the demands, Pagano said it's easy to step away from them, but as soon as he does, his teammates and coaches are right there to get him back on track.
Fahr said he liked that the younger guys on their team unabashedly hold the older guys accountable and that the upperclassmen respect being checked. Since they are all on the same page, seniority presents no issue.
"I'm extremely excited for the season," Carr said. "I think this is the most team-oriented we've ever been in this program since I've been here. It's just definitely a better feeling going onto the field with your best friends, so I can't wait to play with them, not just practice."
Catch their first game in February 2019; dates to be announced.