Brailey Sheridan
Copy Editor
[email protected]
University administrators stress that the safety and success of the more than 270 students living in The Woods residential complex remains their top priority following their closing on Aug. 16, officials say.
"We had our students in mind throughout the whole negotiation, not only their safety, which is always a primary concern, but we wanted those students to get in those buildings as quickly as they could as to not further disrupt the beginning of their academic year," said Bill Haggard, vice chancellor for student affairs.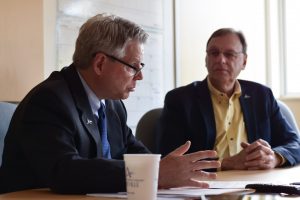 The Office of State Construction granted occupancy of The Woods residence halls on Aug. 15. A day later, state Insurance Commissioner Mike Causey forebode students from entering the residence halls because of an undue hazard to life and safety. UNC Asheville Chancellor Nancy Cable, the Office of State Construction, Causey and other officials held negotiations and reached an agreement on Aug. 16 which allowed the residence halls to be reopened, Cable said in a statement on Aug. 18.
"Focused efforts were made throughout the day to address each and every concern raised by the DOI and to construct an agreement that would allow for their immediate concerns to be addressed and allow our students to occupy the code-compliant residences that had already been approved for occupancy by the State Construction Office," Cable said.
According to Causey, UNCA agreed to an abatement plan that requires the university to install a sprinkler system in the attic and reposition valves on water supply pipes in stairwells so fire hoses do not obstruct students when attached.
Until the university fulfills their terms of abatement, they must allow a fire engine with a 35-foot ladder to park near the building, house four firefighters in one of the dorms for free and implement a 24 hour fire watch to ensure the safety of students, according to Cable.
"All these actions are a serious effort to address any undue hazard. With full confidence, we are assuring parents that students are completely safe," Cable said.
According to Pierce, the university will be seeking outside support to help cover the cost of this continued project.
"We have responded to our financial advisor already about the financial impact of this. Given the extraordinary circumstances of this situation, the university will be seeking some support financially from others," Pierce said.
On Aug. 23 a group of university officials began discussing proposed solutions to the terms within the abatement plan. Minutes from this meeting circulated Monday and now the university awaits feedback before they can move forward, Pierce said.
"Based on the results of those meetings our architects and our contractors are working to establish timelines and costs and go up from there. We are trying to work as quickly as we possibly can," Pierce said.
UNCA's close relationship to both the Office of State Construction, who oversees all of the construction on campus, and the DOI, who insures the school, also played a role in how the university negotiated with the two agencies, according to Haggard.
"We need long term good relationships with both of these agencies, so the relationships with those agencies were also a part of our own guidance on how we negotiated this," Haggard said.
According to Haggard, the timing of the closing of The Woods also played a role in how the university negotiated. University officials wanted to get students back into the residence halls as swiftly as possible to avoid a substantial impact on student lives.
"Another important aspect of the negotiation is we wanted to do all we could to make sure those students could move in on that Friday," Haggard said.
Alexander Adams, the community director in The Woods, said the impact on his residents appears to be relatively small.
"From what I've seen from students, and the students I've spoken to and the resident assistant interactions I've had, they might have been upset at the time, but now two weeks in, school has started and it's about to be September, it's almost as if we are just happy to be here, because that's what we want," Adams said.
According to Resident Assistant Eli Helms, the closing also proved to be good team building exercise.
"I think it strengthened how we worked as a staff. We got to work together closely to fix what we could. We were kind of without a home for a while so that kind of sucked but at the same time it was good for bonding," Helms said.
In the coming weeks, university officials will come together and debrief on the events that led up to and followed the closing of The Woods, according to Pierce.  
"There are a number of lessons that could be learned from this process and we are in the middle of it right now and once the dust settles we will debrief, so we can ensure that something like this doesn't happen again," he said.
Pierce said this event fosters many lessons not just for the school, but also the two state agencies also involved.
"It is also going to be something that is not just UNC Asheville, there are some differences in interpretation between the State Construction Office and the Department of Insurance and we think that as well will be something that is addressed," Pierce said.
For now, the university remains eager to finish The Woods so students can occupy the space as intended with few interruptions from construction crews, fireman and the fire watch, Haggard said.
"We're anxious to get to the point where the only people down there are the residents, we really are. So we are grateful for the patience and understanding that the students have shown so far. They've been great," he said.