Laura Browne
News Staff Writer
[email protected] 
Buncombe County candidates for district attorney, sheriff and county commissioner took part in a forum presented by Indivisible Asheville/WNC to answer questions about current pressing topics facing the area at the Lord Auditorium in Pack Library. Candidates answered questions from moderator Carolyn Anderson and the public.
The first part of the forum was dedicated to Incumbent District Attorney Todd Williams. After winning the democratic primary last spring, Williams is now the winner of the DA race as no opponents from different parties ran against him..
"Since I was elected in 2014 and took office in 2015, we've created some new programs for victims, most chiefly the family justice center," Williams said. "We've also brought the Child Advocacy center into that and they are working more closely with the victims of sex crimes and child abuse We've created expunction clinics, amnesty days and a lot of other programs to ensure that we're doing justice in a more global fashion."
When asked about the most pressing issue facing Buncombe County, Williams initially answered that he regards the opioid epidemic as the most important problem. He then discussed current and future plans to combat this crisis.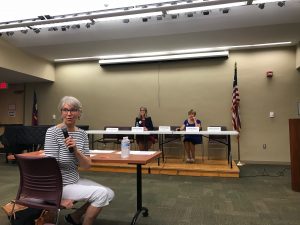 "We have an opioid diversion program presently centered on rehabilitation of folks that have already been charged with a crime," Williams said. "I would like to move that forward. I would like to give law enforcement the discretion to charge or not to charge if someone who is using drugs is amenable and open to treatment and cooperates with them in that effort and really wants to get into recovery. We need more interventions for folks who are suffering from this addiction that's taking lives."
Williams went on to add that another important issue that must be dealt with in Buncombe County pertains to the topic of reporting officer misconduct.
"Another thing that I'm working on is rectifying how reporting officer misconduct occurs our county," Williams said. "And that's something that I'm collaborating with law enforcement on a local basis and I've also participated in panels down in Raleigh with other DA's and statewide experts."
The second section of the forum focused on candidates for Sheriff. Democratic candidate Quentin Miller and Libertarian candidate Tracey Debruhl were present, while Republican candidate Shad Higgins didn't respond to Indivisible's invitation.
Miller and Debruhl were first asked how they would go about combating excessive force by law enforcement. According to Miller, excessive force is an issue of racial injustice. Additionally, Miller emphasized the use of de-escalation training to combat such issues.
"A lot can be changed when we look at the escalation," Miller said. "We can't just do this  as—I call it 'check the boxes.' We must act sincere and consistent and this training will, in my opinion, affect how we treat people. And if we treat people with dignity and respect, I think we won't have the issues we currently have seen in the Asheville Police Department."
Debruhl began answering the question by mentioning a lesson on race he learned while serving in the Marines.
"They taught us there's only one color we need to be aware of: green, friendly uniforms," Debruhl said. "That's the only color that matters to U.S. Marines out there."
The idea of training officers to prevent brutality was also mentioned in Debruhl's statements regarding excessive force.
"As far and skin color goes, as far as police brutality goes, those are mute subjects. Give me nine months with our officers. Three months for phase one, three months for phase two, by the time we hit phase three, the officers in phase three are teaching phase one. And we won't ever have these issues," Debruhl said.
The second question that Anderson asked the two candidates concerned immigration and customs enforcement and their recent raids and arrests in Buncombe County.
Miller answered this question with an unwavering refusal to support ICE's activities.
"Let me be absolutely 100 percent clear, I will not support the 287G," Miller said. "What that is, it's ICE, it's the immigration. And I've said this during the primaries and I'm going to say it again to us this evening: when we really look at this, we're talking about incarcerating people without legal representation. We're talking about incarcerating people for unspecified amounts of time. As I stand before you, I can not support ICE and I will not support it as the sheriff, and I also want to mention to you: the current sheriff does not not support it, so we don't want to do anything new in regards to that."
Miller also stressed the importance of meeting with the community to better understand the actual impact of ICE on the community and what can be done about it.
"I'm interested in sitting down and just figuring out how we can support people even when they're being separated by ICE," Miller said. "By statute, we don't have to support ICE. And so with that in mind, I think we should be, as a community, looking for ways that we can support people when ICE comes into our community."
Debruhl acknowledged that ICE officers are fulfilling their position and duties, though he doesn't tolerate ICE officers making illegal raids or arrests.
"They are officers who have laid their life down on the line and said 'You know what, I'll risk my life to protect our people,'" Debruhl said. "The thing is, it's their jobs. The raids are wrong and they won't do them in Buncombe County, not without our help. And I'll tell you, if they do do it illegally, as a sheriff, I'll put handcuffs on officers."
Finally, the moderator tasked Miller and Debruhl with answering how they would plan to face the opioid problem, particularly in Buncombe County.
Miller met the question with the mindset that the county's crisis must be treated as an illness and approached with the goal of rehabilitation rather than punishment.
"This is a disease," Miller said. "We are not going to be able to arrest our way out of this. Let's get people some help, they're sick."
Debruhl's perspective ideas for treating the opioid crisis differed from his fellow candidate.
"One of the best weapons we do have is cutting them off at the source turning their friends against them," said Debruhl.
Debruhl also added that legalizing marijuana would help people overcome their opioid addictions.
"You ask me what the biggest tool we have out there, it's gonna shock a lot of y'all, but the biggest tool to get rid of heroin in my opinion is marijuana. The fact is, if we legalize it, they'll actually peg down the use of heroin because people have that go to," Debruhl said.
Candidates for county commissioner took part in the third forum. Candidates Amanda Edwards for district two and Donna Ensley for district three were present while incumbent candidates Al Whitesides and William Pressley were unable to attend due to a county commissioners' meeting. Glenda Weinert did not respond to Indivisible invitation to the forum.
Anderson asked the two about their plans for dealing with the future growth of Buncombe County. Ensley responded that the dealing with growth in Buncombe county was the reason she decided to run for office.
"We are experiencing traffic jams everywhere and I've been in this community 31 years and watched it grow and change and I believe it's time for a strategic plan for development that includes addressing all infrastructure needs, not just roadways but where are we going to have the water and the sewer, where are we going to have corridors for economic development and where are we going to have corridors where people are able to live?" Ensley asked.
Ensley additionally stressed the importance of establishing unoccupied green spaces in areas safe from development.
"We need to make sure that we establish those green spaces now so that as we grow 10 to 20 years from now, those green spaces will still be there," Ensley said.
Edwards also heralded the opinion that land and space must be safeguarded from future development through community cooperation.
"I support and do prioritize the on-going land conservation efforts in our community and I like the idea of a combination of public and private investment and cooperation. Everyone has to work together on this issue to really plan for the growth that we're already seeing and that we know is coming to us in the future," Edwards said.
Additionally, Edwards highlighted the importance of open space conservation in accordance with the growth of the county.
"I support managing our growth and taking into account how it impacts our day to day lives," Edwards said.
The last question Anderson asked during this section of the forum related to the recent bill passed commiting Buncombe County to 100 percent reliance on fossil fuels.
Edwards responded to the question by giving her support to the bill and drawing from her past interaction with pollution and resource depletion.  
"I was born and raised in southern West Virginia in coal mining country and I saw the mountains that were ravaged by the industry and continue to be and how that impacts our water as well. And while the situation may not appear quite as dire in Buncombe county, if we are not careful, that is the situation that we are indeed facing. We have to keep our word on supporting renewable energy and I am more than pleased to support that and look to ways to continue supporting it," Edwards said.
Ensley likewise threw her support behind the bill.
"I am 100 percent in favor of supporting the renewable energy plan that is in place now and I believe that we need to continue to look at it, upgrade it and move forward with it year by year as a strategic priority," Ensley said.
Reflecting on the benefits of renewable energy, Ensley expressed her satisfaction that these benefits will not only improve health, but also the economy.
"I believe that our renewable energy is not only something that will protect our environment and our personal health and keep our air clean and our water clean but it will also have a long term economic impact that will be sustainable for our community," Ensley said.
The final portion of the forum allowed the candidates to all come together while the public had the ability to ask them their own questions.
Before the forum commenced, workers in affiliation with Indivisible offered to help attendees register to vote and urged those attending to make sure they knew their voter status.