Laura Browne 
News Staff Writer
[email protected]
Wednesday's Student Government Association meeting passed two bills establishing senior senator Lexi Herring as president pro tempore and senior senator Jackson Myers as the legislative librarian. Both bills were passed unanimously by the senate.
Before the passage of the second bill declaring Herring as president pro tempore, Myers answered a question about the duties of a pro tempore, saying that Herring would fill in for the vice president if he were not present for a meeting.
"They're the space saver for if Kimani's ever absent," Myers said.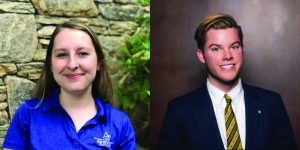 Following the passage of the bills, the gallery was asked to leave so a closed session could commence.
"We're going to move forward to a closed session," Vice President Kimani Anderson said. "We have to clear the room and decide who other than senate can stay."
Only SGA members, Bill Haggard, vice chancellor of student affairs and SGA advisor and Director of International Student Services Robert Straub were allowed to stay for the meeting.
Following the closed session which lasted approximately fifteen minutes, the gallery was allowed to join the meeting once again. Notes taken while the gallery was absent provided the information that the closed session was to be completely confidential, and that no minutes were taken to record what had been discussed.
The meeting also included Davis providing updates about his meetings with student organizations on campus.
"I spoke with a couple of the student orgs, we all had a meeting on that same day, and spoke about ways that we can all collaborate. How to be more strategic with events that we are hosting for all of the students across campus," Davis said.
Davis mentioned earlier, he also met with the student athlete advisory committee. Davis and Anderson additionally discussed their plans to speak with UNC Asheville's coaches on Thursday.
"Tomorrow, myself and Mr. Anderson will be speaking to the coaches and just telling them what we talked about with SAAC about how we can get involved more so that we can all just work together and be the actual bulldog family," Davis said.