Taylor Sexton
Arts & Features Editor
[email protected]
No seat within the darkened theater sits untouched, the audience holds a collective breath as the Halloween theme song begins to play on screen, knowing exactly who's about to appear. Even after 40 years, Michael Myers still holds the same effect over a captive audience.
The Halloween franchise began in 1978, featuring Jamie Lee Curtis as teenager Laurie Strode, who watches all of her friends get killed and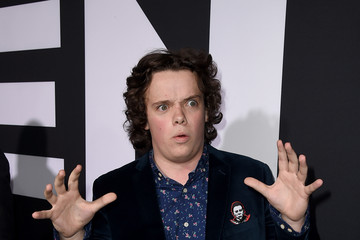 becomes Michael Myers' fixation for the night. Though the franchise has many parts, 2018's Halloween is 40 years in the future and shows the hard life Lorie has lead from her traumatic experience that fateful night 40 years ago.
20-year-old actor Drew Scheid plays the character 'Oscar' in the contemporary Halloween movie and expressed his excitement to be a part of such an iconic movie franchise.
"It still does not seem real, it's still very surreal, like a dream," Scheid said. "It's overall been an honor to be chosen for this really cool experiment. I think they took the franchise in a different way and it was just cool to be a part of that experiment and I'm excited to be a part of the Halloween family."
Scheid admits he didn't even know that he was auditioning for the Halloween movie, due to the fact that the franchise used a false production company name and false movie title. It wasn't until Scheid got a call from his agent saying he's gotten a callback for an in-person audition that he even knew what movie it was for.
"I had auditioned for it and most auditions, you don't get like 99 percent of the auditions, so I just didn't even think about it. And then a month and a half later, she called me and was like 'hey, remember that thing you auditioned for? Turns out that's Halloween and they want you to drive down to Charleston for the in-person callback,'" Scheid said.  
When Scheid found out he had landed the role of Oscar, he said he felt nothing but immense joy and excitement to be working with actors such as Jamie Lee Curtis and director David Gordon Green.
According to Scheid, the shooting process for the movie started in January and went to February and the teenagers worked about only six days total, shooting separately for the most part. Even though they worked apart, they all still managed to become close friends, even playing the board game Catan after shooting every day in each other's hotel rooms.
"They were like, 'oh, you guys are all playing friends, so you should be friends.' So they had us there for the entire month of January and we just went to set everyday and got to watch all this scary stuff and hung out, went to restaurants and it worked because we're all really good friends still," Scheid said.
Scheid describes his character, Oscar, as a major party animal.
"He loves to get down. It's his senior year of high school, it's Halloween, he's just in his own Superbad type of movie. He's just trying to get drunk, find the party, find the after party and find any girl who will talk to him," Scheid laughed.
Oscar, unfortunately, meets his untimely end at the hands of Michael Myers, who impales his head through a fence.
Scheid admits it was frightening to be killed by Michael Myers and he now understands why people in scary movies fall all the time.
"You just kind of fall when you're this scared," Scheid laughs. "When you're this immensely terrified and someone you don't know is coming up to you in the middle of the night, your body just can't control itself."
Scheid's scene with Michael was all shot in one day and his death required him to wear a prosthetic from right below his eyes and downward.
"I went to LA before the shoot to their offices to get it all matched, they molded my face and they built it all in their studio," Scheid said about his prosthetic.
Scheid said Art Director Chris Nelson is the one who created all the deaths in the movie. Nelson also made an appearance in the movie as a cop who falls at the hands of Michael Myers.
James Jude Courtney plays the iconic villain, Michael Myers. Scheid describes Courtney as a wonderful and funny person, but the moment the mask went on, he would immediately immerse himself in his character.
"He just got very into it, he would just hide around set and just walk around to really get you. And so, I'd be talking to Andi, who plays Allyson and we'd just be laughing and joking around or whatever and I just turn my head and there he is, behind the little playground in the backyard," Scheid said.  
Scheid said the best part about the shooting process of the movie was how collaborative it was. His favorite memory involved sitting in Green's office during rehearsal one day and talking out the script.
"We all sat down in David's office and we're just talking about the script and he's typing on his computer and just goes, 'hey, there's the scene, sort of like near the end of the movie that we're trying to just like fix, do you have any ideas?'" Scheid said. "It just really set the tone of the entire shoot that this is very collaborative, everyone's opinion is important."
UNC Asheville mass communication lecturer Stephanie O'Brien, spent 17 years working in movie and television and worked as the second assistant director on Halloween H20: 20 Years Later which was released in 1998.
"We were revisiting character's from 20 years ago and trying to pull them forward. And I think there was a wanting to stay true to John Carpenter, his original vision and the producer's original visions and stuff like that, but also knowing that we needed to update it somewhat,"  O'Brien said.
O'Brien's job as second assistant director was to make sure that all cast members arrived to set on time and make sure they all made it through hair, makeup and wardrobe. She was also in charge of all extras and gave them an overview of everything that was happening on set.
"I talked to them about technically what's happening in the scene. So where are the cameras going to be? Where do the actors need to be?" O'Brien said. "And then I really give them an overview of what's happening in this scene in particular. How does this scene fit into the broader spectrum of the film? What should you be feeling?"
O'Brien describes movie production as a business, so seeing Michael Myers walking around set or killing people every day didn't shake her too much.

"I know nothing's real, I know that really nice guy that played Michael Myers is not a psychopathic killer, but once it gets onto the screen and I find a hard time watching it because, you know, just the psychological aspect of it," O'Brien said. "He doesn't walk around in it. He takes the mask off and he's standing around in his jumpsuit and he's just the actor that plays the killer. You really start to understand how it's all make believe."
O'Brien did admit that walking on set one day and seeing Joseph Gordon Levitt just sitting there with an ice skate through the face managed to throw her off.
O'Brien said she thinks that franchises are often given a hard time for making sequels like H20, but she thinks that they matter and are important to the fandoms that follow them.
"There's a fan base out there that loves the work and what's done with it and I think they deserve to have characters continue, because we connect with those characters and we want to keep growing with them. And there are people that have, for the last 40 years, grown with Jamie. She was 19 years old and they were probably 18 to 20 when they saw the first Halloween and now they've sort of grown up with her and I can see that connection that they make, so I like that idea."
O'Brien enjoyed working with Curtis and describes her as a lovely and kind woman. She's happy to see her doing so well with the new movie.
"I'm thrilled that it's done as well as it has. And I'm also thrilled because Jamie is a woman over 55 leading a movie to the top of the box office and that's somewhat unheard of these days. And so I'm thrilled for her and I'm thrilled for the franchise," O'Brien said.
UNCA junior, Josh McCormack, runs a blog called 'Grindhouse Reviews' where he reviews movies, such as 2018's Halloween and has been a huge fan of the franchise since he was 12 years old.
McCormack believes the original movie contributed greatly to the horror movie culture.
"The original one was kind of the first mainstream slasher movie, Psycho did it back in the 1960s and there were a couple movies in the early 1970s that were slasher films, but this was the first one that was mainstream," McCormack said. "It also just brought in a new genre. If it wasn't for Halloween, there wouldn't be Friday the 13th, or Nightmare on Elm Street."
McCormack admits that many of the movies in the Halloween franchise have not been good, but it's the aesthetic and interesting character of Michael Myers that gathered such a large fan base.
"I just think Michael Myers is a great villain when used properly," McCormack said.
McCormack said that he personally didn't like when the franchise decided to delve into Michael Myers background to give him a motive. He enjoyed the simplicity of the first movie and how Myers was just an evil guy who killed people. McCormack appreciated that the new movie touched back to the simplicity.
In order to get the simplicity of the new movie, the franchise would have to discredit all the others that had been made in between the 1978 movie and the 2018 movie.  The way the franchise did so was by calling all the other movies stories, not the actual events to the original movie plotline.
McCormack believes this move worked out in their favor.
"I think by doing that, it kind of brings the series back to its simplicity and it makes Michael no longer have a motive. He's just this crazy, evil guy and I think that's scarier than anything," McCormack said.
McCormack believes there will definitely be a sequel to the new Halloween movie, due to how ambiguous the ending was.
"I've seen movies come and go," McCormack said. "Even whether you like the other movies or not, no Halloween movie since the first one other than this one has been respected by critics and audiences. It's always been a very niche fan base and I think this is the first time where it's gone mainstream since the original. So I think they're going to ride that wave."