Laura Browne
Assistant News Editor
[email protected]
Wednesday's Student Government Association meeting focused on ongoing initiatives, programs and decisions members currently seek to address in regards to the UNC Asheville campus and the SGA itself.
SGA President Michael Davis said the decision on whether or not to allow Commuter Senator Chris Bobbitt to serve on the senate will be made during the Sept. 26 SGA meeting, though the actual decision-making process will not be open to the general public.
"That will happen at the next meeting, but that will be a closed session meeting because it's a personnel matter," Davis said. "And so next week, we'll go into closed session at the very end of the meeting to talk about that and then afterwards we'll come out of closed session to release what the status will be officially."
Bobbitt was not present at Wednesday's meeting. Despite not being allowed to serve on the senate, Bobbitt still sat in on the past two SGA meetings as a member of the gallery.
Senior Senator Sydney Nazloo led a tutorial on how members can assist others in registering, re-registering and pledging to vote.
Accordingly, Nazloo discussed how SGA will be working with the political science club and with students from a course on United States elections, taught by Ashley Moraguez of the political science department, in order to register individuals on UNCA's campus to vote on Sept. 25.
Nazloo urged her fellow SGA members to participate in the event.
"I'm sure a lot of you have signed up to table, if you haven't please do so because we can always use extra hands and if you can't table, you can also make treats for us to give out," Nazloo said.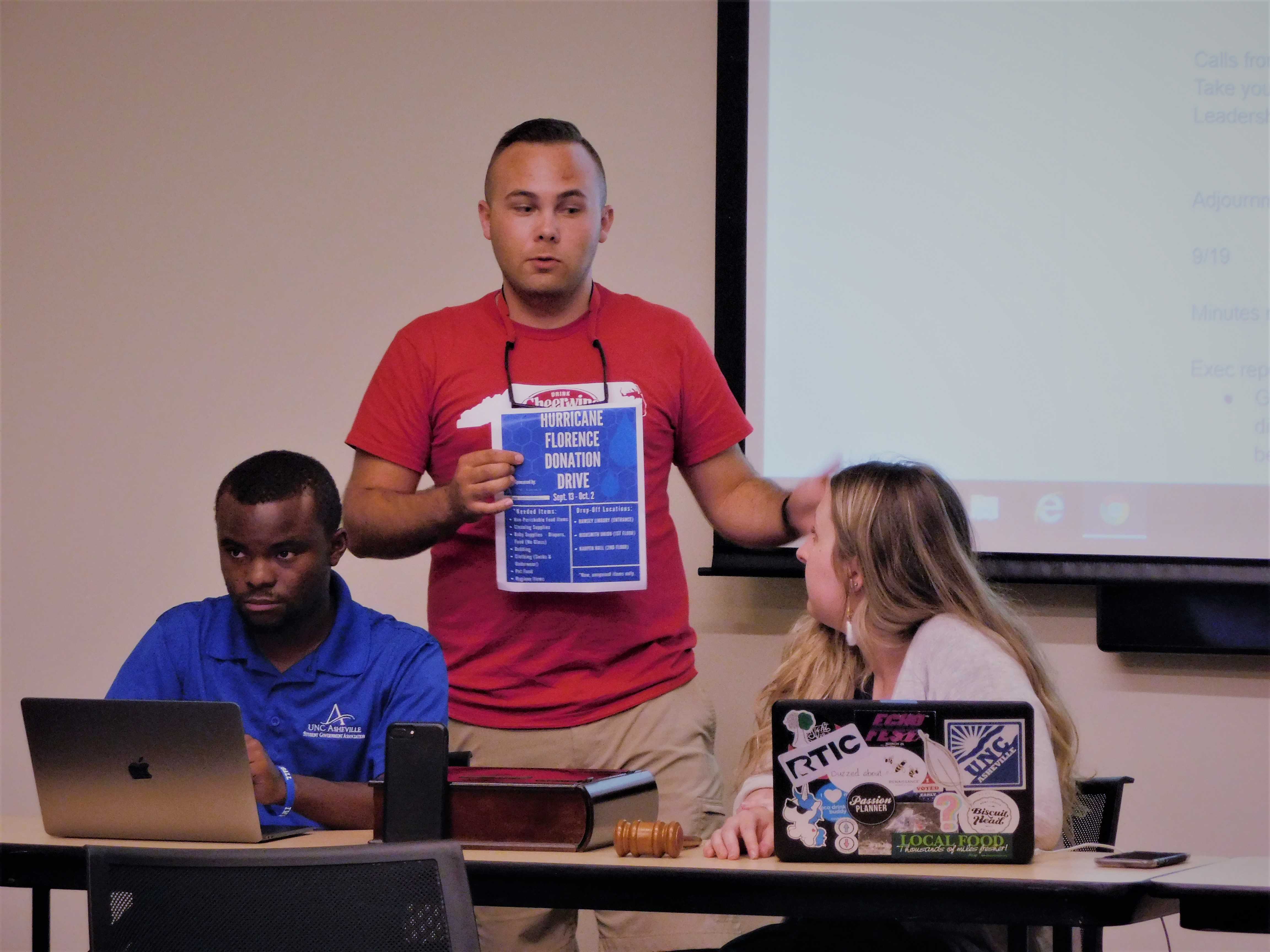 Junior management student Andrew West also came to speak at the meeting on behalf of the department of management and accountancy to inform the members of SGA about the department's donation drive to benefit the victims of Hurricane Florence while also encouraging them to participate.
According to West, the drive is most in need of non-perishable food items, pet food, cleaning supplies, clothing, bedding, supplies for baby needs and hygiene items. These items can be placed in designated bins in Karpen Hall, the entrance of Ramsey Library and Highsmith Student Union.
"Specifically, they're in desperate need for hygiene items because with everyone having to rush and with the river still not having crested, no one's able to go back to their homes as of yet," West said. "So, hygiene items such as toothbrushes, toothpaste, feminine products, things like that: they're in desperate need of right now — basic razors, things like that. If you could be more than generous enough to donate some of the items, like I said there are three drop off locations here on campus."
Additionally, Liyah Foye stepped down from her position as executive of academic affairs and officially resigned. Foye cited personal reasons for her resignation.
"I really wanted to clarify to you guys that it is not a decision against SGA or what SGA stands for," Foye said. "I actually have a lot of love for this organization and a lot of appreciation for the work that you're all doing and I'm grateful I got the opportunity to work with you. But, I feel that I can't give SGA what you guys need right now and that it's best for me to step away from this position knowing you can find someone who can alter their needs to yours in a way that I can't."
Davis presented two formerly passed bills to familiarize the SGA members with their respective purposes and contents. The first bill discussed the designated number of office hours required from each member because SGA members are to begin completing them beginning this week.
Subsequently, the SGA discussed a bill passed under the preceding administration declaring a general assembly.
"The general assembly is a great, great extension of student government for another way for us to reach out to students and those who might not have been appointed and or elected into student government, they can still be a part of student government in some shape, form or fashion," Davis said.
Elections Commissioner Rae Williams gave SGA an update on the election process for Freshman Senate. According to Williams, six individuals are campaigning for the three seats available for freshman senator.
"I'm excited to have any of them in here with us," Williams said.
Executive of Multicultural Affairs Stephanie Grice discussed an event that would be presented in association with her position.
"We will be hosting our first event kicking off Hispanic Heritage month titled 'We Are the People: Brown Berets and other Radicals,'" Grice said.
The event will be hosted by Juan Sanchez-Martinez of the Spanish department on Tuesday, Sept. 25 from 6-7 p.m. in Highsmith room 223.
Vice president Kimani Anderson was absent from the meeting, but was able to sit in on the meeting virtually by using Facetime from London.
"That just shows how committed our vice president is: that he's Facetiming in six hours ahead," Davis said. "It's three in the morning there. If that's not love, I don't know what is."
President Pro Tempore Lexi Herring led the meeting in his leave.