"Caught between new and old": Exploring one of the world's oldest countries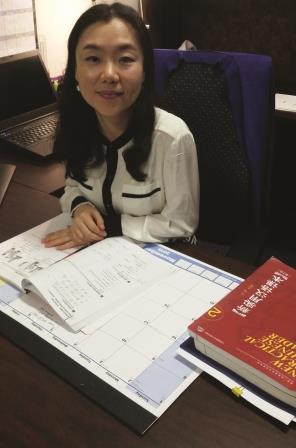 By Elizabeth Walker, contributor
11/18/15
Standing on the Great Wall, students look out from one of the world's seven wonders. The wall zigzags across the land, stretching for miles through arid deserts, steep mountains, lengthy rivers and wide grasslands. On top of the world, the students truly feel alive, surrounded by a culture so ancient they can never fully comprehend it.
Only a few weeks later, they are in Beijing, thrown into the fast-paced life of a city with almost 12 million people. Around every street corner, a new sensory experience awaits —  the smells of street food permeate the air, people shout at every passerby, hawking their wares and bright colors surround everywhere. To be here, to be caught between both new and old, embodies the spirit of China.
The country remains a mystery even to Jinhua Li. A nation sheltered from the world for centuries, it only recently opened its doors to outsiders, displaying what lies within. Li, director of the summer study abroad program to China and assistant professor of Chinese studies and language and international studies, said she acts as travel guide for many UNC Asheville students.
"The program is offered to the whole campus, and it's one of the best college experiences they can ever hope for," said Li, who lights up at the chance to discuss the program that she built from the ground up.
Li, surrounded by sentimental trinkets such as umbrellas, paintings and mementos that serve as reminders of the country and people she left behind, relates the details behind a program that remains close to her heart. After taking students abroad to China for the first time in 2013, she said her passion for teaching was not only within the classroom.
"I think the students here are entitled to the same kinds of experiences, the cultural encounters and exposures to China. I think China is so important not to know better in the 21st century and in the globalized world," Li said.
Li smiles, remembering her own days as a student. Originally from Beijing, she came to the United States to obtain her Ph.D. in British and American literature at Purdue University, believing it made more sense to study the literature in the country where the works were written.
She said she transfers this mindset to her own classes, encouraging many of her students from her Chinese language classes to expand their speaking skills by going to China.
"I just want them to have the lived in experience of the cultural exchange. It's completely different reading about something, discussing about something, as opposed to just being there physically," Li said. "I think it's an eye-opening experience, getting to see my own country through fresh pairs of eyes."
The program's itinerary changes each year, Li said, as she shows students many different parts of China and travels to places even she hasn't gone before.
Natalie Gladden, an international studies student who went on the first trip in summer 2013, said the group went to cities such as Beijing, Shanghai, Harbin and Xi'an.
Gladden's brightens when discussing Harbin, a Chinese city near the border of Russia famous for its ice festival every year. While she wasn't able to see the festival, Gladden said she was amazed by the ice museum they visited while abroad, full of sculptures handcrafted from ice.
"You know people have bucket lists, and some of the things on those bucket lists are to see the Great Wall, to see the terracotta warriors," Gladden said. "Most of the time when people go to China they're not able to do all of that. We were basically able to do everything you could as a tourist, which was fantastic."
This past summer's trip focused more on the Shandong Province, with cities in the area such as Qingdao, Jinan and Qufu being major stops, along with Beijing. Heath Bradley, a student currently in Li's Chinese class, said he loved Qingdao the most for one reason — food. The amounts of seafood in this coastal city sated Bradley's hunger for new cuisines.
Each Chinese province has a unique take on the national food staples. Bradley said one of his favorite ways to end a night was gala, a stir fry composed of tiny clams cooked with red chilies, bursting with flavor. Bradley said he yearns to be back on the streets of Qingdao for just another bite.
Bradley, a business management and international studies student, said the experience abroad was valuable not only to his palate, but also his future career path. In a place like China, knowing the language will not be enough to land a job. Understanding the people is key to truly working with them, and Bradley said he is grateful his first trip was the springboard for many more.
Both students said along with waking up each morning to explore a country with cultures and monuments thousands of years old, Li's guidance and confidence on the trip made the experience even more fulfilling. Her sense of humor, kind nature and sense of adventure led to a trip better than either expected from a professor-led program.
"There were two professors when I went on the trip. There was Jinhua Li and Lei Han, a professor in new media," Gladden said. "The way we described them was that Dr. Li was the mom, and Dr. Han was the aunt you go to when you want to hear a yes."
Bradley said Li was a wonderful trip leader.
"I do have a lot of trust in her and a lot of respect in her abilities. She really does know what she's doing and she has a passion for the students achieving their goals,"  Bradley said.
While on the trip, Gladden said she got the chance to know the Chinese volunteers, students around their own age. Gladden said it was helpful for both her speaking skills and her knowledge of the country. Without their guidance, Gladden said China would have been a very different experience.
Li said some of her fondest memories remain seeing students' faces when they first see the wonders China has to offer. She remains in awe at some of the sights, such as the Qufu, the birthplace of the famous philosopher Confucius. Located within the city, the Kong Family Mansion remains a bastion to Confucius.
"Imagine that Confucius stood where you stand 2,000 years ago. That's the experience of a lifetime, seeing the intersection between new and old," Li said.
Bradley said he remembers standing on the Great Wall, in awe at a monument thousands of years old.
"There's no perspective you can have when you look at something like that. You don't have anything to compare that to historically," Bradley said.
While talking, Li has an excitement akin to a student finally presenting a project they've worked on. Only once does she take on a more serious air.
"Be critical about what you think about the country,"  Li said. "We talk about China so much, we see China representing different channels and different aspects of our lives, but what is China? I think really everybody would have a different answer after they visit China and see for themselves."