Fruit cake of music surf rock candy band *repeat repeat plays Asheville
Sarah Shadburne 
Assistant A&F Editor
sshadbur@unca.edu 
Love knows no genre when it comes to Nashville based band *repeat repeat and their brand of surf rock candy music. Delivering long jam sessions, loud music and a kiss on the head to his wife during a break between songs, rockers Jared and Kristyn Corder and Andy Herrin came out shredding Wednesday night at the Mothlight.
"Our producer said to us one time, 'You know, it's a lot more punk rock to sing about love,'" Kristyn said.
Jared and Kristyn have been married for five years but the band's preview track "Girlfriend" from their upcoming album Floral Canyon references their first few tentative weeks together after they both had their hearts broken by previous partners.
"The first time we ever spent time apart before we started dating yet, I went home for two weeks and she drove me to the airport and she was bawling her eyes out," Jared said. "And it was the first time real emotions were coming out. I talked to her on the phone all the way until they told me not to."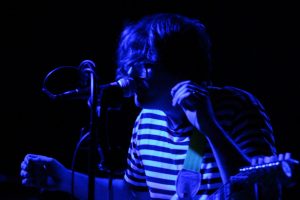 As well as being inspired by Jared and Kristyn, the song seeks to reimagine the classic 2010 Best Coast song "Boyfriend" from a male perspective, subsequently turning the tables on gendered expectations of rock music.
"There's a lot of songs from a girl's perspective where she wants a guy, or the guy fucked her over," Jared said. "And there are a lot of songs where this guy wants this girl and he wants to take her home, but there are very few songs where the guy wants a relationship with the girl."
When Jared returned he walked off the plane wearing a t-shirt with a sharpie message on the front: "Kristyn let's make us official" and "Love, Jared" on the back and the couple has been together ever since, said Kristyn.
"Not only can you be a sensitive man and a meaningful, genuine, authentic male person," Jared said. "But you can also be loud as fuck and play and rock the fuck out and be punk rock. Everyone is singing about being angsty but to write a punk rock song about love, now that's something."
The music of Floral Canyon explores themes the band did not have a chance to on their first record, including religion, parents and a song inspired by Herrin's ex-girlfriend.
"It was kind of a jumping-off point to a song about a tumultuous relationship where both sides are wrong," Jared said. "I think it's usually like, 'You're in the wrong,' or 'I'm in the wrong,' but a lot of relationships, both people are having to look at themselves."
The album is made to flow as one continuous piece, ideally bought on vinyl so listeners can hear their smooth intentional transitions between songs, and flip the record back over at the end so it can play as an everlasting looping piece, Jared said.
"I think it was mainly her that was in the wrong but Jared was just trying," Herrin said to the laughter of everyone in the room.
The members of the band come from several different musical backgrounds but can agree their sound has three main components that create their signature surf rock candy sound.
"When you're coming up as a band in Nashville, genres kind of become gray areas," Kristyn said. "One girl we know listed her genre as 'tropical country.'"
"For awhile we were spooky surf pop," Herrin added.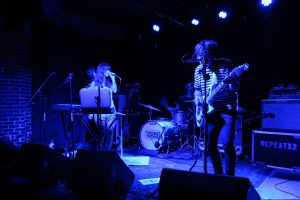 Kristyn breaks down their sound as being part surf, part rock and definitely part polished pop. Just like rock candy, equally hard as it is sweet.
"We're the fruitcake of music," Jared laughed. "Wait 'til you see the comments on that: 'What the fuck is that?!'"
Overall the band thought they would be more sensitive to the presence of online trolls, but now they keep a safe distance from the critics.
"We're not trying to be for everybody. People are gonna hate on it, people aren't going to like the way we describe the genre or the way it gets really sweet and saccharine," Kristyn said. "People are gonna not like things about it but we're not trying to be for everyone, which is a helpful reminder."