Modern horror films scare up success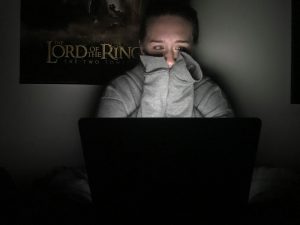 Josh McCormack
Arts & Features staff writer
jmccorma@unca.edu
As the summer movie season comes to a close, the box office success of large Hollywood productions presents  a mixed bag. 
For every Avengers: Endgame or Spider-Man: Far From Home, which collectively made more than  $3.5 billion at the worldwide box office, plenty of big budget disappointments took the screen, like Godzilla: King of the Monsters or the latest X-Men entry, Dark Phoenix. Both of these had budgets well over $150 million, according to the website Box Office Mojo, but were not able to make their money back in domestic markets and only barely did so internationally.
The one almost constant silver lining throughout the summer is the success of the horror film. With modest budgets ranging from $10 million (Child's Play) to $27 million (Annabelle Comes Home), horror proves to be a low risk, high reward endeavor for studios. Movies like Paramount's Crawl nearly made their budget back seven times over with a small budget of $13.5 million.
Director André Øvredal recently found success with the release of his film Scary Stories to Tell in the Dark in  August. With a production budget of $25 million, the movie nearly tripled its budget in worldwide box office, currently standing at about $73 million.  
The Norweigan filmmaker had never worked with a budget this large in his directing career and  thinks this amount of money is given to films of this type due to past proven success for studios.
"I think The Conjuring was a big turning point," Øvredal said. "That was the first real studio horror movie in a while where they actually had some money to make a good movie. I believe successes like that directly impacted Scary Stories because we actually had some money to make it. We weren't a low, low budget movie."
The abundance of horror films in the past few years could also be a simple product of supply and demand for moviegoers. More recent horror films gain respect  among the average audience members and film critics alike. The independent film circle finds success in an abundance of arthouse horror movies. According to the box office numbers provided by 'Box Office Mojo,' independent film studios like A24 have four of their top ten biggest successes of all-time listed as  part of the horror genre. This includes horror hits such as 2016's The Witch and this year's Midsommar. 
With this resurgence of popularity in the horror genre comes a new breed of horror fandom. 21-year-old UNC Asheville student Elizabeth Berkeley is one such fan.
"I think the fan base has grown because there are so many different types of horror films now," Berkeley said. "Ones that please the masses. Like it's not just slasher films or monster films."
Since the box office hit of 2017's Get Out, horror films become some of the biggest money makers as of late, going mainstream as Berkeley stated. Movies like the 2017 adaption of IT present a good example of horror entering the big leagues of Hollywood money makers. 
The much-beloved  Stephen King adaptation wound up making over $700 million worldwide. It became not only the seventh biggest box office success of the year but also the highest-grossing horror film of all time, making an icon out of Bill Skarsgard's performance as the villainous Pennywise the Clown. With a sequel on the way, projected to make as much if not more than its predecessor, horror won't stop going mainstream anytime soon and more fans are sure to jump on the bandwagon. 
Joe Moe, a Los Angeles based writer, horror convention promoter for Mad Monster Party and self-proclaimed monster maven, believes the new fanbase surrounding the horror genre is a product of the modern horror filmmaker being fans themselves.
"We've come full circle," Moe said. "The generation raised on classic horror movies of the 1960s and 1970s have ascended to their place in the industry. Filmmakers like Guillermo Del Toro, Jordan Peele, Ari Aster and a host of 50-something artists are reviving the sympathetic monster and fashioning some very sophisticated character-driven horrors that repurpose the most nutritious hallmarks of classic horror literature and a general legacy of moviemaking history."
Moe said this love and admiration for the genre leads to more dialogue between the filmmakers and the fans.
"The new generation expects to participate. That makes them born influencers and creators," Moe continued. "It also means existing filmmakers have to take seriously the fan's demands for more meaningful and creative fare AND that there will be more of just that, as these kids themselves begin to contribute to our genre in profound ways."
While the expectations of fans demands might seem daunting to some, André Øvredal does not seem too worried. 
"On Facebook I have about 1,500 friends who are horror fans," Øvredal said. "They just saw and enjoyed my work and wanted to reach out to me because they're obsessed with the genre."
Elizabeth Berkeley is certainly obsessed, saying she finds herself first in line for whatever horror flick comes to theaters next.
"I think people my age enjoy horror films because it's a good adrenaline rush," Berkeley admitted. "We love to be scared, at least that's why I love them. And our world is so scary anyway, so it's almost like we are desensitized to some of it."