Amazing Alumni: The red ranger once walked the halls of UNC Asheville
Virginia Taylor
Arts & Features Staff Writer
vtaylor@unca.edu
On the screen, the red Power Ranger flips through the air, triumphantly taking out bad guys as explosions detonate behind him. It is hard to believe just years before the man in the suit walked under the changing maples at UNC Asheville.
"UNCA has a special place in my heart, it gave me a place to really experience a culture that was totally different from what I'm used to,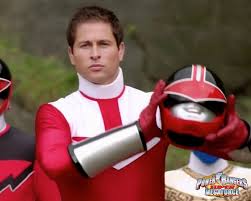 " said Jason Faunt, an alum of UNC Asheville best known for his role as red ranger in Power Rangers: Time Force. "It's a special place in the Blue Ridge Mountains where everything runs a little slower, a little more relaxed than Los Angeles, California and it's a wonderful place to go to school, I definitely look back fondly on my time."
Prior to his big break in Hollywood, Faunt grew up outside of Chicago, Illinois and dreamed of becoming a pro baseball player. It was baseball that originally brought him to Asheville.
"I was given a partial scholarship to play baseball at UNCA so that's what brought me down there," Faunt said. "I'm sure I'd heard of Asheville but wasn't familiar with the area, but I came for a recruiting trip and thought it was beautiful down there, being from Chicago everyone in North Carolina has a very different way about it but I thought the change was pretty cool."
After spending four years playing baseball for UNCA, Faunt decided to return to school for a fifth year to focus on earning his business degree. After realizing he no longer wanted to pursue becoming a professional baseball player, Faunt began to think about what direction he wanted to go after graduation.
"I came back my fifth year as just a student; I waited tables, I worked for a moving company and I was in school during that time just kind of reevaluating who I was and what I wanted to do," Faunt said, "So I decided during that time that I just wanted to move to California and be an actor."
Two weeks after graduation, Faunt packed his bags, said goodbye to his family and drove to California to pursue a career in acting.
"I probably had like $500 to my name and a truck with 200,000 miles on it, and my best friend luckily went to USC in California, so I packed my bags and moved into his fraternity house," Faunt said. "I just dove in and tried to figure it out."
After arriving in California, Faunt worked hard to establish himself in the community, diving into acting classes and continuing to grow as an actor.
"I really had no idea what I was doing, I was just trying to connect the dots as I went along and so I just jumped into acting class and started to learn," Faunt said. "Eventually I was able to get representation and eventually started to get auditions and failed for a really long time, like anything else you keep working and adjusting and trying to be better at your craft."
After being turned down at many auditions, Faunt eventually landed a small cameo on the soap opera, "Sunset Beach." Even though the role was small, Faunt said getting to work on a professional set gave him invaluable experience. As he gained more confidence in himself as an actor he began to book larger roles, eventually landing the role in Power Rangers: Time Force in 2000.
"I was getting more used to auditioning and being more comfortable in the room, going into bigger networks and getting more accustomed to it," Faunt said. "Power Ranger was just an audition that went well! With Power Rangers the first time I read for it I didn't get it, the following year they brought me back again and I didn't get it, and eventually, the third time the role and who I was finally aligned and that's when I booked it."
After booking the role in Power Rangers: Time Force, Faunt was called to film for a few months prior to the airing of the first episode. During this time he quit his day job as a waiter and dove head first into his new role. Even though he was working full-time in a major role, because the show had not yet aired, Faunt said he remained low profile for a few weeks leading up to the premiere.
"I remember I was sitting in a laundromat literally having no money coming in because I hadn't been paid yet, and yet I know I'm the red power ranger," Faunt said. "You're sitting there doing your laundry, knowing your life's about to change, but just waiting for that day to come."
Once his season aired, Faunt said he noticed a change in public reaction almost immediately.
"Once the show actually aired, you go on the streets and now people start to notice," Faunt said.
"People come up to you and say, 'Wait the minute, my son's a huge fan!' I was the same guy but people's perception changed overnight, and now suddenly they treat me differently, they act differently and I thought that was kind of comical because I know I'm the same guy."
Following the initial success of the show, Faunt found himself in the spotlight as people continued to recognize him for his work. However, shortly following his season, both the television industry and his career went through major changes.
"After the power rangers ended 9/11 happened and the writers had a major strike. The invention of reality shows took place because when the strike happened producers had to figure out a way to make money and they started doing reality shows, which became massive successes," Faunt said. "It was a tough blow for me because I wasn't working, I wasn't making money and I went from being on this show to waiting tables again, it was a hard time. I came off this show and thought I'd be a movie star or a TV star and it did not work out that way so initially I really struggled."
While Faunt eventually found new work and pulled himself back up, it was not until years later that he truly began to realize the impact his time on the Power Rangers had made on the fan base, especially as a new fan base develops with Power Rangers being hosted by Netflix.
"Power Rangers became this cult classic and it's had a huge resurgence over the past couple of years. These things called comic-cons came out and of course the invention of Netflix, so I became a big attraction in the comic-con world," Faunt said. "Years later is when I really appreciated what was going on because you start flying all over the world meeting these fans and you meet these kids and they're crying because you were part of their life when they went through bullying or divorce or death in the family, you were their hero."
For Ian Streeb, a Greensboro resident and member of the Nerds of North Carolina Facebook page, said he is excited that Power Rangers has made a resurgence, as he believes it helps teach timeless lessons to audiences of all ages.
"I'm just happy that there are companies out there willing to keep the franchise alive so that new generations can experience such an awesome show," Streeb said. "I think as we get older we lose sight of certain intangibles of children's entertainment, something Disney has excelled in and has dubbed 'magic.' Power Rangers perfectly captures that magic and can appeal to both boys and girls. It's a timeless show that is able to keep reinventing itself and can stay contemporary and relevant."
Asheville resident Audrey Sturdahl said the show played an important role in their childhood and gives them a more positive outlook.
"It was my favorite show as a kid. I watched pretty much every incarnation until middle school," Sturdahl said. "If the series has taught me anything it's to embrace the silliness in things."
For Faunt, being a Power Ranger is not a role he wishes to run from and rather something he embraces in his career. For him, it is fans like Audrey and Streeb who make him proud to be a part of the Power Ranger community.
"It's a little cliché but true, I am the most grateful and appreciative of my Power Ranger fan base," Faunt said. "Some people, they go on a show and try to spend the rest of their career running from the show that made them, they don't want to be typecasted, but I am always thankful to my fans and appreciative because without them I truly would not be here."