Artists use new major to explore entrepreneurship
Sarah Shadburne
Arts & Features Editor
sshadbur@unca.edu
Aspiring interior designers, practitioners of holistic healing remedies and students who want to open their own after-school program for kids now have their own catch-all curriculum to help market their ideas.  
After four years of researching, planning and collaboration with other departments on campus, the arts management and entrepreneurship program at UNC Asheville is officially recognized as a major concentration as of last fall.
"By coming and studying in this major, students feel they get a better sense of maintaining their art environment and how they've been visualizing their place in the world," said Laura Bond, arts management and entrepreneurship program chair. "And that this major or minor is helping fulfill that vision that they've had for themselves."
The major concentration involves a mixture of arts, management, economics and a host of elective classes in order to help students develop their promotional repertoire and empower them to self-promote their work.
"A lot of times, certain arts programs can be really great at teaching us how to be artists and creative thinkers and teaching us how to make our art," Bond said. "But we're not always preparing our students how to take that art and help others see its value."
Bond said she hopes the program will foster a sense of importance for the arts and arts advocacy in society and sees it as an opportunity to enable the growing number of young people who reject the traditional nine-to-five work schedule.
"Entrepreneurs and start-ups are really becoming quite popular and celebrated, especially in this young generation," Bond said. "As a liberal arts institution we really want to support that."
The 2016 BNP Paribas Global entrepreneur Report, a study conducted across 2,600 entrepreneurs in 18 countries, detailed the recent appearance of "Millinnepreneurs," a class of stand-out business owners under 35.
The report additionally detailed the Millinnepreneurs as excelling in new and traditional fields, launching on average eight companies for every 3.5 started by their elders.
Bond would like to see the program be truly interdisciplinary, attracting all different types of artistry, connecting them within their fields and instilling them with the ability to manage their independence as artists-slash-business people.
Arts and entrepreneurship classes foster musicians
Drummer and salesman at Guitar Center Quinn McKearney wants to use the program to support himself through music however he can.
"I started drumming when I was 11 or 12," said McKearney, a sophomore arts management and entrepreneurship student. "When I got the idea to play music, I got it with two other friends and I was the only one whose mom was gonna not freak out if I had a drum kit in the house."
As a long time fan of loud rock-n-roll and the Red Hot Chili Peppers, he plays with different groups around Asheville, as well as a band called Sain Voids.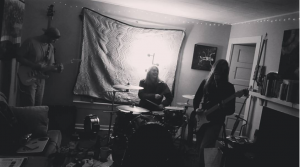 "When I was younger taking lessons and talking to the older guys I knew they always were telling me you need a good kind of business mindset to succeed because the industry is so difficult," McKearney said.
McKearney said his biggest goal at the moment was to run a short tour across the Northeast and Mid-Atlantic this summer with Sain Voids, trying to focus on shorter term goals that will eventually gain momentum.
He stays connected and involved in the music scene in Asheville through a network of Facebook groups and by inviting other local musicians to play house shows at his home, where he lives with the other members of Sain Voids.
In addition to drumming, McKearney took up guitar and songwriting around the same time he became interested in playing music and cites collaboration with other artists as his main inspiration.
"Asheville is a really good place to be a musician," McKearney said. "It's what brought me here."
Rebecca Vines, a junior arts management and entrepreneurship student from Apex, said she was drawn to Asheville for the same reasons as McKearney.
"Being in Asheville, I saw a lot of other bands and there's so much music happening and I just wanted to get in on that and play more shows than I had been," Vines said. "And possibly make it a career if I can, to get into the music business to have something that's mine in general."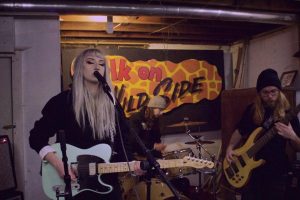 Vines has played guitar since she was 10 and her dream lies in her three-letter musical project called BEX.
"It's an indie-alternative sort of thing," Vines said. "I've been writing songs for a really long time in my head, and eventually I wrote them all down in a giant notebook."
Vines began her musical journey solo, playing open mic nights and performing at Echofest in 2017, citing emo-dreamy bands like Snail Mail, Now, Now, Pity Sex and Title Fight as her primary musical influences.
Vines decided she wanted to add more members to enhance her sound, so she reached out to two UNCA alumni, Adam Freshcorn and Will Isaacson, to play drums and bass, respectively.
Vines said her music business class has been especially helpful to her for detailing the intricacies of how going on tour works and how to get booked.
Vines is currently in the process of recording her first BEX EP, which at the moment remains an untitled collection of four to five songs.
While working on her EP, Vines is also performing shows. On March 19 she will play at The Mothlight, opening for Snail Mail and Shame.
"If you are an artist in any way and you don't want to major in just art or just music and you want to be your own manager," Vines said. "This is for you."
Entrepreneurship classes help artsy students pursue business
The arts management and entrepreneurship program also helped senior Hunter Scaggs realize he would rather work on the business side of things, potentially economic development.
During his years at the Durham School of the Arts, he was able to practice guitar every day for an hour as part of his curriculum and also played in a band called Autopilot, a singer-songwriter experimental group for which he wrote most of the lyrics. Yet in light of his creative past, he intends to keep music as a hobby for himself.
"I've played guitar since I was seven," Scaggs said. "But I decided I would continue playing guitar as a hobby and then learn the business side of the music industry as a way to apply that music in an effective way."
Through the program, Scaggs served as an intern for local musician Jeff Thompson, managing and booking shows.
"It was a useful experience in the sense that I learned that I didn't like booking," Scaggs said. "It's important to know what you don't like."
Scaggs said he prefers the recording process instead and if he were to specifically go into the music business, he would do so with aspirations to open a recording studio.
"The music business major has shown me the importance of the behind-the-scenes work of the music industry," Scaggs said. "All the different components that need to be set up to have a successful show or album is a lot more than what consumers would think of."
Scaggs graduates in May and has already interviewed for a job back in his birth state of Mississippi, where he would be working with small companies to grow and stimulate the local economy by providing businesses with the resources they need to be successful.
Bond stresses that the program is not just for start-up companies and hopes students in the program feel as though they have found their niche.
"This program is really for anybody it speaks to — if they read the description and it seemed to be the answer that's missing in what they needed," Bond said. "It's right for them."