Asheville celebrates 8th annual Blue Ridge Pride Festival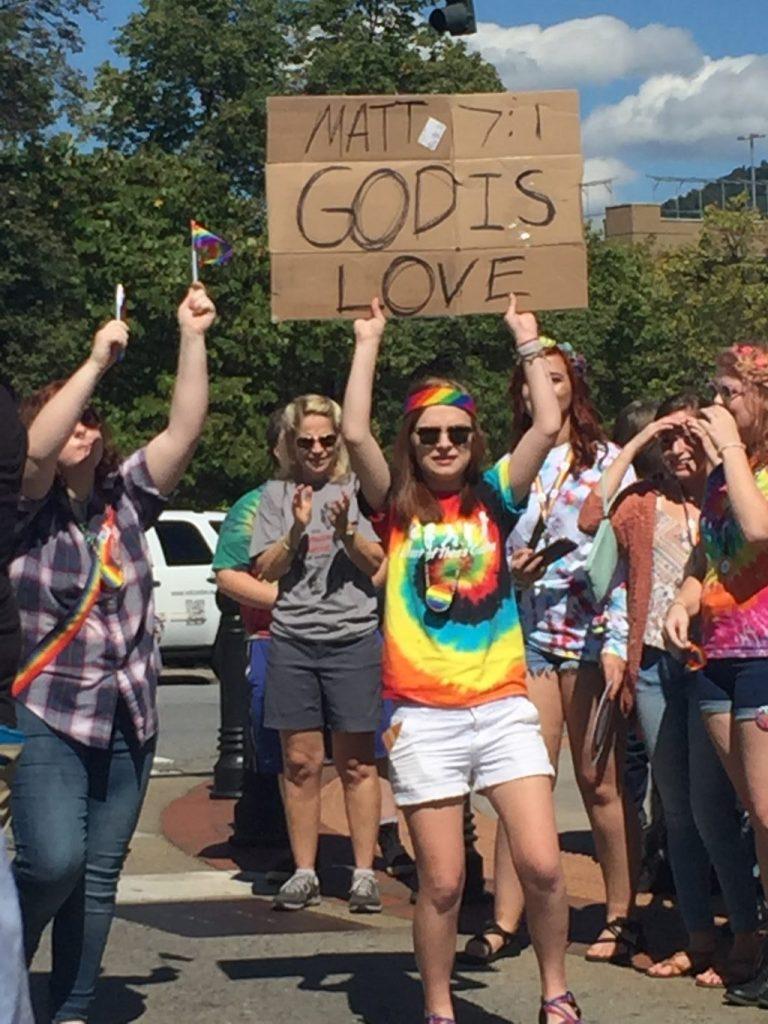 Catherine Pigg
A&F Staff
cpigg@unca.edu
The sun shines Saturday afternoon as the 8th annual Blue Ridge Pride Festival takes place in downtown Asheville with the rainbow pride flag waving throughout Pack Square Park.
In the crowd, one could see an array of colors and different pride flags being worn as capes by individuals. Music was playing on stage at the park as young teens were seen dancing around with their pride flags.
"I think it's awesome to show support for the LGBT community. I want my kids to grow up being accepting, and if one of my kids were to come out in the future I would want them to know that it's OK and that my household is an accepting household," said Suzanne Lawrence, a 32-year-old tourist from Charlotte.
Not all spectators were supportive, as a small group of protesters stood near the edge of the event wearing shirts reading "Repent or Perish." They held a megaphone yelling at the crowd and calling many festival goers "sodomites."
A group of musicians later stood in front of the protesters and played jazz to block out the yelling of protesters. As this was going on a few pride attendants held up signs reading "God loves all" and "Matt 7:1 God is love."
"The protesters are crazy! They're so backwards, hurts my heart to see so much hate coming from the church at such a beautiful event like Pride. They really need to realize God loves everyone," Lawrence said.
The Central Methodist Church was one of the booths at Pride. Church volunteer Doug Wingeiei had a different perspective on how the church should act compared to the protesters.
"We feel that all of God's children should be included. In the Methodist tradition it's called reconciling group or a reconciling congregation. We have a reconciling group. We actually have a statement on our website. We have a cue card that says everyone is welcome regardless of sexual orientation or gender identity," Wingeiei said.
Wingeiei notes the congregation which he attends has gay members who are a part of the church. He also notes they have a book written by those who experienced discrimination from churches for being LGBTQ+.
"I was a professor in a seminary and we had gay students. Some of them had difficulty within the denomination and terms of becoming ordained, so we supported them also and I was personally grieved when one of my students actually committed suicide because she was rejected for ordination," Wingeiei said. "So those kinds of stories, my story in this book, are part of the reason I personally am involved in this."
The United Methodist Church located in Waynesville is also making attempts of being inclusive by providing educational programs, according to Wingeiei.
"We have an educational programs, we're having one starting very soon on transgender folks. We're in touch with the transgender community here in Asheville and they're coming to educate us over there on what it means to be transgender and how we can be supportive," Wingeiei said.
Another booth, Campaign for Southern Equality, reached out to the transgender community by holding pop-up Trans Health Clinics at pride festivals throughout the Carolinas, according to their founding executive director, Rev. Jasmine Beach-Ferrara.
"We have free name change clinics focusing on North Carolina's and South Carolina's name change process," said Beach-Ferrara. "We have an array of free resources our new trans source in the south guide, guides on funding your transition. So that's kind of the focus on pride this year."
The executive director said HB2 still has a lasting impact here in North Carolina.
"People are living their lives and working very hard to call for the repeal of HB2 and promote lived equality and legal equality," Beach-Ferrara said. "HB2 is one of the most extreme anti-LGBTQ laws in the nation and it's impacting especially our transgender brothers and sisters."