Blowers Gallery exhibits contemporary art collection
Linda Cummins 
A&F Staff Writer
lcummins@unca.edu
An exhibition of abstract paintings by Linda Gritta invites viewers to get lost in colors, seemingly random dabs of paint and to see what only they can imagine.
"That's what abstract art does," Gritta said. "It invites your rational brain just to do something else for a minute. Just enjoy it at a very pure level in a different language, the language of colors and the language of marks."
Gritta said she resisted getting lost in art for much of her life until her mid-30s opened up new avenues.
"It was never practical to be an artist, so I kept pushing it aside," Gritta said.
A bachelors in fine arts, a divorce and a move changed all that. She now shows her work in private galleries and corporate art collections from New York to South Carolina. Spheres of Influence will be on display at UNC Asheville's Ramsey Library Blowers Gallery until March 30.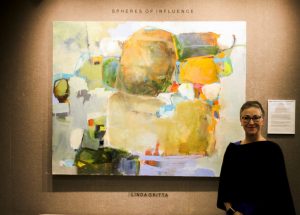 Nancy Hayes, chair of the Ramsey Library Exhibit Committee, said choosing Gritta's work to display was part of their plan to provide variety to the gallery's showings.
"We have something that goes from abstract painting to something like the Cherokee language exhibit," Hayes said. "One of the reasons she was chosen was because I thought the students would enjoy seeing different art. It has beautiful colors."
The exhibit treats art aficionados on their way through the library to paintings featuring spheres inspired by the shapes around us from playground balls to river rocks and the very planet we stand on.
"It's like when you were little and lay on your back on the grass and look at the clouds to find pictures in them. Abstract art lets your rational mind go out for recess and play a little," Gritta said.
Constance Ensner, artist and studio mate of Gritta, attended the exhibit's opening reception to support what has now become a longstanding friendship. Ensner also attended another reception for Gritta at the Grand Bohemian Gallery in Asheville, when Gritta was painting in a more traditional style.
"She was doing these wonderful little portraits of birds. They were selling very well when one day she said she was ready for something different," Ensner said.
That something that caught Gritta's artistic eye and mind was contemporary art.
"I like the idea of in our world there's chaos, but there's a lot of order in nature. Things that seem chaotic actually at a microscopic level — there's order to everything," Gritta said.
Gritta said she read Carlo Rovelli's book Seven Brief Lessons on Physics and it inspired her fascination with the order and apparent chaos we find in nature, physics and within ourselves.
"My style has changed over the years and I think it will continue to because I'm changing. I used to be much more realistic," Gritta said.
As a fellow artist sharing the same studio space, Ensner said she enjoys watching Gritta's artistic evolution.
"Sometimes Linda is not there and I can wander into her studio, admire the paintings. I get to see them in their beginning stages and as she is working through they can change quite a bit," Ensner said.
Surrounded by the marks and colors of his wife's imagination at the opening reception, Marque Gritta hauled in refreshments held in his own artistic endeavor, pottery. Three years ago Gritta gifted him with a six-week pottery class. A massage therapist by trade, Marque said he fell in love with making pottery and has not turned back. He called their bond of two creative souls the perfect union.
"We both look at life in a very artistic way. We have a lot of compassion and understanding with one another and we work with each other's passions beautifully in that respect," Marque said.
Ensner commented at the Blowers Gallery reception that the collection's paintings are a gorgeous expression of Gritta's personality.
"They are so her because she is very energetic. Her love of color shows through with its complexity, layers," Ensner said.
As a textile and jewelry artisan, Ensner said one thing that made her tours through Gritta's works in progress so interesting and fun was seeing her glass palette with 20 to 25 colors on it at one time.
"I love color and plays of color against color," Gritta said. "Sometimes I do things merely because a color inspiration moves me and I go with it. I use a language of colors and shapes rather than words."