Exhibitions play on Ferguson frustrations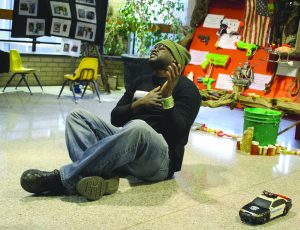 Photo by Timbi Shepherd- Asst. Arts & Features Editor
By Timbi Shepherd- jshephe3@unca.edu – Asst. Arts & Features Editor | Feb. 11, 2015 |
DeWayne Barton, black rights activist and installation artist from Asheville, sat on the floor of Karpen lobby, pushing a toy police car in a circle around his body.
"When? Where? Why? How?" Barton said as the car continued its cycle.
Behind him stood a large mass of plastic guns, pill bottles, warped tree limbs and replicas of human skulls.
The installation reflects the recent events in Ferguson, Missouri, as well as other instances of police brutality against African-Americans across the country, Barton explained.
Barton presented the piece Feb. 5 in conjunction with the opening reception for "Ever Forward, Never Backward," an exhibition of photographs by Jim Barker, of Fairbanks, Alaska, whose work documents the 1965 voting rights march from Selma to Montgomery, Alabama.
Barker's photographs and Barton's installation will be on display throughout February in observance of Black History Month and in anticipation of the 50th anniversary of the Selma to Montgomery march next month.
The Smithsonian Institute is currently featuring the photographs on its website because of the rarity and timeliness of Barker's images of the march, said Deborah Miles, director of the UNC Asheville Center for Diversity Education.
"The (original) prints were discovered, and in all their 'batteredness' they are considered to be of considerable value from a collector's point of view," Barker said. "In March, Steven Kasher Gallery in New York is having an exhibition of the old prints."
Although the prints on display in Karpen are reprints, Barker said they capture the events of the Selma to Montgomery march in much more vivid detail than the originals.
"The old prints – kind of hurriedly done – are the ones New York gets to see," Barker said. "You get to see the newer, much better prints."
Many spectators were old enough to remember the historical moment these photographs represent, and they shared the memories the images evoked for them in a group discussion.
Patti Dallas, of Yellow Springs, Ohio, took part in the march with her family. Dallas is currently visiting Asheville, and she said it was by complete chance that she recognized a piece of her personal history in a photograph used to promote the exhibition.
"I just happened to get a notice about this exhibition last night," Dallas said. "And the picture on the notice – my father, Meredith Dallas, was in that picture."
She recalled how she took leave of her college studies to join her father, mother and sister in Selma.
"I had just started at San Francisco State, and I got a call from my mom, who was very active in the civil rights movement. She said, 'This is amazing – you should come,' " Dallas told the group, tearing up. "And I did. It was the most incredible experience."
Dallas and Barker both said what they remember most about the march is its progressive, utopian spirit and overwhelming hopefulness.
But there is much progress yet to be made, Barton reminded the spectators as they directed their attention to his installation. Barton said the piece is a personal response to what he sees as a vicious cycle of systemic police brutality in America.
"This is my therapy piece for all the young African-American males who've been shot by the police, not just this year, but over the past years," Barton said. "You don't know what to do when you're always the victim. And when the pressure increases, for me, all I have to do is make art."
He said the piece has been a means of sublimating his frustration with structural violence into a message of acceptance. Whereas some people resort to false therapies of violence and drugs, as the installation represents in cautionary terms, Barton maintains the only solution is love.
"No matter how challenging it seems," Barton said, "it's just love. We've just got to practice that."