Growing pains hit Asheville housing
Elizabeth Walker
Distribution Manager
lwalker1@unca.edu
Asheville is being taken over. Where the streets were once void of sound other than the laughing and talking of patrons at restaurants and stores, the sounds of construction now pollute the air.
Currently, development skyrockets to an all time high, with new plans and buildings popping up in place of the old.
"The point is that Asheville has no direction in development," said Zack Smith, a current resident who works in groundskeeping and landscaping during the summers. "People are looking at the short term profit rather than the long term sustainability of it all. A constant flow of money is always better than large lump sums for the economy."
A new development plan proposed for the Asheville Mall would replace the existing Sears store if voted through. According to the Asheville Citizen-Times, the $45 million redevelopment plan wishes to add restaurants, retail stores, a 10-screen multiplex movie theater and a six-story structure with 204 multifamily housing units.
Smith said he remains positive about these mall renovations, stating he would rather updates happen to places previously developed rather than developers breaking new ground.
"On that note, I'm optimistic, or rather hopeful, for the Asheville Mall project, but I need to do more research on where the money is coming from and will be going to before I make a decision," Smith said.
One tends to agree with his thoughts. Instead of outsourcing and allowing large corporations more leeway, we should strengthen what makes our community so great by providing new opportunities for local businesses to thrive outside of downtown.
Dan Pierce, National Endowment of the Humanities distinguished professor of history at UNC Asheville, shares Smith's more confident approach to the project.
"The Asheville Mall is kind of the downtown of the '70s now, especially on the Sears end," Pierce, an on-and-off resident of the city since 1959, said. "It could work, although I personally wouldn't want to live at the mall. We'll see."
Pierce, who moved back into the area in 1994 after spending 13 years away, remains amazed by the largest boom in growth the city has seen since its tourist draw in the '20s.
"Development rarely moves in an orderly manner. Things often happen in boom and bust cycles and Asheville's history vividly illustrates this," Pierce said. "Are things going to decline, perhaps dramatically? Yes, at some point, but it's nearly impossible to predict when. We could already be in decline and not realize it or it could come 20-30 years down the road."
Various other problems plague the city following its new developments with some concerned not only about the city's future, but present. Housing remains at the top of that list.
According to a survey conducted by realtor.com, Asheville falls only behind Charleston as the city gentrifying the fastest, with the average house cost increasing from $125,000 to $235,000 from 2000.
Patrick Bahls, professor of math and director of the honors program, said these problems lead to housing costs spinning out of control, wages stagnating and many young folks being left unable to find affordable housing and often even affordable, dependable food.
"For college students in particular, these facts might make pursuing a college education less desirable: why go into debt and spend four or more years of your life working to get a college degree when it's not going to get you a better-paying job at the end," Bahls said. "Though I believe very strongly in the benefit of a liberal arts education, it's very hard to make the case for college to a promising 18-year-old if that person is unlikely to get a job paying a decent wage at the other end of college."
As a student surrounded by fellow undergraduates hoping to make a living in Asheville after graduation, these increasing costs for such basic necessities worry quite a few of us, but also affect whether or not young people starting off their careers after high school will be able to stay and survive here in the city.
Some, like Chelsea McCoyle, simply cannot afford these price bumps. McCoyle and her fiancé were forced to move out of their place at Pisgah View Apartments in 2016.
"We used to rent an 800 square-foot apartment, two bed two bath, for $975 in March 2015. In March 2016, we were told that our rent would be raised to $1175," McCoyle, an insurance agent, said. "No improvements, nothing different, no amenities, upgrades, just the cost of rent around us went up and so ours would as well."
McCoyle cited the job market as another reason she was forced to move to a more affordable area.
"I live in Spartanburg now, because there were no sustainable jobs in Asheville, and the cost of living was outrageous," McCoyle said. "It sounds awful to say, but there's not enough to do in Asheville for it to be a sustainable tourism industry and the local government won't do anything about the housing situation."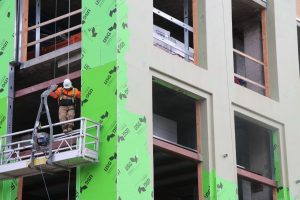 As the area hits more and more 'top ten places to visit' lists, tourists continue to swarm, moving to the area as transplants and driving out the locals who can not survive on service industry jobs alone. With few options, this is a dangerous area to live in for those just starting out or those who cannot afford the price hikes.
"Now, with tourists, it's okay, because they're paying the kid who lives off Sweeten Creek to cook their steak, or the girl from Weaverville to guide them on a beer-venture," Smith said. "The money is going into Asheville that way and is therefore going back into Asheville. That girl from Weaverville is going to stop at the Ingles in town to get gas on her way home. The problem is money that's not generated here being spent here from people living here."
Bahls said he agreed, stating concerns on whether or not Asheville locals will continue to survive as tourists move in.
"I think there are obvious benefits, but those benefits accrue primarily to a relatively few residents," Bahls said. "For instance, the wealthier folks in Asheville will certainly benefit from the excellent restaurants, arts and music and outdoors opportunities the city and region offers. But who, really, can afford these pleasures, given that the living wage in Asheville is far higher than many Ashevillians actually make?"
However, Pierce said the benefits of our growth now outweigh what the city faced back in the '70s, citing the vibrant community and one of the lowest unemployment rates in the state as positives of the city.
"There are problems with the affordable housing shortage, income inequality and gentrification, but it's much better than a boarded up downtown," Pierce said. "Again, there aren't any perfect solutions to these problems and I'm glad to see there's so much concern about them, but in some ways they are better problems to have than the ones we did 40 years ago."
Views on development differ between ages and how long residents have lived here, but all seem to agree there are benefits in the long run if these changes are handled correctly. To younger generations like mine, these benefits might not outweigh the setbacks of constantly looking over one's shoulder, trying to scrounge up enough money for rent in a market made for those already able to support themselves.
"Development isn't bad. Growth is good," Smith said. "But what's happening in Asheville is unchecked growth. Growth without purpose. When living tissue grows without purpose and runs unchecked, we call it cancer."
Many of us fall in love with Asheville on our first visit — downtown and the River Arts District delight with their array of restaurants, breweries and shops offering bits from around the world, while just outside the city limits, nature abounds on the parkway and the many other scenic areas hidden in the mountains. But with these problems, many of us are forced to wonder: will the charm of our city end up leading to the death of what makes it so unique?
"All in all, more people moving here means more tax for roads and schools and property values as they go up," Smith said. "The least we can do is make sure there's jobs here that will support that growth, or else Asheville will bust and will become the desperately poor and opulently wealthy. I don't want my daughter to live in that world."