Local bands team up with the Bernie Sanders campaign to garner voters
Rylie Daniel
Arts & Features Writer  
rdaniel@unca.edu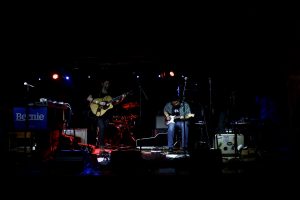 Music and politics united in support of Democratic Sen. Bernie Sanders at Asheville Music Hall prior to Super Tuesday. 
"This is about getting people together and getting people talking," said Andrew Scotchie, full-time musician and co-organizer of Feel the Beat, Feel the Bern. 
Scotchie and fellow musician Andrew Fletcher joined with the local Sanders campaign to put on the event, aiming to unite the community together for the presidential candidate.
"Right now it's really important for people to talk about the issues that are going on not only in our country, but our city," Scotchie said. 
From thought to action, the whole event came together in under 96 hours, matching the enthusiasm of Sanders' campaign, Fletcher said. 
"Every ask I've had to make, every door I've knocked on, every light has turned green on this process, on this whole show. It's just been amazing and uplifting to be a part of it," he said.
The concert was inspired after Scotchie attended the event Barnstorm, the BLOCK off biltmore aimed at gaining Sanders supporters which encouraged his own political involvement.
"Out of that one event, just to get people together, they got, I think, over 100 volunteers for the campaign. Everyone knows this is super grassroots and it's everything from phone banks, knocking on doors, to musicians getting together and doing what we're doing tonight," the guitarist for Andrew Scotchie and the River Rats said. 
Scotchie encouraged everyone who can be politically involved to support a candidate and connect with the community. 
"I signed up for some shifts. I went and knocked on about 20-some houses with this awesome fellow named Jeffrey and it was really cool to see people's different reactions to the campaign," he said. "People came out on their porch and talked to us and everything."
Jose Galarza, a former Iowa field organizer and current volunteer for the Sanders campaign, said events like Feel the Beat, Feel the Bern have the power to bring people together. 
"I think the first part is that it's a community setting and especially when you're bringing in local bands and you're hosting it at a place where it's centralized, where people usually go to, I think that's a nice formula or combination of things for people to come out supporting first, the local bands and supporting local businesses," he said.
According to Galarza, the opportunity to talk to community members in a familiar and uplifting environment allows people to engage and shows the importance of voting.
"People, just come out to vote. It's really important. It's always so close, like no matter how much we think it's not, it really is a lot closer than people expect it to be," Galarza said.
Scotchie said events like this prove significant to any kind of campaign, especially the Sanders campaign being in the South.
"This is such a linchpin kind of thing because we're in the South and you go 10 minutes in one direction and it can be the complete opposite ideal/beliefs than where you previously were," the Asheville local said.
Co-organizer and jazz artist Fletcher said his support for Sanders and the event comes from his trust in the senator's beliefs and policies. 
"When I think about all the candidates that I have voted for in my adult life, I'm 37 years old, I have so rarely had the opportunity to vote for someone that I truly believe in and for policies that they are promoting," he said. 
Fletcher said he ran for city council in 2017, inspired by Sanders and the importance of supporting the working class at every electoral level including city, county, state and national. 
The professional musician said his vote belongs to Sanders because his policies such as Medicare for all, free college tuition and cancellation of student debt work for everyone. 
"Even though I didn't graduate from UNCA, I still have a $30,000 boat anchor around my neck of debt that's still there and that's really held me back from accomplishing things in my own personal life and also being able to contribute to the economy as much as I would be able to if I was free of that," Fletcher said. 
Scotchie said the lineup for the event represents some of Asheville's best musicians who are willing to show their support for Sanders. 
Natural Born Leaders band member Michael Martinez said he was ecstatic to perform at the Sanders rally. 
"I support Bernie and I have for a long time. I actually got this shirt when we did a rally in South Carolina in 2015," he said. 
Martinez supported the event because of his love for Sanders, as well as the sense of community accompanied by his campaign. 
"Nobody here is going to be like 'Get out if you don't agree, our way or the highway.' I think it could bring attention to the cool things my dude's been doing for a long time," he said.
Along with Sanders campaign workers, Sunrise Asheville and multiple local candidates for office spoke at the event. 
The Hub Coordinator for Sunrise Asheville Alex Lines spoke about the Green New Deal and political involvement.
"People power is right here in this room. It's you and me, it's people like us talking to our friends and family about why we need a Green New Deal," she said. 
The Sunrise Movement defines themselves as a youth-led movement to stop climate change and create millions of good jobs in the process via the Green New Deal.
"The Green New Deal isn't just one policy or one bill, it is a complete shift of our governing framework toward prioritizing the well-being of all people over corporate rule and short term profit," Lines said. 
According to Lines, the community needs to elect officials down the ballot like Sanders, who will fight for what the community needs. 
"Everything is riding on this election and we all need to be involved. It is not enough to just elect politicians," the 24-year-old said. "We do need to elect leaders who will stand up for us, but we also need each other and we need to show up and fight to make this happen."
UNCA music student Kayla Mckinney said she came to the rally to be around like-minded people and to get excited to vote. 
"When the last election happened a lot of us weren't old enough to vote and we didn't have a chance and we didn't have a say," the bass player said. "Now is the first time that I'm really going to have a chance to do something and say something."
Mckinney said voting ranks as one of the most important things people have the right to do.
"It's our opportunity, let's do it," she said. "Youth changing the world yo, let's go."