Presidential candidate Mitt Romney speaks at Cellular Center
by: Sheldon Schenck – Staff Writer – sschenck@unca.edu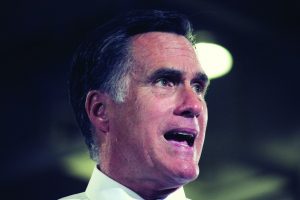 Controversy rose as Gov. Mitt Romney decided to bring his campaign to Asheville on Thursday, with a small group of protesters joining the crowd of thousands of Romney supporters.
Romney rallied in front of a packed crowd at the U.S. Cellular Center, while protesters rallied outside.
"There were several protesters outside of the U.S. Cellular Center before, during and after the rally," said Lauren Keys,  senior sociology student. "Truthfully, I just found their presence pointless. When Biden spoke at UNCA, his supporters weren't harassed by conservative protesters. Why were we?"
The Romney campaign has placed a great importance on North Carolina, saying its win is crucial in this election.
"This is time for North Carolina to come together and say, 'We're taking America back,'" Romney said.
Students in attendance agreed North Carolina is an important swing state.
"I think Romney came to Asheville because North Carolina is becoming an increasingly important battleground state in this election," said Cassandra Harvey, a junior environmental studies student. "Asheville is a very liberal city in the middle of a pretty conservative area, so coming to Asheville is kind of a meeting point for all of western North Carolina."
Following Vice President Joe Biden's visit to Asheville, several students said it was the Republican Party's turn to have the spotlight in the area.
"I was very happy to have Romney visit Asheville because Biden had already come, and it was good to have a Republican come to our area as well," said Kurt Hilbert, a senior atmospheric science student.
UNC Asheville students said they feel it is necessary to hear from all sides of the political sphere during this crucial election.
"I was happy to hear that Romney was coming to Asheville because I think it's important for presidential candidates to reach out to as many people as possible," Keys said. "I thought it was cool of Biden to come, too."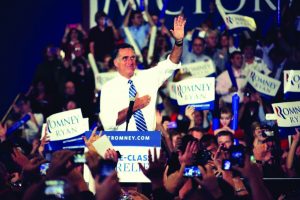 Though the U.S. Cellular Center was packed with Romney supporters, many UNCA students said they were unhappy about his attendance because of the negativity they said he stands for.
"I think Romney is an abomination to the progress of this country," Harvey said. "I especially can't understand how any woman would be for Romney considering the views he has openly held for the inequality of women in the eyes of the government and his plans to get rid of Planned Parenthood."
Romney acknowledged he and the president have extremely different views on important issues during his speech.
"We have a very different vision for the future of America," Romney said. "He (President Obama) calls his plan forward. I call his plan forewarned."
Former Governor of Arkansas Mike Huckabee and Speaker of the House John Boehner joined Romney at the rally, adding to what attendees described as a positive and energetic atmosphere.
"The environment was really exciting," Hilbert said. "It seemed like everyone was happy to be there, and the speakers did a good job of getting the crowd pumped."
Romney spent the majority of the rally talking about how he thinks the current administration has left America in ruins.
"I will not raise taxes on small businesses or the middle class in America," Romney said. "I will not cut our defense spending."
Romney outlined his Five Point Plan, which targets energy, the economy, jobs, business and education as critical areas for development.
"One of Romney's main points was that he plans to bring America back to valuing those who create their own success," Keys said. "That really resonated with me because I was raised on that kind of ideology. Make something of yourself, and if you want something, work hard for it. Don't expect it to just happen or come about."
During the rally, Romney emphasized the only way to get the economy back on track is to allow individuals to have the freedom to make our economy strive.
"The nation's economy is not driven by government," Romney said. "This nation's economy is driven by free people pursuing their dreams."
Students disagree on whether or not Romney and his running mate Paul Ryan will be able to turn Buncombe County and North Carolina red.
"If Buncombe was blue for Amendment One, it most certainly will not be red for the election," Harvey said.
Keys, on the other hand, said she believes Romney and Ryan have the potential to win the county and the state's vote.
"The rally had a lot of great energy," Keys said. "Everyone seemed incredibly excited and very pumped up about hearing Romney and several Republicans running for NC offices speak."
Students like Harvey were not thrilled about Romney's presence in Asheville.
"I knew how many ignorant people he would attract downtown," Harvey said.