Retention sparks conversation with the provost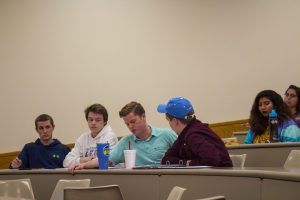 By Katie Devoe
News Staff writer
kdevoe@unca.edu
The Student Government Association discussed plans to take steps towards improving the retention of students, faculty and staff of color.
SGA President Tim Hussey said the organization wants to work on becoming more inclusive as a university.
"We are actually hoping to meet with the provost to talk about retention of not only students of color, but faculty and staff of color as well," Hussey said. "Faculty of color were a priority for the diversity decree and I just want to make sure that's not forgotten, that piece doesn't fall to the wayside."
The retention of faculty and staff of color is an important initiative for SGA. Michael Davis, the executive of diversity and inclusion for SGA, works closely with the chancellor to follow plans for diversity on campus.
"So this year, one of the big things we're doing within my realm of diversity on campus is we are still continuing work on the legislation that was passed about two years ago. We're really zoning in with the chancellor's strategic plan of diversity," Davis said. "Myself as well as Tim have a meeting coming up with Dr. Urgo to talk about how we can get our retention numbers for students, as well as faculty and staff of color, to stay at our institution."
Vice Chancellor for Academic Affairs and Provost Joseph Urgo will meet with Hussey and Davis this fall about the retention numbers. Hussey said he would like Urgo to help with their initiative.
Student involvement on campus through events and encouraging voter turnout continue to be major goals of the SGA.
"We are striving to connect more with students, so we're hopefully doing that through programming. A lot of our programs will be in the UNCA Now app. A program that we actually have coming up is the city council forum for Constitution week, which will be Sept. 18," Hussey said.
The UNCA Now app contains a calendar with many of the campus events available to students. The Constitution week aims to introduce students to candidates running for local elections.
"I reached out to all of the candidates who are a part of the local elections. I invited them all to campus, and we'll have a Q&A forum. I figure a lot of people registered to vote in this area for the general elections, so they might as well exercise that right again for local elections."
SGA wants students to be aware of local elections and participate in voting. Alexandra Schneider, sophomore senator, plans to fundraise this year to help others outside of the UNCA community.
"So, because there's a lot of flooding happening currently in the world, it wouldn't just be like a hurricane fundraiser, but it would be benefitting Niger and Mumbai, where there's flooding there as well," Schneider said. "The plan at the moment is to do a Krispy Kreme fundraiser, where all the senators will get a form and you'll go out to the community with the form and ask people if they either want donuts or if they want to donate money to the cause."
Fundraising for areas impacted by hurricanes and flooding gives people the option to help others beyond the Asheville area.
"This year I actually added a general assembly to SGA, which will sort've be a general membership for student government, for students that they didn't want to run or didn't have the opportunity to run or they ran and didn't win, so that they can still be a part of SGA," Hussey said. "I'm actually in the process of getting that training put together. They'll just be able to help us with programming. Whenever I need a quick kind of student response, this will be the group I go to."
Mel Gamez, the executive of campus outreach, handles the general assembly and schedules their meetings. Training for the general assembly was set to take place last Sunday and freshman elections started during the first week of September, Hussey said.
"I think we have five or six people total running for freshman elections. Campaigning started this week, so you might see those chalkings or flyers around," Hussey said.
Freshman candidates campaigned during the beginning of Sept. and students voted for them last Thursday and Friday. Candidates with the highest amount of votes will be elected as freshman senators. Freshman can express their concerns to their senators and student government about issues and topics they think are important. Davis said he would like people to contact him if they have any ideas for inclusivity.
"Please do let me know if you have any ideas on what we can do as a university to keep our students and faculty of color here because that is a very big thing that I think we should all keep in mind," Davis said. "You know, they bring a whole new outlook, a whole new scale and lens to our everyday lives and this wonderful liberal arts institution,"