Time's Up fights the good fight, but falls short
Samantha Savery
Opinion Editor
ssavery@unca.edu
Editor's note: If you are at all triggered by sexual assault, please use caution when reading this piece. In addition, opinions expressed in this article only represent those of the individual writer and not the editorial staff as a whole.
Last year, it was #MeToo.
But in 2018, Time's Up.
On paper, a squad of powerful women in Hollywood rallying together at a televised event to protest the mistreatment and sexual harassment they face sounds like a win for feminism.
Yet the red carpet blackout that took place at the 75th annual Golden Globes Awards did little to address the causes they were protesting for. Men, who normally wear dark tuxedos to award ceremonies, merely wore a 'Time's Up' pin on their lapels and most of the women were able to still wear expensive gowns — only in the protest's approved black.
"It would have been more memorable and I think more impactful if women or men who are against it just didn't go to the award show," said Allison Walter, a sophomore health and wellness student at UNC Asheville.
Time's Up, according to their website, is a movement created by some of Hollywood's most elite women to combat sexual harassment and abuse within Tinseltown, as well as address the very visible inequality faced by women in roles on and behind the camera.
Yet none of this was discussed on the Golden Globes carpet.
Eight key players of Time's Up, including Emma Watson and Laura Dern, brought female activists as their plus ones. However, fashion still seemed at the forefront of many of the interviewers' minds when it came to these important guests. Instead of focusing on their answers, E! cut away to the new arrivals after asking Watson and her guest Marai Larasi about their work with Larasi's organization Imkaan, a British organization aimed at fighting violence against women and girls.
Meredith McLain, a senior political science student, said this display of standing in solidarity was visually powerful.
"I appreciated the actresses that brought female activists with them to the award show. They were using their platform to amplify the voices of women who have devoted their lives to advocacy, which speaks louder than their color of dress," McLain said.
The organization's first public display was a letter of solidarity directed toward the Alianza Nacional de Campesinas (National Farmworker's Women Alliance) who came forward about their sexual assault after the news broke involving Harvey Weinstein.
On Jan. 1, members like Tessa Thompson and Jessica Chastain took to their social media accounts and blasted the eye-catching 'Dear Sisters' letter along with other graphics displaying the goals of the organization.
Junior political science student Lauren Bulla said while she felt this letter could be very important and beneficial to the larger cause of sexual violence in our society, there was one part that was particularly problematic and could be read as victim shaming.
"It read, 'Harassment too often persists because perpetrators and employers never face any consequences. This is often because survivors, particularly those working in low-wage industries, don't have the resources to fight back.' Which to me is problematic because it makes the assumption that in the event survivors do have access to legal and monetary means of getting help, that they will be listened to, believed and receive justice for the wrong-doings they have faced," Bulla said. "Which just isn't the reality."
Nevertheless, one cannot just create a pretty graphic discussing inequality and assault to post on their social media accounts and call it a day. We all must do more.
While addressing the ever-present problem of sexual harassment in the entertainment world and the workplace is always going to be important, there are more impactful ways beyond creating pins for your cause and having everyone  — or almost everyone — wear black to your black tie event.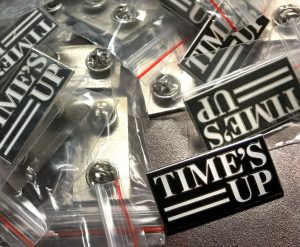 Bulla said she was not a fan of the Time's Up pin, which, curiously enough, is up for pre-order on the organization's website for $12, as they seemed to give many people a cop-out from publicly speaking against abusers in Hollywood.
"It came out after the event, that a few celebrities who were wearing such pins had actually also engaged in forms of sexual violence previously,  allowing for a 'wolf in sheep's clothing' effect to take hold," Bulla said. "By this I mean that those who could be wearing the pins making a 'statement' of solidarity and care toward this cause could very well be the same people enacting the same violence they are acting as if they stand against."
Women face the threat of harassment and assault in whatever field of work they pursue. However, Time's Up only seems to focus on the acts of a few select men in Hollywood, namely Weinstein. Woody Allen, last year's Best Actor Oscar winner Casey Affleck, and that night's Best Actor in a Drama Golden Globe winner Gary Oldman are some of the seemingly unaffected men this movement has failed to address, possibly because the acts of Louis C.K. and Aziz Ansari are more "timely."
James Franco, the other lead actor winner of the night, has become one of the 'wolves in sheep's clothing' Bulla spoke of after news broke of him harassing and allegedly assaulting a handful of women surfaced.
Specifically, Allen has continued to garner praise for his work even decades after news of him molesting his then-7-year-old daughter Dylan Farrow broke in 1992. His popularity was again almost undamaged when Dylan penned a letter in 2014 detailing the abuse she faced.
While Dylan's brother, Ronan Farrow, has been advocating for his sister and her allegations against their father for years, he rattled Hollywood last fall when he broke the story against Weinstein.
This rattling of Hollywood is slowly starting to reach Allen. More actresses — and a few actors — have started to outright state their regret for working with the director, Ellen Page one of the first. Most of the big names attached to his newest project, including Oscar nominee Timothée Chalamet, have donated their salaries from the movie to Time's Up's legal fund.
These powerful men and women donating to the cause, Walter said, are using their privilege to help those who do not have the funds to be able to go after abusers and attackers without being afraid of retaliation.
Walter said celebrities need to be aware that while some of this is happening away from them and their personal lives, they can still be a part of it by working with abusers in the business.
"I think that celebrities completely cutting off these predators and abusers that we know of, like Woody Allen and Roman Polanski, and just condemning them and not beating around the bush would be helpful," Walter said.
Bulla, Walter and McLain all agree on one thing: in both Hollywood and our local communities, we must listen to and, more importantly, believe survivors.
Another way to create and see an impact in Hollywood is to stop asking survivors and others to separate art from the artist. This goes back to what Walters said about realizing we contribute to the problem by giving abusers our money, as us movie-goers would, or talent, as those in Hollywood would.
"I encourage people to not consume the art of the people who have been exposed as abusers and predators," Walter said.
While there is much to critique this movement on, including lack of women of color and LGBTQ+ individuals at the forefront of the movement, supporting any woman who has come forward and told her story of surviving abuse will always be important.
"Any woman that is sexually assaulted deserves justice, whether those women work in Hollywood or not. These movements can be happening simultaneously in various industries and they should be. All women should be fighting against sexual abuse in their communities and the same goes for women in Hollywood," McClain said."Women in Hollywood are in a position of power and the women of the Time's Up movement are deciding to use their platform to shed light on abuse and injustice. In my opinion that is always a good thing."