UNCA accepts grant for higher education for Latino youth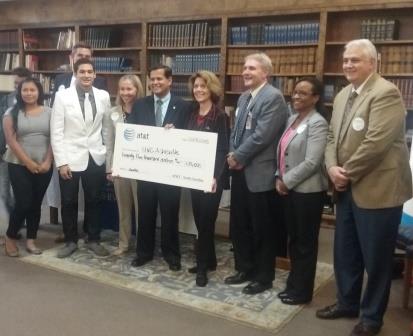 By Timbi Shepherd, Editor-in-Chief – jshephe3@unca.edu
10/21/2015
UNC Asheville accepted a $25,000 AT&T Aspire grant Friday afternoon to support its new Juntos program, a partnership with local high schools to provide resources and guidance to Latino students preparing for college.
"Juntos, which means together, is how we in the education world are connecting to create pathways and points of access for Latino youth," UNCA Chancellor Mary Grant said. "We want every student in this community to know UNCA is their place."
Addressing local high school students in the audience, Grant shared her experience of being a first-generation college student. She said, before she went to college, she didn't even know what a chancellor was. Grant added she is still trying to figure it out.
"We all have our pathways. Talk to the people around you. The possibilities are endless, and the opportunities are great," Grant said. "This grant is about opening doors for you."
Several local community leaders attended the grant reception to show their support of Juntos: N.C. Rep. Brian Turner, N.C. Sen. Terry Van Duyn, Buncombe County Schools Superintendent Tony Baldwin, Asheville City Schools Superintendent Pamela Baldwin and Yancey County Schools Superintendent Tony Tipton.
AT&T North Carolina External Affairs Director Carlos Sanchez presented the grant.
"At AT&T we're investing in a well-educated workforce," Sanchez said. "We think it's the single most important thing we can do to help the United States remain the leader in a digital global economy."
Sanchez shared a personal story about how, after arriving in south Florida from Colombia in his junior year of high school, he successfully prepared for college in just one year. Having this experience, he said he strongly identifies with Latino students as they work diligently, and against the odds, toward college.
"We truly believe in excellence with equality, and the only way to achieve that is to close the opportunity gap," Pamela Baldwin concluded. "Hope is about exposure and allowing students to see their potential. UNCA, along with AT&T, has provided that opportunity to all of our students."